Passive Income with AdSense & Niche Marketing – Anshul Dayal
If you are ready to take the plunge into the multi-million dollar industry of Internet marketing, Anshul Dayal, the CEO of NicheSense, is the man to contact. Anshul is an online entrepreneur who has successfully built a business from the ground up.
Anshul not only shares his strategies and ideas on his blog, he also works as a consultant for small groups and individuals who want to take the same risks. His knowledge and expertise of generating passive income using AdSense are second to none. Enjoy!
1. Before entering the world of entrepreneurship, you had a successful career in the dynamic feature film visual effects industry, also winning an Academy Award for "Happy Feet" in 2006. Why would you leave such a rewarding job?
Great question. It is true that my old job was extremely rewarding and in fact for many people that would be the definition of a dream job but I have always been driven by fresh challenges in every aspect of my life and for me it was one of those things. Ok, I have conquered this job, what next?
2. When you decided to take the plunge into the entrepreneurial world, what led you to the decision to go in the direction of an Internet marketing business and not something else?
My lightbulb moment came after attending "The Ultimate Success Summit" in Sydney in late 2010. It was by far the biggest gathering of successful entrepreneurs from around the world Australia had ever seen and featured speakers like Tony Robbins and Richard Branson.
I remember watching an Australian Internet Marketer by the name of Brett McFall who was showing the audience how he was making a killing selling recycled ebooks on the internet.
At the time that it was all new to me but it was a mind boggling thought on how powerful the internet actually was!
3. You launched an Ebay fashion store while developing your Internet marketing business. Why an Ebay fashion store?
Well, in fact it was the other way round. I started selling on eBay in early 2011 and at the start it was very much an experiment trying many different things from electronics, DVD's, CD's and accessories.
Then, I discovered a clever strategy of buying branded fashion for next to nothing from clearance outlets around Sydney and reselling them on eBay. The profit margins were great and within months we were turning over a substantial amount to not only help me quit my job but also funnel some of the profits into my internet marketing business.
4. If somebody were to ask you, "What's your most valuable asset?", what would your answer be?
I will be a little selfish here and say that my most valuable asset in business and life is still me. I have worked extremely hard over the last year or so to develop and drive my business to success and when I think back to how I did it? There is only thing thing that comes to mind. My sheer determination to succeed at all costs.
5. You are considered a niche-marketing expert. What is niche marketing and how do you make money from it?
Niche marketing is a concept based around creating websites targeting low competition niche keywords. For example, a keyword like "shoes" is targeting a very broad audience and is likely to be very competitive.
Compare that to a keyword like "mens ballroom dance shoes", which is targeting a much smaller niche audience interested just in ballroom dance shoes and is also likely to be much less competitive.
Once you find such a keyword, it is then a question of creating a website with content optimized for that particular keyword and monetizing it with AdSense, Amazon affiliate links or any other form of paid publisher advertising.
6. How do you decide which niche to base your business in with so many options to choose from? Would you advise people to go with their passions and interests or are there other things to keep in mind when picking a niche?
It comes down to keyword and market research. You really need to ask yourself these important questions. Are buyers spending money in this niche and how hard would it be to rank a website to get lots of organic traffic?
If you are new to niche marketing, then you can always start with a topic that interests you but at the end of the day you still need to make sure that particular topic can actually make you money.
7. Along the way on your journey, you discovered AdSense. What would you say to those who say you can't make money with Adsense?
The key to success with AdSense just like any other strategy is getting traffic. The biggest advantage you have with AdSense is that you don't need to convert prospects into sales to be able to earn a commission. All you need is clicks and if you can get lots of targeted traffic, you will inevitably get clicks and make money.
The biggest hurdle for anyone looking to make money from AdSense is patience. Most people will give up just when they are about to hit the big time. It is not a get rich quick scheme but with persistent effort and proper strategy you can money make a decent income within a matter of months.
8. Do you miss working on computer-generated effects? Have you been able to incorporate your talents used in your first career into your entrepreneurial way of life? Is there ever a thought or desire to return to your old job?
My old job involved using cutting edge software and computer technology. So, from that perspective it has definitely proven to be an advantage to help me easily overcome all the technical challenges normally associated with building websites, using software and implementing strategies.
Do I think about going back to my old job? The answer would be definitely be a no. You need solid, uncompromising commitment to be successful in any type of business. If you are serious about success then you need to commit yourself to running a business full time and give up your job for good and that's exactly what I did.
I would however, suggest to anyone looking to do the same to at least have enough money to cover your expenses for the first six months before leaving your job or work part time until you feel comfortable that you can afford to do so.
9. You share a lot of strategies and ideas on your blog. What triggered you to start a niche marketing blog? Why are you sharing your "secrets" to success? Are you ever afraid that you have exposed too much to people who could potentially be your competitors online?
There is a lot of misinformation out there about what it takes to actually make money online. There are numerous hyped up internet marketing products claiming to be the next pushbutton, get rich quick, magic bullet.
In reality there are only one or two things you need to be successful online, a profitable niche and lots of sustained traffic. Most people know about that already so where is the secret?
The secret is in implementing the right strategies. My blog is really a way for me share all those strategies, dispel some of the myths surrounding successful internet marketing and also help budding entrepreneurs avoid some of the mistakes I made during my journey.
Am I worried about my competitors? Internet is a big space and it is somewhat harder to make money in many of the niches than what it was a few years ago, there are still plenty of niches which haven't been tapped yet so I would say that there is plenty to go around for everyone:)
10. You mention on your website that you work with small groups and individuals to assist them with their online businesses. Can you talk a bit more about that? What can clients expect when working with you?
I work with both individual and small business owners one on one to guide and coach them in all the successful strategies I have used and implemented to create a successful online business.
Yes, you can do things yourself by reading ebooks and watching videos but the key element missing there is accountability. Who do you answer to if you miss a deadline or don't achieve your goals?
I work with all my clients not just to help them implement strategies correctly but also implement them in a specific timeframe and achieve results fast.
11. How does it feel to be a business owner? If you were to give one piece of advice to business owner want-to-be's, what would you say?
Being a business owner at times can feel like a roller coaster ride. You can have great days and some not so good days but it's thrilling to enjoy and plan your success and I will take that over a job any day!
The one piece of advice to business owners want-to-be's? Do not try to do everything yourself! It is common for entrepreneurs to wear many hats in their small business. While that may be necessary at the start, I would recommend outsourcing anything and everything as soon as you can afford to.
Remember, your main role as a business owner and CEO is to focus on developing strategies to grow your business and not being your own employee. If you really need to know what I am talking about, then I recommend reading the book "The E-Myth Revisited" by Michael E Gerber (if you haven't already).
12. How long did it take you to get to the point where you felt confident that you would be able to make a living with an online business? How did you keep yourself motivated and free of distractions?
It took me a bit less than a year to leave my job and feel confident that I could make a comfortable living online. In fact for majority of 2011, I worked two shifts almost every single day. My day job from 9-6 and then working on my business during the evenings and weekends!
My biggest motivation strategy is enjoying every little milestone and success I achieve every single day and writing down my tangible goals (both short and long term). If you don't recognize what you are working, eventually you will run out of steam and give up.
Distractions? In all honesty that is one thing I struggled with all throughout my journey. I am getting better at that now but early on it was extremely hard to stay focused. The strategy that has worked best for me is not to look at each and every internet marketing product thrown at me. Find a strategy, implement it and take it to the finish line!
13. What was the biggest lesson you learned along your journey?
Trying to do too many things at once. As an entrepreneur it's easy to see shiny objects and money making opportunities everywhere and everyday. That is a big hurdle to success as all you end up doing is starting too many things without finishing any which eventually reflects in your level of success.
14. You share thoughts and ideas about entrepreneurship and the entrepreneurial mindset on your website. What are three characteristics of a successful entrepreneur? Please explain.
Most successful entrepreneurs are creative thinkers when it comes to making money and business and I feel that you do need that ability to be successful but the biggest characteristic of a successful entrepreneur is their ability to really step outside the comfort zone, take action and beat procrastination.
I am sure you know of many people in jobs who get extravagant business ideas but how many will actually act on them? Not many. That is the main difference between a successful entrepreneur and someone I describe as a "wantreprenuer" .
Also, successful entrepreneurs are extremely hard workers over a long period of time. Unfortunately, there are no shortcuts to business success, online or offline.
15. If you were to start over and do it all again, what is one thing you would definitely do differently?
Definitely sit down and write a business plan:) Luckily, things have worked out well for me over the last year but I definitely learned many expensive lessons with the "learn as you go" approach.
16. What do you have up your sleeve for the next chapter in your life?
I think my focus for this year is to grow my blog into a full fledged business and also take my clothing business to new heights. We are launching our own ecommerce site this month, which will really help us reach out to a much larger market. I am also training to do some public speaking so also hope to get on stage sometime in the near future.
Thank you!
------------
Vist Anshul at www.nichesense.com. Anshul has a way of distilling complex ideas into simple steps for beginners to follow and digest as they begin their journeys into the online marketing world.
Founder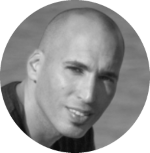 Tal Gur is a location independent entrepreneur, author, and impact investor. After trading his daily grind for a life of his own daring design, he spent a decade pursuing 100 major life goals around the globe. His most recent book and bestseller, The Art of Fully Living - 1 Man, 10 Years, 100 Life Goals Around the World, has set the stage for his new mission: elevating society to its abundance potential.