The Art of Non Conformity – Chris Guillebeau Story
The unconventional is the new conventional. No one wants to produce the run of the mill anymore, but doubts are second-guesses that stop you from going all out. Chris Guillebeau stands out because of his firm stance against allowing the pre-conceived notions of the world from stopping him from doing what he desires.
Choosing the "unconventional" over the "conventional" is just like choosing a coat tailored for you over the mass produced coat that is ill-fitting. The unconventional way of life is simply when you exercise your basic human right to make your own decisions and follow your whims and wishes as long as you do not hurt anybody else in the process.
Chris Guillebeau, the author or the ultra-popular blog The Art of Non-Conformity and a best-selling book by the same title, encourages his readers to not allow the words of their societies dissuade them from realizing their dreams. The mission of The Art of Non-Conformity, in Chris' words, is to "help people live unconventional lives, make their own choices and change the world."
Chris Guillebeau was called a rebel by some and a visionary by others. The man proudly declares that he has been challenging authority since the year of his birth, choosing at every step to do only what he was passionate about. Today Chris is best known for being a great entrepreneur, author, speaker who addresses business tactics, and personality development, and churning out travel blogs.
Chris loves to travel and thoroughly enjoys all that that comes with an adventure – thrill, challenge, exhaustion, sleeping on airport floors, mosquitoes… the works. Even as a college student Chris took the time out to travel to various places, and he converted this passion into a lifelong ambition, thereby ensuring that success greets him out there.
In 2002, at the age of 24, Chris volunteered to take on the responsibilities of a volunteer executive for a medical charity in West Africa. During his 4-year stint there, Chris interacted with war lords, presidents, and everyone in-between, and he credits this experience as the spring board of his mission to travel to every country in the world.
Following his stint in West Africa, Chris went to Seattle to do a graduate program in International Studies, and he did added to the university knowledge provided with personal efforts of his own, learning for his trips to Uganda, Burma, Macedonia, Jordan and at least 20 other cities across the world during his graduation course.
Guillebeau is a versatile man with diverse skills, and what truly makes him a genius is that he cleverly uses his skills to his advantage. A staunch non-conformist, Chris prides himself in successfully dodging the 9-5 job menace for more than 10 years now, and being able to announce that he hasbeen self employed all his adult life.
Chris' blog The Art Of Non-Conformity has an Alexa ranking of under 30,000 – i.e., his blog is among the top 30,000 most frequented sites across the globe, and it ranks in the top 15,000 most visited sites in the United States of America, his native land. A Brief Guide to World Dominion is a book that has captured the interest and imagination of all those who have chanced across it. This manifesto expounds on Chris' principles of helping people take over their worlds by making choices that are born of passion and not of the obligation to conform to popular norms.
Chris has set himself a deadline of April 7th, 2013 to complete his quest to visit every country in the world, learn from their peoples, and to spread his own message. Of the 193 countries listed with the United Nations, Chris has already been to 177, and he has set himself a 2-year deadline to finish his mission. Sans a deadline, any action can take forever to be completed, and it is important to plan out your calendar to achieve anything.
Chris is also an entrepreneur; he has tried his hand at a wide range of businesses from importing coffee from Jamaica, to dabbling with search engine optimization in the early days of its market life, Google Adwords and Adsense arbitrage, and setting up a publication house. Chris currently writes for his blog, besides authoring books on a plethora of issues, and writes guest entries for numerous traditional and new media outlets like Business Week, Entrepreneur, USA Today, LifeHacker, Zen Habits, Inc.com, International Affairs Quarterly, Unclutterer, Get Rich Slowly and ProBlogger. His travels are syndicated on thw Huffington Post, CNN.com, Abu Dhabi National and Oregonian, among others.
Guillebeau is clearly a man on a mission, and his success is due to the fact that he challenged the ways of civilization to meet his personal needs. Every human being is inherently a curious creature, but the zest to quench the thirst for knowledge is stamped out by the infectious love for monetary security. Lethargy bred the comfort of routine and other materialistic comforts. For example, Chris points out that the cost of visiting 100 countries, if carried out economically, would add up to the price of a luxurious four wheeler. Yet many would prefer the car over trips to a 100 countries across the world, an opportunity that would allow them to broaden their horizons and enrich their minds.
Chris has penned several books on entrepreneurship, personal development and travel. They all share the common thread of promotion of non-conformity and the benefits of shrugging off the ill-fitting mass-produced coats passed down from generation to generation. He writes from personal experiences, and the candid style of his writing wins over audiences as they instill the courage to stand up for what they believe in. To be a non-conformist, one is not required to cry "no" at everything that society tells them, it simply means that not allowing the "practicalities" advocated by others to trample one's passions, and to follow their heart and mind to find true success and happiness.
Photo Credit: Janet Bark
Chief Editor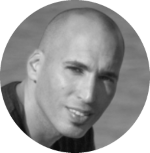 Tal Gur is an author, founder, and impact-driven entrepreneur at heart. After trading his daily grind for a life of his own daring design, he spent a decade pursuing 100 major life goals around the globe. His journey and most recent book, The Art of Fully Living, has led him to found Elevate Society.