As most of you probably know, Australia has endured the worst bushfire in recorded history this month. More than 200 people died, and whole towns were being razed in one deadly weekend.
Two of them, Kinglake and Marysville, are only ~50KM from my house and places I know quite well, as I spent some time in both. Just hard to imagine they do not exist anymore...
If there is any positive in this horrific disaster, it's the positive show of solidarity and support that swept the country, something which I've seen many times in Israel after violent terrorist attacks and tragedies.
On that same weekend I participated in this thing called "Landmark", a one weekend forum that's supposed to do wonders in one's perceptions of life. I've heard about it quite a lot from different sources, so my curiosity took over and I decided to check it out. Friday to Sunday, 12 hours each day, you listen to what I call a mixture of Self-Help, Buddhism and other new age philosophies.
At first I didn't like it, resisting some of the course rules and lecturer style. But then something happened. I started to be aware of the "rebel heart" in me and how I always refuse to conform. I had 40+ hours left and it definitely affected my listening, so I decided to give this seminar a real chance. This conscious choice didn't disappoint me. The course leader suddenly started to sound more interesting and she now had my full attention.
It is funny how awareness and one small choice can totally change the quality of any experience. This was the first thing I got out of this weekend: people around you will always look as good as you want them to look. Give them a chance. Most of the other concepts were interesting but not new. Our ego, attachments to identity, the way we put meanings, how we carry the past with us and how we can create new possibilities by disclosing those hidden episodes of the past. If you read "New Earth", Eckhart Tolle's latest book, you will be familiar with most Landmark content.
The power of landmark forum, though, is in its intensity and sharing methods. As the name suggests, it is a Forum and not a course or a lecture. Besides the "Over-marketing" and Landmark's use of vulnerable psychology, overall, it was quite a good weekend which helped me to identify some small dark spots and become even more open and communicative.
Be Happy. Tal
Founder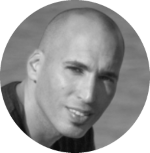 Tal Gur is a location independent entrepreneur, author, and impact investor. After trading his daily grind for a life of his own daring design, he spent a decade pursuing 100 major life goals around the globe. His most recent book and bestseller, The Art of Fully Living - 1 Man, 10 Years, 100 Life Goals Around the World, has set the stage for his new mission: elevating society to its abundance potential.