Blogging to Excellence – Interview with Scott Mackes
After receiving an average performance rating at his job, Scott Mackes, founder of Margin of Excellence, decided to take control of his life by learning how to take on a leadership role and tackle the challenges that stood in his way of excellence. Over the course of a year, while trying to improve his skills and become more productive, Scott also managed to build a successful online business.
Today, Scott is well on his way to not only helping himself, but also helping others reach their goals and achieve their dreams. His excellent series, The 45-Minute MBA, guides people through what they have to do to be successful business owners and lead the organization to new heights.
Although he has already found success, Scott continues to work hard to build himself up and help others find their paths. This interview will not only be useful for those who want to achieve excellence in their current job but also for those who make first steps in blogging and building an online business. Enjoy!
1. Share a little bit about the path that brought you to where you are now. What triggered the creation of Margin of Excellence?
I was really upset about a performance review I had with my boss. Long story short, I didn't feel like I was doing anything to stand out from my peers. I'm not the kind of person to accept mediocrity so I started a blog to hold myself accountable and achieve more. What's nice about the blog format is that anyone can read it and benefit from my experiences.
2. You mission statement is: "To help inspiring leaders like you and me survive and thrive in today's workplace and become remarkable". In your opinion, what makes it difficult for people to survive and thrive in today's workplace?
I think most people are afraid to do things differently and to take the path less traveled. But, that's the only way to stand out and make a difference. You have to put yourself out there. What's the worst that can happen?
3. Once you decided you wanted to rise to the challenge and be remarkable at what you are already doing, where did you turn for support and advice? Was there any one person that inspired you? Was there any one person that guided you through the process?
It's easy to place blame and quit. The magic happens when you hold yourself accountable for your situation and decide to do something about it. Even if you don't like your job you should strive to be the very best at it. Opportunities will come your way that you never expected. There really wasn't one person who guided me through the process of getting better results at work. I did get inspiration from the book "Acres of Diamonds" by Russell Conwell which is about making the most of the resources you have at your disposal.
4. You post Quarterly Progress Reports on your website. What is the purpose of doing that and how has it helped you over the last year?
The progress reports are my measuring stick and they hold me accountable. I also want others to see where I started vs. where I am now so they have confidence that they can achieve the same things.
5. You have worked hard on creating the 45-Minute MBA series on your website. Can you provide a brief description of what that is and why you created it?
I created the 45-Minute MBA to teach you everything I learned in business school in 45 minutes of reading. I created it because I want people to think outside the box when it comes to how they spend their time and money. Business school is very expensive and it takes up a lot of time. Although I enjoyed getting my MBA, most of my business knowledge came from real life experiences and self-learning. I discuss my life experiences and self-learning in the series.
6. How do you even begin to go about planning out a series?
I enjoy writing a series because it provides structure to an idea I want to share with my audience. I start with a blank piece of paper and sketch out where I want to take the reader from beginning to end. I write down all the important topics on the subject and sort them out. These topics become my articles. I usually change things up some as I go along but overall, that rough sketch looks pretty similar to the finish product. I'm actually looking at my handwritten plan for the "Catalyst Series" that I'm working on now. It's sitting on my desk right next to my laptop.
7. What was the biggest lesson you learned while creating the 45-Minute MBA series?
The biggest lesson I learned was that I wish I could go back in time and follow the plan I described in my article titled "The One Year Self-Directed MBA Program". This would have saved me a lot of time and money.
8. You have managed to significantly increase the traffic to your site over a short period of time. What did you do to make it take off so suddenly?
Good content, sharable articles, and a good email subscription program.
9. As you continue to build your online business, you mentioned that you are using the Empire Building Kit as a guide. What is the kit and how will it help others who also want to build their own businesses?
The Empire Building Kit by Chris Guillebeau is a 365-day email series that walks you through the steps to start your own lifestyle business. The kit also contains video interviews with entrepreneurs and a product launch plan. Right now I'm on day 78. I'm actually going to add a link to the kit in my forthcoming "45-Minute MBA" eBook. The kit is awesome.
10. It seems that over time, you have begun to outsource some of the work that you need to get done. How do you go about finding people that you trust who can also produce high-quality products and services to help you? Do you have any criteria you use to "rate" them?
For my web design, I hired Caleb Wojcik from the Pocket Changed blog. I enjoy reading Caleb's articles and I like the way his site looks so I asked if he would design my site. It goes to show you how powerful a blog can be. It's such a great way to build trust with people. If a person does quality work and they are trustworthy, that's enough criteria for me. He built trust with me through the writing on his blog.
11. How do you keep yourself motivated every single day and stick to the deadlines and goals you have set?
Staying motivated can be difficult, especially with a full-time job, a blog, and a family. The blog is extra-curricular so I have to make sure that the topics I write about interest me. The best source of motivation is being able to help someone achieve something. That's what keeps me going. I woke up the other morning to an email with the subject line: "I did it!" It was from a reader who is starting her own website and just registered her domain name. She was so excited. That's what motivates me.
12. What are the top three pieces of advice you would give someone who is just starting off on their journey of building their own company?
1) Never lose sight of the customer. 2) Never risk what you have for something you don't need. 3) Believe in yourself.
13. If you were to do this all over again, what would you do differently and why?
I would have started earlier.
14. You say that the next series you are starting will serve as a catalyst for careers. Would you be able to provide a sneak preview as to what some of the main ideas will be for that series?
The Catalyst Series will help you get from point A to B in your career. I will offer some personal development tips along with some unique ways to create value and build a sizeable support network. The overall message is about creating opportunity.
15. You still have many goals to reach ahead of you. Which one are you going to tackle next? Which one excites you the most?
My most important goal is to grow the Margin of Excellence community. I want to grow the community to help as many people as I can make a difference in the world.
Thank you!
Scott Mackes is the founder Margin of Excellence, a leadership blog offering unique tips to help you survive and thrive in today's workplace. He is currently working very hard on creating a second series of information to help people jump-start their businesses. Visit him at www.marginofexcellence.com
Founder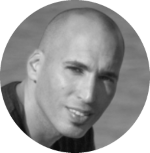 Tal Gur is a location independent entrepreneur, author, and impact investor. After trading his daily grind for a life of his own daring design, he spent a decade pursuing 100 major life goals around the globe. His most recent book and bestseller, The Art of Fully Living - 1 Man, 10 Years, 100 Life Goals Around the World, has set the stage for his new mission: elevating society to its abundance potential.