This year I celebrated my birthday by spending 4 days in Sydney which turned to be one great weekend.
The real excuse was a half Marathon event but I also registered myself for a seminar with Anthony Robbins, who was in Sydney for his last Australian appearance. I usually don't like these kinds of events but decided to go anyway to get out of my comfort zone and to see what all the fuss was about.
It was a beautiful sun-filled morning when I arrived, so I sat close to the exit in case I felt like escaping for a lazy sunbaking day outside. An old lady was sitting near me, jumping in her chair, clapping, and singing. I remember myself wondering if I'm going to survive even 10 minutes here. That definitely wasn't my cup of tea. Luckily the friend that I stayed with lived a short distance away from Mosman Bay, an amazing Sydney beach suburb, so in my head I was already on the way out.
What can I say, not only did I survive those 10 minutes, I actually spent the whole 4 days with Anthony Robbins and 4000 of his adoring fans. I met beautiful people, I laughed, cried, hugged, I walked on burning hot coals, I danced from my heart, and more than anything I came back to Melbourne with unbelievable amounts of energy.
I imagined a tiring but rewarding event and got myself instead a big spiritual experience, looking deep into my soul and committing myself to step up higher.
Live your dreams
Founder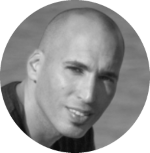 Tal Gur is a location independent entrepreneur, author, and impact investor. After trading his daily grind for a life of his own daring design, he spent a decade pursuing 100 major life goals around the globe. His most recent book and bestseller, The Art of Fully Living - 1 Man, 10 Years, 100 Life Goals Around the World, has set the stage for his new mission: elevating society to its abundance potential.