Emotional Intelligence and Social Interaction
I believe High Emotional Intelligence separates great social people from the merely skilled ones. This has been already adopted successfully in the Sports world and the business world.
Why is this so important in our case?
• Studies show that our emotions are the most powerful factors in determining how we behave and make decisions
• People need some kind of emotional attachment and emotional reaction
However, having inner EI is not enough, we should know how to project our EI.
The following Matrix is what I came with
Inner World: 1. Emotional Awareness --> 2. Emotional Management
Outer World: 1. Empathy --> 2. Social intelligence
The components can also be ordered in steps
1. Emotional Awareness: becoming conscious of what you are feeling (e.g Understand the source of your fears to give presentation)
2. Emotional Management: Become self-control (e.g know how to eliminate your fears, relax, study and do it anyway)
3. Empathy : being sensitive to the emotions needed by others (e.g Understand crowd needs for genuine, informative, funny and confident presentation)
4. Social intelligence: negotiate with other people emotionally (e.g Be present, emotionally resilient and unattached of results, engage the crowd)
The good news is that emotional intelligence is a learnt activity, especially through our on experience and constant interaction with others.
Founder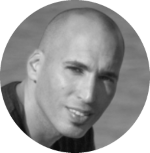 Tal Gur is a location independent entrepreneur, author, and impact investor. After trading his daily grind for a life of his own daring design, he spent a decade pursuing 100 major life goals around the globe. His most recent book and bestseller, The Art of Fully Living - 1 Man, 10 Years, 100 Life Goals Around the World, has set the stage for his new mission: elevating society to its abundance potential.