A/B Testing: Summary Review & Takeaways
This is a summary review of A/B Testing containing key details about the book.
What is A/B Testing About?
A/B Testing is a guide to delivering a better user experience through A/B testing. Using A/B testing, one can determine the most effective way to increase the conversion rate-the rate at which visitors convert into customers. The book outlines a simple way to test several different versions of a web page with live traffic, and then measure the effect each version has on visitors.
Who is the author of A/B Testing?
Dan Siroker. Dan is the CEO and co-founder of Optimizely.
Pete Koomen is the co-founder and President of Optimizely.
How long is A/B Testing?
What genre is A/B Testing?
Business, Nonfiction, Technology
What are the main summary points of A/B Testing?
Here are some key summary points from A/B Testing:
A/B testing is simply showing different versions of your website to different focus groups where you collect the data and select which option is most effective
Come up with a clear hypothesis and success metrics to accurately gauge what you are looking for when testing your website
Your website may need a complete overhaul or major changes that you didn't notice at first and this is the power of A/B testing
You may also notice through A/B testing that your site has unnecessary clutter. Stripping away these will greatly increase your website`s efficiency.
When constructing language on your website, use verbs, not nouns, to increase engagement. For example, using `Submit` use `Take action now!`
Failure doesn't mean the end. You`ll discover better ways to optimise your website quicker if you fail sooner
A/B testing may be time-consuming, but it has many benefits. Convince those who are sceptical by regularly sharing data-driven process results.
What are good quotes from A/B Testing?
"A mistake that some companies make is to start moving a bunch of levers around without clear planning upfront for what they're trying to optimize—and what will be impacted by those changes."
"Incrementalism can lead to local maxima. Be willing to explore to find the big wins before testing smaller changes and tweaks. Conversely, sometimes it's the incremental refinements that prove or disprove your hypotheses about what your users respond to. Use the insights from small tests to guide and inform your thinking about bigger changes. Consider entirely new alternative approaches to your principal business goals. Be willing to go beyond just testing "variations on a theme"—you might be surprised. If you're working on a major site redesign or overhaul, don't wait until the new design is live to A/B test it. A/B test the redesign itself."
"If you want to increase your success rate, double your failure rate. Thomas J. Watson, Former Chairman and CEO of IBM"
― Dan Siroker and Pete Koomen, A/B Testing
What are the chapters in A/B Testing?
Chapter 1: How A/B Testing Helped With the White House - Twice
Chapter 2: What To Test
Chapter 3: Seek the Global Maximum
Chapter 4: Less IS More: Reduce Choices
Chapter 5: Words Matter: Focus on Your Call to Action
Chapter 6: Fail Fast and Learn
Chapter 7: Choose the Solution That's Right for Your Organization
Chapter 8: The Cure for the HiPPO Syndrome
Chapter 9: The A/B Testing Dream Team
Chapter 10: Iterate, Iterate, Iterate
Chapter 11: How A/B Tests Can Go Away
Chapter 12: Beyond the Page: Non-Website A/B Testing
Chapter 13: Personalize, Personalize, Personalize
Is A/B Testing worth reading?
The majority of customer reviews on leading review sites are positive. Here's what some reviewers had to say about the book:
"Unlike the few other business books I have read in my life this isn't just one chapter repeated over and over with a few simple word changes. The book actually does a great job helping people understand what A/B and multivariate testing are then moves on to explain the value proposition and provides valuable advice about how to get started and what to test."
* Key sources: LibraryThing, Amazon, Wikipedia
Chief Editor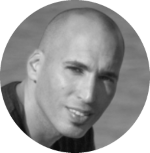 Tal Gur is an impact-driven entrepreneur, author, and investor. After trading his daily grind for a life of his own daring design, he spent a decade pursuing 100 major life goals around the globe. His journey and most recent book, The Art of Fully Living - 1 Man, 10 Years, 100 Life Goals Around the World, has led him to found Elevate Society and other impact-driven ventures.