Accidental Genius: Summary Review
This is a quick summary review of Accidental Genius containing key details about the book.
What is Accidental Genius About?
"Accidental Genius: Using Writing to Generate Your Best Ideas, Insight, and Content" is a book by Mark Levy that explores the concept of "accidental genius" and how it can be harnessed to generate ideas and improve writing.
In Accidental Genius, the author shares his six secrets to freewriting as well as fifteen problem-solving and creativity-stimulating principles you can use if you need more firepower—seven of which are new to this edition. Also new to this edition: an extensive section on how to refine your raw freewriting into something you can share with the world.
Freewriting is deceptively simple: start writing as fast as you can, for as long as you can, about a subject you care deeply about, while ignoring the standard rules of grammar and spelling. Your internal editor won't be able to keep up with your output—you'll generate breakthrough ideas and solutions that you couldn't have created any other way.
Who is the author of Accidental Genius?
Dr Mark Levy, MBChB, FRCGP, is a General Practitioner, editor of Asthma in General Practice and a Medical Advisor to the National Asthma and Respiratory Training Centre in the UK.
What are some key summary points from Accidental Genius?
Here are some key points and takeaways from the book:
"Accidental genius" refers to the idea that the best ideas and insights often arise unexpectedly, when the mind is relaxed and open to new possibilities.
Writing can be a powerful tool for generating ideas and insights, as it allows us to explore our thoughts and ideas in a structured way.
Levy suggests using a technique called "freewriting" to tap into accidental genius and generate new ideas. Freewriting involves writing quickly and without censorship, allowing the mind to wander and explore new ideas.
Levy also recommends using prompts and exercises to stimulate creative thinking and spark new ideas.
Levy argues that accidental genius can be harnessed by anyone, and that it is a valuable resource for improving writing and generating new ideas.
Levy suggests incorporating writing into one's daily routine as a way to cultivate accidental genius and enhance creative thinking.
Book details
Print length: 192 pages
Genre: Writing, Nonfiction, Business
What are the chapters in Accidental Genius?
Chapter 1. Secret #1: Try Easy
Chapter 2. Secret #2: Write Fast and Continuously
Chapter 3. Secret #3: Work Against a Limit
Chapter 4. Secret #4: Write the Way You Think
Chapter 5. Secret #5: Go With the Thought
Chapter 6. Secret #6: Redirect Your Attention
Chapter 7. Idea as Product
Chapter 8. Prompt Your Thinking
Chapter 9. Open Up Words
Chapter 10. Escape Your Own Intelligence
Chapter 11. The Value in Disconnecting
Chapter 12. Using Assumptions to Get Unstuck
Chapter 13. Getting a Hundred Ideas is Easier Than Getting One
Chapter 14. Learn to Love Lying
Chapter 15. Hold a Paper Conversation
Chapter 16. Drop Your Mind on Paper
Chapter 17. The Writing Marathon
Chapter 18. Doubt Yourself
Chapter 19. The Magic of Exact Writing
Chapter 20. Extract Gold from a Business Book
Chapter 21. You Are What You Focus On
Chapter 22. Sharing Your Unfinished Thoughts
Chapter 23. Help Others Do Their Best Thinking
Chapter 24. Notice Stories Everywhere
Chapter 25. Build an Inventory of Thoughts
Chapter 26. Write Your Own Rules
Chapter 27. The Fascination Method
Chapter 28. Freewrite Your Way to Finished Prose
What is a good quote from Accidental Genius?
Top Quote: "Businesses are like individuals. What's perfect for one is awful for another. There is no such thing as an objective "A-strategy." An A-strategy is only an A-strategy if you'll execute on it. If you don't have the desire, talent, or resources to fully execute, then your B- or C-strategy should be elevated to A-strategy status. Execute on the strategy you'll perform with gusto. Gusto matters. Excitement matters. Follow-through matters. Completion matters." - Accidental Genius Quotes, Dr Mark Levy
What do critics say?
Here's what one of the prominent reviewers had to say about the book: "Whether you have writer's block, face a tight deadline, or just don't know how to get across all those wonderful ideas rambling around in the back of your head, Mark Levy has the solution for you." — B. Joseph Pine II, coauthor of The Experience Economy and Authenticity
* The summary points above have been concluded from the book and other public sources. The editor of this summary review made every effort to maintain information accuracy, including any published quotes, chapters, or takeaways
Chief Editor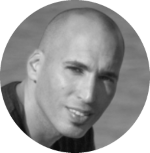 Tal Gur is an author, founder, and impact-driven entrepreneur at heart. After trading his daily grind for a life of his own daring design, he spent a decade pursuing 100 major life goals around the globe. His journey and most recent book, The Art of Fully Living, has led him to found Elevate Society.