An Invisible Thread: Summary Review
This is a summary review of An Invisible Thread containing key details about the book.
What is An Invisible Thread About?
"An Invisible Thread: The True Story of an 11-Year-Old Panhandler, a Busy Sales Executive, and an Unlikely Meeting with Destiny" is a book by Laura Schroff and Alex Tresniowski that tells the true story of the unexpected friendship that developed between Schroff, a busy sales executive, and a young panhandler named Maurice.
An Invisible Thread chronicles the lifelong friendship between a busy sales executive and a disadvantaged young boy, and how both of their lives were changed by what began as one small gesture of kindness. It is a story of a successful ad sales rep and a homeless, eleven-year-old panhandler on the street and how they built an unexpected, life-changing friendship that has today spanned almost three decades.
Who is the author of An Invisible Thread?
Laura Schroff is a former advertising sales executive who worked for over thirty years with several major media companies and publications, including Time Inc. and People. Her book, An Invisible Thread, became an instant New York Times bestselling book and later was a #1 New York Times and international bestseller.
Alex Tresniowski is a writer who lives and works in New York. He was a writer for both Time and People magazines, handling mostly human-interest stories. He is the author or coauthor of more than twenty books.
What are some key summary points from An Invisible Thread?
Here are some key points and takeaways from the book:
A small act of kindness can have a big impact on someone's life. Schroff's decision to buy Maurice a meal led to a long-lasting friendship and had a significant positive impact on both of their lives.
Sometimes the people who need help the most are those who are hardest to reach. Maurice had been living on the streets for years and had given up hope, but Schroff's kindness and willingness to listen helped him to begin to turn his life around.
People from very different backgrounds and circumstances can form meaningful and lasting connections. Schroff and Maurice came from very different worlds, but their friendship transcended their differences and helped them both to grow and learn from each other.
It is never too late to make a positive change in your life. Maurice was able to overcome many challenges and obstacles on his journey to a better life, and his story serves as an inspiration to others.
The power of kindness and compassion should not be underestimated. Schroff's simple act of kindness had a ripple effect that touched many other lives and helped to create a more positive and compassionate world.
Book details
Print length: 260 pages
Genre: Nonfiction, Memoir, Biography
What are the chapters in An Invisible Thread?
Chapter 1. Spare Change
Chapter 2. The First Day
Chapter 3. One Good Break
Chapter 4. The Birthday Present
Chapter 5. The Baseball Glove
Chapter 6. Is That It?
Chapter 7. A Mother's Song
Chapter 8. A Father's Legacy
Chapter 9. The Brown Paper Bag
Chapter 10. The Big Table
Chapter 11. The Missed Appointment
Chapter 12. Outside Looking In
Chapter 13. Bittersweet Miracle
Chapter 14. A Simple Recipe
Chapter 15. The New Bicycle
Chapter 16. The Winter Coat
Chapter 17. 17
Chapter 18. One Last Test
Chapter 19. The Greatest Gift
Chapter 20. Love Maurice 227
Chapter 21. Acknowledgments
What is a good quote from An Invisible Thread?
Top Quote: "An invisible thread connects those who are destined to meet, regardless of time, place, and circumstance. The thread may stretch or tangle. But it will never break." —Ancient Chinese Proverb" - An Invisible Thread quotes, Laura Schroff
What do critics say?
Here's what one of the prominent reviewers had to say about the book: "This book is a game-changer . . . each chapter touches your heart. An Invisible Thread is a gift to us all. America needs this book now more than ever." — "Coach" Ron Tunick
* The summary points above have been concluded from the book and other public sources. The editor of this summary review made every effort to maintain information accuracy, including any published quotes, chapters, or takeaways
Chief Editor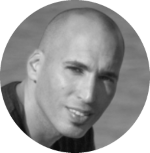 Tal Gur is an author, founder, and impact-driven entrepreneur at heart. After trading his daily grind for a life of his own daring design, he spent a decade pursuing 100 major life goals around the globe. His journey and most recent book, The Art of Fully Living, has led him to found Elevate Society.