Better and Faster: Summary Review
This is a summary review of Better and Faster containing key details about the book.
What is Better and Faster About?
Better and Faster outlines how to overcome neurological traps that block successful people from realizing their full potential. It describes 6 patterns of opportunity: Convergence, Divergence, Cyclicality, Redirection, Reduction, and Acceleration. Each pattern is a repeatable shortcut that has created fortunes for ex-criminals, reclusive billionaires, disruptive CEOs, and ordinary people who unexpectedly made it big.
Who is the author of Better and Faster?
Jeremy Gutsche is a New York Times bestselling author, chaos expert, innovation keynote speaker, and CEO of Trend Hunter.
How long is Better and Faster?
What genre is Better and Faster?
Business, Nonfiction, Self Help
What are the main summary points of Better and Faster?
Here are some key summary points from Better and Faster:
Takeaway 1: Don't fall prey to complacency (Resting on the laurels earned from past successes), repetition (Taking actions that brought success in the past and expect the same outcome in the present), or overprotectiveness (Setting up barriers that protect the status quo and inhibit evolution). Businesses who do so eventually end up being destroyed.
Takeaway 2: Replace complacency with insatiability (Constantly scanning the market for the next opportunity), repetition with curiosity (Seeking out new and fresh sources of inspiration), and overprotectiveness with a willingness to destroy (The willingness to abandon safety).
Takeaway 3: How do you take advantage of new trends in business? Convergence and divergence. By combining several different trends at once, you can create a new niche or sector of the market for your product or service (convergence). By carving out a competitive advantage through a unique angle that diverges from the overcrowded mainstream, you can create a new pathway for your business (divergence)
Takeaway 4: Your business could take advantage of cyclicality (Forecasting trends and predictably recurring elements) to create new products and services.
Takeaway 5: Have a product/service that has some negative connotation to it? Redirect it by marketing to its strengths whilst not entirely avoiding its downfalls
Takeaway 6: Double down on the strengths of your product/service by reducing it to its popular and practical elements. Similarly, you can accelerate by taking the good points and making them better, stronger, faster, and more efficient.
Takeaway 7: Narrow your focus and identify a cluster of opportunity (a group of products that have a similar approach) in your industry. Then, use the patterns of opportunity discussed above to reframe the main idea and make it special. Additionally, look outside your industry for new ideas
What are the chapters in Better and Faster?
Chapter 1: THE HUNTER AND THE FARMER
Chapter 2: FARMER TRAPS VS. HUNTER INSTINCTS
Chapter 3: HOW TO RAISE A HUNTER
Chapter 4: GETTING MOMENTUM ON YOUR SIDE
Chapter 5: CONVERGENCE
Chapter 6: DIVERGENCE
Chapter 7: CYCLICALITY
Chapter 8: REDIRECTION
Chapter 9: REDUCTION
Chapter 10: ACCELERATION
Chapter 11: THE HUNTING GROUND
Chapter 12: LOOKING AT INDIVIDUAL INDUSTRIES
Is Better and Faster worth reading?
The majority of customer reviews on leading review sites are positive. Here's what some reviewers had to say about the book:
"Jeremy Gutsche's latest book is a gem. Using a wealth of research and an array of great stories, he shows you how to avoid the traps that inhibit your progress. Then he shows you smart, useful tools to help you find breakthrough ideas better and faster." - Daniel H. Pink, NY Times bestselling author of To Sell is Human and Drive
An instant classic! Jeremy has delivered a well-researched, passionate, inspiring book you will gulp and then study. It will lead to countless new ventures and adventures for those lucky enough to read it." - Seth Godin, bestselling author of What To Do When It's Your Turn
"Gutsche nails it with this book. He'll teach you neurological habits that can accelerate your success and make you into a fire-breathing, game-changing innovator of epic proportions." - Guy Kawasaki, Former Chief Evangelist of Apple, Chief Evangelist of Canva and bestselling author of The Art of Social Media
"Better and Faster grabbed me from the first page. The stories and compelling writing make this book a joy to read. But the real payoff comes from the big and immensely practical ideas. Gutsche's contrast between farmers and hunters and the six patterns of opportunity are pure gold. Buy it, read it, and teach these lovely lessons to others – you will be glad you did." - Robert I. Sutton, Stanford Professor and co-author of Scaling Up Excellence
"Better and Faster is an epic method for all those who want to become better at innovating, managing and adapting. Stop missing out on your hidden potential, harness your hunter instincts and learn Gutsche's 6 shortcuts to remarkable opportunity" - Josh Linkner, NY Times bestselling author of Road to Reinvention, Venture Capitalist
"Gutsche pushes us to push our own potential. This book will make you see the power of ideas in a new light." - Scott Belsky, Founder/CEO of Behance and WSJ bestselling author of Making Ideas Happen
"The cutting edge just got sharper. Jeremy Gutsche's book unleashes fascinating stories and genius takeaways that will launch your game to the next level." - Sally Hogshead, NY Times bestselling author of How the World Sees You and Fascinate
"Rich with examples and practical tips, Better and Faster is essential reading for any manager." - Hayagreeva Rao, Stanford Professor and co-author of Scaling Up Excellence
* The summary points above have been sourced and summarized from the book, Amazon, and other online publishers. The editor of this summary review made every effort to maintain the accuracy and completeness of any information, including the quotes, chapters, insights, lessons, and key takeaways.
Chief Editor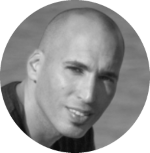 Tal Gur is an impact-driven entrepreneur, author, and investor. After trading his daily grind for a life of his own daring design, he spent a decade pursuing 100 major life goals around the globe. His journey and most recent book, The Art of Fully Living - 1 Man, 10 Years, 100 Life Goals Around the World, has led him to found Elevate Society and other impact-driven ventures.