Break comfort zone: Step up and Step into it
Most people choose to stay in their comfort zone settling for certainty rather than the unknown even if it means mediocrity and boredom, Doing the same things, going to the same places, staying in the same average relationship, working in the same boring career… Examples are numerous.
A comfort zone is simply a mental boundary created in our mind, governing our thoughts and actions. When we step outside the comfort zone our subconscious mind sends us signals such as fear and unclear thoughts. Our mind always finds a way to return us to a level that we have been conditioned. Return us to our comfort zone.
So why do we stay in the comfort zone?
Well, for starters it's obviously comfortable… but it's also safe, easy with no risks, you know what you get so why face unnecessary fears and disappointments? Right?
Wrong.
This is the biggest killer of growth which ultimately diminishes our deepest desires and dreams, limiting us from reaching our full potential.
It will probably not kill us physically but eventually it will kill our soul and spirit.
The opposite of growth is simply death: Whether in your business, relationships or personal life. Have you asked yourself why most multi-millionaires never stop and relax? Why entrepreneurs build more companies over and over again? They simply know what will happen when they stop. If they don't grow they die…
So we agree that we must grow, but in order to do that we have to get out of our comfort zones on regular basis. How do you do that?
First, commit yourself to STEP UP in every aspect of your life: physically, socially, financially, mentally… Always have a curious, open mind and know that you are an amazing creature, powerful beyond measure and you can achieve any of your dreams if you are committed enough to STEP UP.
Then, Simply STEP INTO the unknown, Challenge yourself on daily basis, Do different things constantly and Embrace change. Know that the hurdles you see are just psychological ones that can easily be conquered once you STEP INTO them.
So Step Up and Step into it!
Founder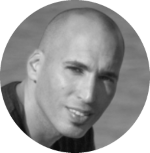 Tal Gur is a location independent entrepreneur, author, and impact investor. After trading his daily grind for a life of his own daring design, he spent a decade pursuing 100 major life goals around the globe. His most recent book and bestseller, The Art of Fully Living - 1 Man, 10 Years, 100 Life Goals Around the World, has set the stage for his new mission: elevating society to its abundance potential.