C.C. Chapman: Becoming a Leading Expert
While renowned author, speaker, entrepreneur and digital media connoisseur C.C. Chapman is no stranger to success, it's the idea of helping others that keeps him going.
Grounded by his small town roots and armed with creativity influenced by his grandfather, this man of many hats travels the world hoping to impress upon others that the real reward comes in the form of giving back.
After owning and selling a marketing agency, working with brands such as Coca-Cola and Warner Bros. and becoming a sought after keynote speaker, C.C. didn't get comfortable—he threw more irons in the fire. He went on to publish not one, but two books—Content Rules and Amazing Things Will Happen—and built an active blog. As if all that wasn't enough, he recently joined YSN as their first Chief Marketing Officer.
Even though he has a strong pulse on his talents, he is far from complacent. By sharing on his blog his plans for personal improvement, C.C. truly hopes others find their purpose and sharpen their inner voice as well.
Join me in enjoying the insights and wisdom C.C has to share in a personal interview.
1. Hi. C.C, would you briefly discuss the circumstances that led you to become an entrepreneur and content marketing expert? Have you always been intrigued by technology? Did you immediately hop on the digital media train or did you have some initial hesitations?
I've always been into technology and have been online for most of my life. It is something that has interested me and from the first time I jumped into a chat room online I was hooked on the great people I found.
My whole life I've also been creative. It may have started with hanging drawings on my parents fridge, but it grew into theater, filmmaking and a website as soon as the graphic web was public.
There wasn't any set of circumstances when I put on either of the hats you asked about. They are both in my DNA and every day I approach with an entrepreneurial and creative eye. The change came when I started making my living using both and I continue to this day.
2. You utilize a large number of social media platforms. When a new one is revealed and introduced to the world, what does it take for you to fully endorse and begin using it?
I sign up for every new one because I want to see if it will be useful for me and my clients. Plus, I feel that I owe it to my family and friends to be up on the latest and greatest because they always come to me with questions.
As for "endorsing", my philosophy has always been that each individual and company has to determine for themselves if a network is right for them. While I believe something like Twitter or Facebook is a must at the moment, perhaps it isn't right for someone out there. I try to avoid ever telling people what they MUST do and rather tell them what they SHOULD be doing.
3. When you do a speaking engagement, what is the one thing that you hope audience members gain from their time listening to you?
I want them to walk away feeling like the last hour was worth their time.
We are all busier than ever and giving a keynote is an important role. You are there to inspire the audience and get them ready for the rest of the conference. If they are bored or not learning than you have failed.
Nothing makes me happier when I get a handshake, hug or tweet that thanks me for inspiring them. That is when I'm most happy.
4. Given that you work for yourself and have an extremely multi-faceted business, do you have any tools or rituals that you find critical to streamlining your efforts and keeping organized?
Well, now that I've taken on the role of CMO for YSN, this isn't quite true anymore, but I know what you are asking.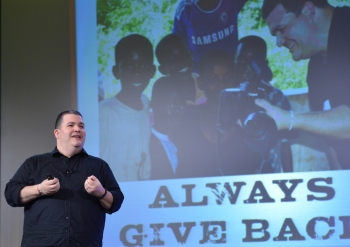 I could write a whole book on this topic (maybe I will) but for me the key is staying on top of all the communication channels. That means I look at email, Twitter and social networks on a regular basis. This keeps me on top of the latest information, but I'm ruthless about clearing out anything that isn't important.
I also try to have only a couple of must get done items every day. If your list is longer than that you'll never get to them so find the most important ones and focus your time and energy there. There will also be a longer list you can get to, but focus on the most important ones.
5. What is your definition of success? Are there any specific ways to foster success?
Success for me is being able to do work that I love and care about, while paying the bills and providing for my family.
I don't think it is a peak that you reach and are done. It is something you continually have to work at and achieve over and over again.
6. Since you can basically choose what jobs to take on or turn down, do you use a formula or follow a set of guidelines to ensure you secure X number of writing assignments, speaking engagements, photography projects, etc. per year?
I try to only accept work that feels right to me. I've had plenty of opportunities to work on something that I didn't believe in and I always passed. It isn't the easiest thing because walking away from cash is the hardest thing in the world. But, if something feels wrong then I don't want to do it.
7. As you travel a lot and do not have a typical 9-5 schedule, what strategies have you found to be helpful in maintaining the work-life balance and family commitments back home?
The fact is that there is no balance. You either figure out a way to blend your work and personal life or you fail. That is how I look at it.
My wife and I share our calendars so that we are always up to date on what is going on. We also have a whiteboard calendar on our fridge that is updated every week so that we know the most immediate things going on with our lives.
Open communications is key. If I'm traveling too much she tells me. If I need her to do something I tell her. We know that these conversations are not always easy, but they are crucial so things don't ever get to a boiling point and make a mess.
8. Can you recall the most rewarding humanitarian act you have been involved with?
Being on the ground in Ghana to celebrate the country wide rollout of two vaccines has to be the one. Seeing the hope and happiness in the eyes of parents as their kids were given the vaccines was simply amazing.
I was only there as a guest of the ONE Campaign to document the experience, but it forever changed my life and the path of my career.
9. When speaking about web content, you encourage others to reimagine so that they can present engaging material. Is there a marketing/branding campaign, commercial or slogan so ingenious that you consider it to be the most ultimate idea of all time?
That is a rather huge question, but the first thing that came to mind is Nike's "Just Do It" because it is the perfect slogan for their brand and even as they evolve from a shoe company to a full on fitness ecosystem brand it still holds perfect for them.
10. It goes without saying that you are someone who realizes the potential of the Internet and social media to catapult a business. Do you ever come across any old school folks who are naysayers of digital media? What do you say to them?
I am usually very blunt with them and let them know that if they continue to just poo poo digital media that they might as well close up shop now because that is exactly what will happen to them soon enough.
Thank you
---
Charles "C.C." Chapman is a best selling author, award winning marketing creative, and humanitarian. You can find him at cc-chapman.com and on Twitter @cc_chapman
Chief Editor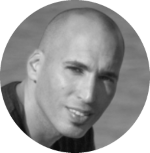 Tal Gur is an author, founder, and impact-driven entrepreneur at heart. After trading his daily grind for a life of his own daring design, he spent a decade pursuing 100 major life goals around the globe. His journey and most recent book, The Art of Fully Living, has led him to found Elevate Society.