Cooking Up a Business: Summary Review
This is a summary review of Cooking Up a Business containing key details about the book.
What is Cooking Up a Business About?
"Cooking Up a Business: How to Start, Grow, and Succeed in a Food Venture" is a book written by Rachel Hofstetter, it offers practical advice and guidance for anyone looking to start, grow or succeed in the food industry.

ELEVATE
Free Resource: A step-by-step blueprint to help you set and realize big dreams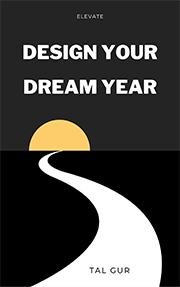 Cooking Up a Business has been written for aspiring entrepreneurs, business leaders, and anyone looking to start or succeed in the food industry. The book gives you a real-world, up-close-and-personal preview of the exciting journey. Through profiles and interviews with nationally known food entrepreneurs from Popchips, Vosges Haut-Chocolat, Hint Water, Mary's Gone Crackers, Love Grown Foods, Kopali Organics, Tasty, Evol, Justin's Nut Butters, Cameron Hughes Wine, and more, you will gain applicable, practical guidance that teaches you how to succeed today.
Who is the author of Cooking Up a Business?
Rachel Hofstetter is the founder-in-chief at guesterly. She is a former food editor at O, the Oprah Magazine and Reader's Digest. She received a degree in Economics from Miami University.
What are some key summary points from Cooking Up a Business?
Here are some key points and takeaways from the book:
The importance of understanding the market and your customers, and to be able to identify a niche that your product or service can fill.
The importance of creating a strong brand and being able to tell a compelling story about your product or service.
The need to be constantly innovating and experimenting in order to stay relevant and competitive in the market.
The importance of understanding and complying with the regulations and laws that apply to the food industry.
The importance of building a strong team and having the right people in the right roles, this is critical for the success of any food business.
The importance of having a strong financial plan and being able to manage cash flow effectively.
The need to have a solid business plan that outlines your goals, strategies and objectives.
The importance of building a network of supportive partners, including suppliers, vendors, and other industry professionals who can help you to grow your business.
The importance of embracing the digital side of the food industry, this includes e-commerce, social media and other digital platforms that allow you to reach a wider audience and boost sales.

Book details

Print length: 240 pages
Genre: Business, Food, Cooking

What are the chapters in Cooking Up a Business?

Chapter 1: The Power of Hustle: Love Grown Foods
Chapter 2: Designing A Sellable, Profitable Product: Kopali Organics
Chapter 3: Creating and Evolving a Brand: Tasty
Chapter 4: Secrets of Food Safety and Scale: Evol
Chapter 5: Navigating the World of Manufacturing: Mary's Gone Crackers
Chapter 6: The Power of Equity: Justin's Nut Butters
Chapter 7: How Simple Wins on the Grocery Store Shelf: Hint
Chapter 8: Creating Buzz: Popchips
Chapter 9: The Genius Financial Model: Cameron Hughes Wine
Chapter 10: Selling Luxury: Vosges Haut-Chocolat

* The editor of this summary review made every effort to maintain information accuracy, including any published quotes, chapters, or takeaways. If you're interested in furthering your personal growth, you may want to explore my list of favorite self-improvement books. These books, which have had a significant impact on my life, are carefully curated and come with summaries and key lessons.

Chief Editor

Tal Gur is an author, founder, and impact-driven entrepreneur at heart. After trading his daily grind for a life of his own daring design, he spent a decade pursuing 100 major life goals around the globe. His journey and most recent book, The Art of Fully Living, has led him to found Elevate Society.