Crazy is a Compliment: Summary Review
This is a summary review of Crazy is a Compliment containing key details about the book.
What is Crazy is a Compliment About?
Crazy Is a Compliment combines inspiring stories, original research, and practical advice to create a road map for getting started and going bigger. The author draws on her unrivaled experience to show you the proven techniques to achieve your dreams.
Who is the author of Crazy is a Compliment?
Linda Rottenberg is an American businesswoman and author. She is the author of Crazy Is a Compliment: The Power of Zigging When Everyone Else Zags. She is the CEO and Co-founder of Endeavor, a non-profit organization that encourages the power of entrepreneurship.
How long is Crazy is a Compliment?
What genre is Crazy is a Compliment?
Business, Nonfiction, Entrepreneurship
What are good quotes from Crazy is a Compliment?
"Even if your company continues to thrive, your ability to survive in it depends on your capacity and willingness to innovate. Job security these days depends on the same qualities that make good entrepreneurs: agility, imagination, persistence, execution. To put it another way, adapt from within or you may be forced to adapt from without. Become"
"(1) First, give yourself permission to be a contrarian, to flout convention, to follow the unsafe path, to zig when everyone else zags; then (2) take some action to get going. Allow yourself to try; then try."
"If you're not called crazy when you launch something new, it means you're not thinking BIG enough."
"Status quo is Sturm und Drang. Or"
"bromides."
― Linda Rottenberg, Crazy is a Compliment
What are the chapters in Crazy is a Compliment?
Chapter 1: Getting to day One
Chapter 2: Derisking Risk
Chapter 3: Chaos Is Your Friend
Chapter 4: Your Entrepreneur Personality
Chapter 5: The Whiteboard
Chapter 6: Leadership 3.0
Chapter 7: A Circle of Mentors
Chapter 8: The Purpose-Driven Workplace
Chapter 9: Go Big AND Go Home
Chief Editor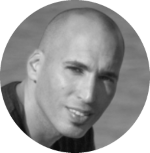 Tal Gur is an impact-driven entrepreneur, author, and investor. After trading his daily grind for a life of his own daring design, he spent a decade pursuing 100 major life goals around the globe. His journey and most recent book, The Art of Fully Living - 1 Man, 10 Years, 100 Life Goals Around the World, has led him to found Elevate Society and other impact-driven ventures.