Creative, Inc.: Summary Review
This is a summary review of Creative, Inc. containing key details about the book.
What is Creative, Inc. About?
"Creativity, Inc." is a book written by Ed Catmull, co-founder of Pixar Animation Studios and former President of Walt Disney Animation Studios. The book provides an inside look at the history and culture of Pixar and how the company fostered an environment that allowed for creative success. Catmull also shares his insights on how to manage and lead a creative organization effectively.
In the book, Catmull describes growing up idolizing Walt Disney, as well as moving to and growing up in Utah as a child. Despite his interests in animation, he pursued studies in math, physics, and computer science in college, as a Ph.D. student at the University of Utah.
Summary Points & Takeaways from Creativity, Inc.
Some key summary points and takeaways from the book includes:
* The importance of storytelling in animation, and how it applies to other fields.
* Experimentation and failure are an important part of the creative process.
* Fostering a positive culture is essential for a creative organization.
* Leadership is crucial in fostering creativity, including how to build a team, set goals, and give feedback.
* Managing risk and uncertainty is a key part of the creative process
* The role of cand and open communication to build a successful creative culture.
* The importance of giving your team the autonomy and trust to excel.
* The need to continuously review and improve your process, culture and team.
* The importance of not loosing sight of the end goal and the audience.
* Overall, "Creativity, Inc." provides valuable insights and lessons for anyone looking to foster creativity in their own work and life, or within an organization. It is a book that offer a lot of practical and actionable strategies that can be implemented to improve the creative process.
Who is the author of Creative, Inc.?
Edwin Earl "Ed" Catmull is an American computer scientist who is the co-founder of Pixar and was the President of Walt Disney Animation Studios.
Amy Wallace was an American writer. She was the daughter of writers Irving Wallace and Sylvia Wallace and the sister of writer and populist historian David Wallechinsky.
Book Details
Print length: 386 pages
Genre: Business, Nonfiction, Leadership
Creative, Inc. Chapters
Chapter 1 :Getting started. Animated ; Pixar is born ; A defining goal ; Establishing Pixar's identity
Chapter 2:Protecting the new. Honesty and candor ; Fear and failure ; The hungry beast and the ugly baby ; Change and randomness ; The hidden
Chapter 3:Building and sustaining. Broadening our view ; The unmade future
Chapter 4:Testing what we know. A new challenge ; Notes day
Chapter 5:Afterword: The Steve we knew
Chapter 6:Starting points: Thoughts for managing a creative culture.
What is a good quote from Creativity, Inc.?
Top Quote: "Failure isn't a necessary evil. In fact, it isn't evil at all. It is a necessary consequence of doing something new." - Creative, Inc. Quotes, Ed Catmull with Amy Wallace
What do critics say?
Here's what one of the prominent reviewers had to say about the book: "What is the secret to making more of the good stuff? Every so often Hollywood embraces a book that it senses might provide the answer. . . . Catmull's book is quickly becoming the latest bible for the show business crowd." — The New York Times
* The editor of this summary review made every effort to maintain information accuracy, including any published quotes, chapters, or takeaways. If you're interested in enhancing your personal growth, I suggest checking out my list of favorite self-development books. These books have been instrumental in my own personal development and I'm confident they can help you too.
Chief Editor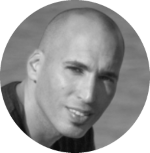 Tal Gur is an author, founder, and impact-driven entrepreneur at heart. After trading his daily grind for a life of his own daring design, he spent a decade pursuing 100 major life goals around the globe. His journey and most recent book, The Art of Fully Living, has led him to found Elevate Society.