Using Photography to Express your Creativity
There are times when we'd love to take the photo that sums it all up. Sometimes we do – but usually by accident. How can we learn to take great photos more often, even though we're constrained by time, distance and/or knowledge?
Darlene Hildebrandt may be able to help.
Darlene Hildebrandt is a professional photographer and educator who teaches aspiring amateurs, hobbyists and pros how to improve their photography skills through online photography tutoring, classes, and photography travel tours. Darlene has written a free ebook, 10 Challenges to Improve your Photography which you can find as a resource on her website.
Enjoy the interview!
1.What inspired you to begin photography as an interest – was there any particular moment you can recall?
I started doing photography in high school for the yearbook. I had a chance to experience processing film and making prints in a crude black and white darkroom. I was hooked by the magic of seeing the images I created appear in front of me. I was later encouraged by my school counselor and teachers to persue it as a possible career, which of course I did.
2.Did you begin your formal training with the intention of making a career of photography?
Yes, I attended at two year photography program at our local technical school. I wasn't sure what aspect of photography or what job I wanted in photography but as I developed skills I started to lean towards commercial, studio work and aspiring to one day have my own studio.
3.What aspect of photography interested you most when you were gaining your qualifications?
Early in my photography studies I enjoyed studio product photography and working with objects. I liked the technique of lighting things to make them appear appealing and more three dimensional. I also gained experience photographing people and I went from a very shy person in high school to an assertive, confident women in photography. A skill that's very valuble and essential to have as a photographer.
4.How have your travel experiences contributed to your skills as a photographer?
Travel really broadens one's horizons in general. One of my favourite quotes is: "The world is a book, and those that do not travel read only one page" by Saint Augustine. Reading is essential to learning, as is travel, in my opinion. I'm not sure if it has made me a better photographer or enhanced my skills, but it certainly has changed me as a person. Being able to interact with people of other cultures, how to travel light and make due with a minimum of equipment, and and adapt on the fly to changing events are all skills learned through travel.
5.You spent six months touring Canada and the US in an RV with two cats, which sounds quite challenging! What were the highlights of your trip?
As with any long journey there were highlights and lowlights, but we did have four favourite places that we loved so much we said we could live there. #1 Bisbee, AZ a small hippy-like, granola town – just our kind of place. Savannah, GA with its southern charm, stole our hearts. They call it "Slow-vannah" because it's so laid back. The last two places being the area around Philadelphia, in Lancaster County (covered bridges and the Amish), and Cape Cod with all its lighthouses and coastline.
6.How do you juggle the balance between tutoring your classes and managing both your media presence and your own photography?
Sometimes not very well, other times I do better. Being in business means always juggling things, and wearing many hats. Honestly I don't have any answers in this area, I just keep plugging away and do the best I can day to day.
7.On your webpage you mention your availability to would-be photographers who live in remote areas. How do you cope with clients you never see?
Quite easily actually! Using Google Plus hangouts and video skype calls, talking with clients in any location is not only possible but easy. I love that the world is so small today and I teach and help anyone, from anywhere.
8.You tutor a wide range of skills. Is there any one you love in particular?
I love teaching night photography and painting with light techniques. It's something that's not all that technically difficult and new comers to night photography can create some really amazing images without a lot of training. So I enjoy showing my students how to do this and amaze themselves even. Night photography is just really addicting and a lot of fun to do and to teach.
9.You have worked with charities in foreign countries. Which charity particularly tugs at your heart strings and why?
Right now the one that I'm supporting is Charity:water which is dedicated to bringing clean water to every third world village so that 2 billion people can have clean drinking water. It's so elementary and basic, and something that many of us take for granted but so many others don't have. My husband and I gave up our anniversary in September, requesting that our family and friends donate to this cause instead of gifts.
10.How do you use photography to play a part in helping those less fortunate?
There are many opportunities to help others if you just look around. I've donated framed prints for silent auctions to help the charity raise money. Other times I've done photography of events for a local charity's web site so they can raise awareness for their cause. My vision is to use my photography in a larger way some day, not sure exactly how that looks right now but I know it will involve travel and education.
11.You have started offering computer screen backgrounds via your website. How popular are they proving to be?
In January of 2012 I offered my first desktop wallpaper and my web site traffic almost doubled overnight. It is a popular search term that bring people to my site but it's not my primary target market I think and I'm unsure if I will continue doing them into 2013.
12.Your website name, 'herviewphotography.com' is direct yet eloquent. How did you come to select that name?
Years ago in a previous studio incarnation with my exhusband and partner, we hired a writer to help us write a tag line, or rather series of them for our photography studio. I used the same process she put us through to come up with 3 key words that represent my business. Then I brainstormed names using similar concepts. So I went about it quite intentionally, it didn't just come out of a hat, or come to me overnight.
13.Field trips appear to be a great way of helping both new and experienced photographers. What would you describe as the best and worst times you've had with field trips?
Well, I just did a weekend workshop in southern Alberta and we had a few hiccups over the 2 days. I'd say the worst of times was having a model show up over an hour and 40 minutes late for an early morning photo shoot. Luckily I was able to scramble and get a stand in on site and continue with the session. The best of times is whenever I know my students have an "aha" moment, or they take a great photo and surprise themselves with it. Seeing the spark in their eyes as they learn a new technique and it pays off for them with a great image. That to me is the best.
14.What do you believe are the first skills a novice photographer needs to master?
That's a tough question. As I was formally trained at a 2 year photography program at a technical school my first instinct is to say the technical stuff about their camera and exposure. My gut and my heart want to say learning to see differently and how to compose an image that speaks to people. I think the two are both equally important however, so learning and practicing them concurrently is my suggestion.
Thank You
--------
Darlene Hildebrandt is a professional photographer and educator who teaches aspiring amateurs, hobbyists and pros how to improve their photography skills through online photography tutoring, classes, and photography travel tours to Cuba. She can also be found on Twitter at @ProPhotoTutor.
Chief Editor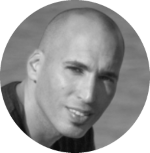 Tal Gur is an author, founder, and impact-driven entrepreneur at heart. After trading his daily grind for a life of his own daring design, he spent a decade pursuing 100 major life goals around the globe. His journey and most recent book, The Art of Fully Living, has led him to found Elevate Society.