Enchanted Objects: Summary Review
This is a summary review of Enchanted Objects containing key details about the book.
What is Enchanted Objects About?
Enchanted Objects is groundbreaking, timely, and provocative. It is a "delightful" blueprint for a better future, where efficient solutions come hand in hand with technology that delights our senses. It is essential reading for designers, technologists, entrepreneurs, business leaders, and anyone who wishes to take a glimpse into the future.
Who is the author of Enchanted Objects?
David Rose is a British author and investigative journalist. He is a contributing editor with Vanity Fair and a special investigations writer for The Mail on Sunday. His interests include human rights, miscarriages of justice, the death penalty, racism, the war on terror, politics, and climate change denial.
How long is Enchanted Objects?
What genre is Enchanted Objects?
Design, Nonfiction, Business
What are good quotes from Enchanted Objects?
"Any sufficiently advanced technology is indistinguishable from magic."
"we must also see ourselves as wizards and artists, enchanters and storytellers, psychologists and behaviorists."
"Always design a thing by considering it in its next-larger context—a chair in a room, a room in a house, a house in an environment, an environment in a city plan."
"between 50 billion and 1 trillion devices will be connected to the Internet in this decade, resulting in $14.4 trillion of economic impact."
"It took some time for me to understand why the smartphone, while convenient and useful for some tasks, is a dead end as the human-computer interface. The reason, once I saw it, is blindingly obvious: it has little respect for humanity."
"the clock "is completely useless if you want to know the time, but otherwise very informative."
"when I'm teaching a class at MIT. Thirty students, thirty laptops open."
"The life that you seek you never will find:"
"when the gods created mankind, death they dispensed to mankind,"
"life they kept for themselves."
"Stomach stapling or intestinal reduction surgery is invasive, you run the risk of infection, and you will probably suffer reflux the rest of your life. You could even die from complications of diabetes."
"But you, Gilgamesh, let your belly be full, enjoy yourself always by day and by night!"
― David Rose, Enchanted Objects
What are the chapters in Enchanted Objects?
Chapter 1: Terminal Word: The Domination of Glass Slabs
Chapter 2: Prosthetics: The New Bionic You
Chapter 3: Animism: Living with Social Robots
Chapter 4: Enchanting Everyday Objects
Chapter 5: The Dialectic Interplay: Fiction and Invention
Chapter 6: DRIVE #1. Omniscience: To Know All
Chapter 7: DRIVE #2. Telepathy: Human-to-Human Connections
Chapter 8: DRIVE #3. Safekeeping: Protection from All Harm
Chapter 9: DRIVE #4. Immortality: A Long and Quantified Life
Chapter 10: DRIVE#5. Teleportation: Friction-Free Travel
Chapter 11: DRIVE #6. Expression: The Desire to Create
Chapter 12: The Extraordinary Capability of Human Senses
Chapter 13: Technology Sensors and Enchanted Bricolage
Chapter 14: The Seven Abilities of Enchantment
Chapter 15: Five Steps on the Ladder of Enchantment
Chapter 16: Transformer Homes
Chapter 17: Collaborative Workplaces
Chapter 18: Human-Centered Cities
Chapter 19: Six Future Fantasies
Chapter 20: A Metaphor and a Macro Trend
Chief Editor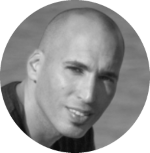 Tal Gur is an impact-driven entrepreneur, author, and investor. After trading his daily grind for a life of his own daring design, he spent a decade pursuing 100 major life goals around the globe. His journey and most recent book, The Art of Fully Living - 1 Man, 10 Years, 100 Life Goals Around the World, has led him to found Elevate Society and other impact-driven ventures.