Enchanted Objects: Summary Review
This is a summary review of Enchanted Objects containing key details about the book.
What is Enchanted Objects About?
"Enchanted Objects" by David Rose is a book that explores the intersection of technology and design, and the ways in which objects in our everyday lives can be transformed into "enchanted" objects that enhance our experiences and connect us to the digital world. Rose argues that the internet of things (IoT) has the potential to revolutionize the way we interact with technology, and that by designing objects with a focus on human experience and emotion, we can create a world in which technology enriches our lives rather than distracting from them. The book provides a range of examples of enchanted objects, from a toothbrush that encourages better oral hygiene through gamification, to a lamp that mimics the colors of the sky to create a calming environment. Rose also discusses the ethical and societal implications of a world filled with connected objects, and provides guidance on how to design enchanted objects in a way that is both ethical and sustainable. Overall, "Enchanted Objects" is a thought-provoking and inspiring book that challenges us to think differently about the role of technology in our lives, and provides practical insights into how we can create a more human-centered and meaningful digital future.
Enchanted Objects is groundbreaking, timely, and provocative. It is a "delightful" blueprint for a better future, where efficient solutions come hand in hand with technology that delights our senses. It is essential reading for designers, technologists, entrepreneurs, business leaders, and anyone who wishes to take a glimpse into the future.
Summary Points & Takeaways from Enchanted Objects
Some key summary points and takeaways from the book include:
* The rise of the "Internet of Things": The Internet of Things (IoT) refers to the trend of everyday objects becoming connected to the internet and to each other. This has the potential to transform how we live, work, and interact with our environment.
* The importance of human-centered design: Technology should be designed with the user in mind, taking into account their needs, desires, and abilities. Designers should strive to create products and experiences that are intuitive and user-friendly.
* The potential for enchanted objects: Enchanted objects are everyday objects that have been infused with technology in a way that makes them more engaging and delightful. Examples include a toothbrush that plays music to encourage brushing and a lamp that changes color based on the weather.
* The ethical implications of technology: As technology becomes more integrated into our lives, it raises ethical questions about privacy, security, and control. Designers and users should be mindful of these issues and work to ensure that technology is used in responsible and ethical ways.
* The potential for technology to enhance our lives: Technology has the potential to make our lives easier, more enjoyable, and more meaningful. By designing technology that is human-centered and that enhances our experiences, we can create a future where technology is a positive force in our lives.
* Overall, "Enchanted Objects" is a book that explores the potential impact of technology on our lives, and the importance of human-centered design, ethics, and meaningful experiences. By creating enchanted objects and designing technology with the user in mind, we can create a future where technology enhances our lives and makes them more meaningful.
Who is the author of Enchanted Objects?
David Rose is a British author and investigative journalist. He is a contributing editor with Vanity Fair and a special investigations writer for The Mail on Sunday. His interests include human rights, miscarriages of justice, the death penalty, racism, the war on terror, politics, and climate change denial.
What are good quotes from Enchanted Objects?
"We must also see ourselves as wizards and artists, enchanters and storytellers, psychologists and behaviorists."
"Any sufficiently advanced technology is indistinguishable from magic."
"we must also see ourselves as wizards and artists, enchanters and storytellers, psychologists and behaviorists."
"Always design a thing by considering it in its next-larger context—a chair in a room, a room in a house, a house in an environment, an environment in a city plan."
"It took some time for me to understand why the smartphone, while convenient and useful for some tasks, is a dead end as the human-computer interface. The reason, once I saw it, is blindingly obvious: it has little respect for humanity."
"the clock "is completely useless if you want to know the time, but otherwise very informative."
"when I'm teaching a class at MIT. Thirty students, thirty laptops open."
"The life that you seek you never will find"
"when the gods created mankind, death they dispensed to mankind, life they kept for themselves."
"Stomach stapling or intestinal reduction surgery is invasive, you run the risk of infection, and you will probably suffer reflux the rest of your life. You could even die from complications of diabetes."
― David Rose, Enchanted Objects
Book details
Print length: 320 pages
Genre: Design, Nonfiction, Business
What are the chapters in Enchanted Objects?
Chapter 1: Terminal Word: The Domination of Glass Slabs
Chapter 2: Prosthetics: The New Bionic You
Chapter 3: Animism: Living with Social Robots
Chapter 4: Enchanting Everyday Objects
Chapter 5: The Dialectic Interplay: Fiction and Invention
Chapter 6: DRIVE #1. Omniscience: To Know All
Chapter 7: DRIVE #2. Telepathy: Human-to-Human Connections
Chapter 8: DRIVE #3. Safekeeping: Protection from All Harm
Chapter 9: DRIVE #4. Immortality: A Long and Quantified Life
Chapter 10: DRIVE#5. Teleportation: Friction-Free Travel
Chapter 11: DRIVE #6. Expression: The Desire to Create
Chapter 12: The Extraordinary Capability of Human Senses
Chapter 13: Technology Sensors and Enchanted Bricolage
Chapter 14: The Seven Abilities of Enchantment
Chapter 15: Five Steps on the Ladder of Enchantment
Chapter 16: Transformer Homes
Chapter 17: Collaborative Workplaces
Chapter 18: Human-Centered Cities
Chapter 19: Six Future Fantasies
Chapter 20: A Metaphor and a Macro Trend
What do critics say?
Here's what one of the prominent reviewers had to say about the book: "Delightful. . . . In the scrum of talking heads wrestling to gain control of the narrative behind the Internet of Things, Mr. Rose is an engaging, plain-spoken guide." — The New York Times
* The editor of this summary review made every effort to maintain information accuracy, including any published quotes, chapters, or takeaways. If you're interested in furthering your personal development, I invite you to check out my list of favorite personal development books page. On this page, you'll find a curated list of books that have personally impacted my life, each with a summary and key lessons.
Chief Editor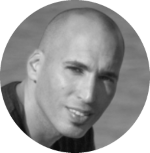 Tal Gur is an author, founder, and impact-driven entrepreneur at heart. After trading his daily grind for a life of his own daring design, he spent a decade pursuing 100 major life goals around the globe. His journey and most recent book, The Art of Fully Living, has led him to found Elevate Society.