Living More Consciously Through Nurturing your Creativity
As the producer, host and artist behind Enso Photography, Enso Creative and Radio Enso, Gregory Berg encourages people to pursue their passions and adopt a conscious approach to living. His companies are named for the Japanese word "enso" which means "circle" and can symbolize harmony, elegance and strength, all of which are qualities Gregory seeks to embody in his work.
Gregory started on his path to conscious living when he was nearly killed in a serious car accident at age 18. Profoundly affected by the crash and feeling as though he was operating on borrowed time, Gregory began a dedicated personal journey toward conscious living.
Since then, he has traveled extensively and has worked as a photographer, designer, videographer, radio host and musician. In addition to providing creative and photography services, he currently hosts a radio program that features interviews with inspirational people from around the world.
1. Gregory, when did you realize you had a passion for creating?
I started playing in bands in high school after teaching myself keyboards. Though I was beginning to compose some music, and wrote for both my high school and community newspapers, I always thought of those things as side gigs. They were hobbies that I'd do while pursuing a more serious "career", which in those days entailed a potential job in broadcasting or serious journalism.
But since college, I've found myself in a number of situations in which I was looking for work (or the job I was in became creatively unsatisfying) and I'd see someone doing something like graphic design and say "That looks fun. I have good design sense. I could do that!" So I would try that new thing and learn more about it, and work to get better at it over time until I could convince someone to pay me to do it.
After 20 years or so of crafting a "career path" like that, I finally realized that the common thread was that in order to be truly satisfied in my life, I had to be CREATING something, regardless of the media or creative medium I was working in. And I've been fortunate enough to make it all work.
2.More than four years ago, you left your job as a marketing director to pursue your passions. Do you have any advice for others who are thinking of leaving a traditional career to do something they love?
First of all, I took that job despite a coach/friend of mine's warning to NEVER take a job titled Director or "Chief of" anything!
She knew my strengths and weaknesses and likes/dislikes and told me that I would likely struggle with some of the things that would become problematic for me in that gig. I generally dislike things such as going to trainings, supervising other people, or creating budgets for a department, and yet that was a good chunk of my job. But I felt like I needed the money (or more likely wanted the money!) at the time and talked myself into applying for gigs like that.
But after a few years of much stress and long hours and never being able to flip the "off switch", I decided that being happy was more important, regardless of the consequences. And this was long before I discovered some of the amazing blogs, book, and resources about making a switch like that such as Pam Slim's great Escape from Cubicle Nation or Farnoosh Brock, whom who recently profiled.
But my final piece of advice is that you'd be surprised at what people will agree to. Though I didn't love all of my job, I loved parts of it (the "creating") and I liked the non-profit I worked for and so I decided to ask to move to a half-time gig working from a home office doing their creative services at a rate that I came up with. And after putting together a convincing argument for why it was good for both sides, they said yes. And I still do work part-time for them today.
3.What gave you the idea to start Radio Enso and to make your content available on your website?
The idea for Radio Enso was hatched on the airplane ride home from WDS 2011 (Chris Guillebeau's World Domination Summit)!
I was inspired and awed by the amazing experience and by the conversations that began there; I wanted to find a way to continue those talks and learn more about the people I met. And most importantly, I wanted to help share their work with the world.
Fortunately, I had worked in radio for a number of years earlier in life and had that background, and recently had started helping out a client of mine with his own online radio show on the BlogtalkRadio Network (which now hosts Radio Enso); I had seen how easy it was to use that platform. So within a few weeks, my show was up and running with my first guest Dave Ursillo, whose blog I had been following and whom I had met in the taco truck line at WDS after party. I took Chris' advice to "be bigger than you are" to heart and ran with it and here we are 55 interviews later!
4.Radio Enso provides inspiration and tools for conscious living. Could you explain how you strive for conscious living on a day-to-day basis?
Conscious living is about making deliberate choices in your life and doing that repeatedly over time. So that could mean living or working differently than the norm or practicing yoga or mediation to stay healthy or honing your intuition or starting an online business.
I grew up the son of a physicist who questioned everything. And I've tried to apply to to every area of my life. HOW can I create a work situation that's satisfying to me and makes a decent living and helps others? HOW can I live healthy and maintain great relationships around me? HOW does the universe work and is there something greater going on here that I'm a part of? I strive to answer those questions continually.
5.What are the top three pieces of advice you have for someone who is looking to start out on a journey of conscious living?
First, it's to realize that it is a journey and one that you'll hopefully be on your entire life. So don't try to do too much at once (Leo of Zen Habits has some great advice about that). You'll have great days where everything will seem to be on track and then you'll have days where you take a step or three back, but the key is that you're moving forward with INTENTION. Second, is to take advantage of the massive amount of information available to us today, which is unprecedented in history of the world. Use those tools to learn and be inspired and share what you've learned with others. And third and maybe most important, is to find your "tribe" — other people that can support you on your journey and hold you accountable and allow you to be vulnerable as you evolve over time. That's what the WDS crowd has been for me.
6.What is the one thing you hope Radio Enso's listeners take away from the program?
That all of the people that they see/hear/read about doing successful things — whether it's starting a business or walking across America or just learning to be happy in their lives, those people are just like you and I. The only difference is that they set their intention on accomplishing those things (consciously) and found the tools to make it happen. And not a single one of my guests has claimed to be guru or someone who had all the answers. They're all just saying "join me on MY journey." That's what makes them credible.
7.What qualities do you look for in an interview subject on Radio Enso?
Each of my guests so far has been someone whose work or life story I'm truly interested in myself. Otherwise, I don't think I could fake that just because I thought the audience would like them. And I have to believe that both myself and my audience can learn something from them and be inspired by their story. It's like going to school to learn about life from my guests, but I don't have to pay anything. I feel like I should pay them sometimes!
8.Who have been your favorite Radio Enso guests?
This might sound cliché, but I don't have a favorite guest! I've done more than 50 interviews and every one contains some nugget of truth or inspiration or advice that makes that conversation fulfilling to me. And while I'm interviewing my guests, I try to stay as present as possible with the conversation, and so nearly ever week when the show ends, I'm on something of an energetic high. I'm caught up in the moment and so I'm sure I've said a number of times that "THIS week's guest was my favorite!" until it happens again.
9.On your website Enso Photography, you feature pictures from your 365 Day Photo Journey, in which you took one photograph every day. What made you decide to undertake this project and share the resulting photographs on your site?
I had seen other photographers doing 365 projects and was intrigued by the concept and what that might entail creatively. But I had NO idea how consuming or challenging it can be when you're in the middle of a year long project! I had a ton of energy and enthusiasm both in the beginning and when I knew I was getting close to the end, but there were a number of days where I wondered if I could keep going. I also made it harder for myself, as I wrote about each day's photo/photos and nearly always took/processed shots from my DSLR vs a camera phone (I didn't have one then) or my iPad. But I kept pushing myself during those down times and that made it all the more gratifying when I finished.
10.Did you ever feel like you had run out of things to photograph?
Often times, I approach photography as a form of walking meditation, which forces me to be present and REALLY notice things around me that I have never noticed before (or in a WAY that I hadn't before). So when I'm in that space, I never run out of things to photograph. But there were certainly days when I was tired or extra busy and by the end of the day thought "WHAT on earth am I going to take a photo of today?" and it ended up being that evening's dinner. But thankfully those days were few and far between.
11.What was the response from readers who followed along with the project on your website?
Overall people were very encouraging and great about sharing and commenting on my 365 entries, but at the time I thought were quite a few friends and family who were paying no attention at all. It wasn't until it was over and I started getting lots of "why don't you post photos anymore?" messages that I realized they were following! I think that's a valuable lesson to anyone running an online business or project; just because people don't actively engage you, doesn't mean they aren't reading or paying attention.
12.What was the most valuable lesson you took away from your 365 Day Photo Journey?

That I could do something in one creative medium every day of my life and still love doing it! That's a sign that something is truly a passion. I like to dabble in a lot of things, but there are few (if any) other media than photography that I can imagine feeling the same about after doing for a year straight. While I was quite excited to be winding it up in the final weeks of the project and feeling a bit exhausted, about a week later I was going through a bit of withdrawal and ready to start a new one. I likely will in 2013!
13.Do you have a favorite photography subject?
Anything in nature: the ocean, trees, mountains, light, plants, desert, water, etc. When I photograph those things, I feel like I'm just "capturing" light or a moment in time. In a metaphysical sense, you could say that I'm just "reflecting" back the energy that I see. And it's a canvass that that knows no bounds, as far as different ways to do that. I find photography very meditative and healing for me.
14.What are you musical pursuits and are you still performing?
I've played keyboards since I was in high school and gigged with a few different bands for most of that time. I was incredibly fortunate to record a few CDs and open up for some national touring acts over the years. But when my wife and I moved to San Diego seven years ago, I sort of put my music to the side in favor of other creative outlets like photography and the radio show that I could do on my own.
But my brother (a guitarist and fellow San Diegan) and I have recently demoed a bunch of little bits in my home studio and we've talked about getting back to playing out with other musicians again. And I do miss that creative experience. So hopefully, soon!
15.Do you have any new creative projects in the works?
I usually have too many ideas and not enough time! Beyond growing Radio Enso and trying to bring the show to a wider audience, I am about to start building a new creative services website that represents all of the various things that I offer to clients under a single roof. I'll be working primarily with holistically-oriented businesses, micropreneurs, and non-profits. I want to continue helping those whose work I philosophically support and think is needed in this world. That's what it's all about for me!
Thank You!
-----
Gregory Berg is a blogger and radio host at www.radioenso.com. You can also find him on Twitter @ensocreates
Chief Editor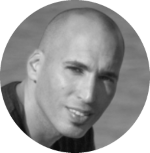 Tal Gur is an author, founder, and impact-driven entrepreneur at heart. After trading his daily grind for a life of his own daring design, he spent a decade pursuing 100 major life goals around the globe. His journey and most recent book, The Art of Fully Living, has led him to found Elevate Society.