Making a Difference with Photography, Film, and Story Telling
Gail Mooney has her eye on the world. As a photographer and video master, she is capturing this moment in history through the people and their stories. Working under the name Kelly/Mooney Photography, Mooney, along with her partner Thomas Kelly, produces videos for corporations, magazines, and organizations.
Mooney, also, pursues independent projects. Most recently she and her daughter spent 99 days traveling the world in search of people who are making a difference in the world. The result is an inspirational video called "Opening Our Eyes." (Check out the trailer in question 7)
In addition to pursuing and practicing her art, Mooney is also influencing the next generation. She shares the journey through her blog "Journeys of a Hybrid" and occasional pod casts.
Her passion for people and life are evident.
1. Gail, even a quick look through your website, reveals some amazing photography and video. What sparked your interest in photography? Did you start as a still photographer? How did you get started in the business?
I like to tell people that I got started in still photography as a "means to an end." Unlike many of my peers, my interest in still photography was not peeked when I was presented my first camera as a child.
It wasn't until I left Syracuse University, where I had been studying architecture for two years, that I decided to take some time off from school and travel. What was intended to be a 2-month trip to Europe, ended up being a year long backpacking hitchhiking odyssey around the world.
When I returned, from that journey, I knew I wanted to make travel a part of my lifestyle and career and thought that being a photographer would be a means to that end. I enrolled into Brooks Institute, a photography school to study the craft of photography.
That was in April 1973. A couple of months later, I met my husband, Tom Kelly, at Brooks, who later also became my business partner. When we graduated from Brooks, we came back East and started our business in January 1977.
2. The business of photography brings to mind weddings and graduations. Have you ever done that type of work? What types of businesses seek your services? Are the contracts primarily advertising or education and training? Are there types or uses for film and video that our readers might not think about?
My business has changed a lot over the years, but I never really shot weddings or worked in retail. I worked primarily as an editorial still photographer on assignments for National Geographic Traveler, Smithsonian, Travel & Leisure, Islands, and Time/Life publications. I also worked on assignments for corporations as well as worked on institutional jobs that took me all over the world.
Nowadays, my partner and I work mostly business direct. We also do some advertising and public relations work. I think there are a lot of opportunities now in new media. With the advent of mobile devices creating a demand for video content and still image cameras capable of shooting video, "photography" has taken on a broader meaning and many still photographers are shooting motion in addition to still images.
I am also able to work on self-initiated projects and get them seen and distributed on global online platforms. That has provided me with many new opportunities to sustain my business without the need for commissioned work.
3. A lot of advances have been made in recent years in digital photography. Tell me about how the technology advancements changed how you do your art. Do you even use film anymore?
Technology is a double-edged sword. The still photography business has certainly become more competitive as technology has made it easier and easier for everyone to be able to take great pictures.
It has also enabled me to grow. I could not have been able to make a feature length film using an affordable camera and software applications– just a few years ago.
It's amazing what is available now in the way of "tools" that enable creative people to pursue their craft. It has not only stimulated creativity but has made it possible for the creator to get their work seen globally.
No I don't shoot film anymore.
4. When I see your work, I think a lot of expensive equipment. Tell me about the equipment that is essential. What part of your income is reinvested in equipment each year?
The tools of my trade are constantly changing. It takes a new investment every 2-3 years, especially in the way of software in order to stay current and work with other professionals. While I may get a longer life out of my cameras, I know that's not the case with my computers and software.
I wrote a blog post about the gear that I took with me to shoot a feature documentary. I had to take everything I needed to get the job done, but it also had to fit into two backpacks because I was literally traveling around the world. That blog post still remains my most popular post to date.
5. What is your favorite type of shoot to do? Would you rather do a shoot in an environment you are familiar with or a new setting?
I love to photograph people – all kinds of people in all types of settings. It was my curiosity of people and cultures that drew me into photography. I also love to work in a variety of environments – both indoors and outdoors and always welcome exploring new settings.
6. In a minute I will be asking about your trip around the world. Before that trip, how much of your time was spent traveling? How often do the jobs take you overseas? What are the most common places you are asked to take photos or video?
I've always been a traveler. I've spent a career shooting for travel magazines and corporate jobs all over the world. Even before my trip, I would be on the road a 1/3 of the year – going out of the country twice a year or more. I belong to the SATW (Society of American Travel Writers) as a photographer member and that keeps me connected to many people working in travel markets.
I may be working one day in a hotel shooting for their brochures and other collateral and the next day shooting a city destination for a travel magazine.
7. In addition to work you do for other, you do some production for yourself. I understand that you recently spent 99 days touring the world. What or who were you hoping to capture on film? How did you locate the people you wanted to interview? Did you find other people as you went? Why 99 days?
I had already made a couple of shorts ("films") before creating Opening Our Eyes, a feature length documentary, with my daughter, in 2010. I had also been producing videos for corporate clients for the past ten years.
I had been inspired by a young woman, Maggie Doyne who my daughter Erin had graduated high school with. Maggie had opted to take a gap year after graduating from high school. She traveled and wound up in Nepal and witnessed the aftermath of ten years of civil war and the orphaned children left in its wake. At 19 years old, she decided to stay in Nepal and build a home for 30 children and herself. She called her parents and asked them to send her saved up babysitting earnings and the construction began. I was so inspired by Maggie that I thought there must be thousands of individuals around the world – individuals who were making a positive difference in the world – and I wanted to make a film about these people to inspire and motivate others. Originally, my intention was to do this film myself.
I sent out an email blast to everyone, including my daughter, soliciting ideas for subjects on six continents. The first person to respond to my email was my daughter, telling me that I had always told her to travel when she was young and to follow her passions. She had listened to me all those years and was willing and eager to do that. She quit her job, sublet her apartment and joined me on this journey and project. I can't imagine how I would have done it without her.
We got a tremendous response from people with subject suggestions all over the world. Since we were traveling on a very restricted round the world airline ticket with reward points – it became a big puzzle in choosing our final subject choices. Ultimately, it came down to where our subjects were located and if we could work them into our travel itinerary. I have folders of great subject ideas and I would love to continue this project and make an online series of new episodes. But of course that takes money and time.
99-days – Sounded like a good number.
A short trailer of Opening Our Eyes:
Mother/daughter filmmakers, circle the globe on a 99-day journey around the world, seeking people who are making a positive difference in our world. They discover the power of the individual - the power within each of us. The global power of "one"
8. It's so great that your daughter made the trip with you. Is she a professional photographer? Is she likely to join you in the business? How is working with her?
Erin is not a professional photographer but she is a very good photographer. She is also a great producer and interviewer and she recorded all our sound on the trip. She now works in Chicago for a wonderful non-profit CCI (Center for Cultural Interchange) and places foreign students in American homes who want to come to the United States to study.
We worked very well together. It became grueling at times, working in very remote parts of the world, often without electricity or running water. It was very difficult and we got through it together. We formed a bond for life on this trip.
9. On your website is a photo of a young boy who looks like he is dancing in delight. What is the story of the photo?
That photo was taken on assignment for Endless Vacations Magazine. I was shooting a story on Central Park and one evening, the NY Philharmonic was giving a concert in the park. Many people who attended the concert had gone all out, and had put on lavish picnic spreads. I came across this little boy who was delighting in the activity.
10. You have done a video and a book about the Delta Blues Musicians. Is this a personal passion? How did the project come to be? Are there more musicians you would like to add?
Yes, that project was and still is a passion project. I love the "blues" and the part of the country that gave birth to that music – the Mississippi Delta. I interviewed, photographed and shot video footage of seven Delta blues musicians – only one is still alive today. When I first embarked on the idea for this project, I spent a lot of time applying for grants but I was not successful in obtaining much money through grants, so I proceeded with my own funds. These musicians were in their 80's and 90's and I knew I was in a race with time. I'm so grateful that I archived these men's stories about the time and the place they came up from. Their words are still with me 15 years later:
"I lived a rich man's life, in a poor man's shoes"
Sam Carr – blues drummer
11. Another powerful piece is "Freedom's Ride." How did you come to be part of the project? Did you ride the bus with the students? What did you take with you from the experience?
That was actually a commissioned piece. A gentleman in our town heard that 20 students from our regional sister high school were joining 20 students from an inner city, Harlem high school to ride the bus together, from New Jersey to Alabama, retracing the civil rights movement of the 1960's. He knew it would be a historic trip in many ways and a bonding experience between these two diverse groups of students. He wanted it archived for future educational benefits.
So, with two weeks notice, we geared up with HD video equipment – which had to be kept to a minimum, because of limited space on the bus – and we boarded the bus with 40 teenagers on a 5 day trip to Alabama. It was life changing for all who participated. It was truly an honor to be part of that journey.
12. What is the most unusual request you have gotten? How often do you refuse projects?
I wouldn't consider this assignment offer "unusual" but it was different than what I normally shot. I was accustomed to photographing people and urban environments, so when Smithsonian Magazine contacted me and asked if I wanted to shoot a story about the smallest county (population wise) in the United States, I almost turned it down. It turned out to be one of my favorite assignments of all times – maybe because it was different. It made me stretch. I learned an important lesson – I learned to say yes more than no.
13. In addition to the production end of business, you also work to educate other photographers. Tell me about that part of the business. What qualities and skills are important in this business?
Yes, I give presentations and seminars for my trade association, ASMP (American Society of American Photographers) as well as for Canon and other organizations.
It is so important to teach sound business practices, in addition to creative skill sets. You have to stay in the black and make a profit to sustain a career in professional photography. You can't give your work away and you need to place a value on what you do. In order to do that, you need to be authentic to yourself, and find you own niche to stand out.
You can't compete on price, because that's a race to the bottom – a race you'll never win.
14. What kind of marketing do you find most effective? Are there any marketing avenues that you try to avoid?
These days, I market in many ways – email, postcards, social media platforms, face-to-face networking etc. There are many options. You either need to prepared to pay someone to do this for you or do a lot of the hard work yourself – but the options are there.
15. Your business includes contract production work, independent projects, education, a blog and two books. Am I missing any parts? Was the diversification intentional? Do you have a desire or plans to diversify more?
I maintain a media production company, Kelly/Mooney Productions. We produce and create projects for corporations, institutions, non-profits as well as working on self-initiated projects.
I write two blogs: www.journeysofahybrid.com and www.openingoureyes.net
I have begun to experiment with ePubs and have two online for sale now and a third in the works.
16. You have been part of a number of interviews, sometimes as the interviewer and sometimes as the one being interviewed. Is there a question (or questions) you wished people would ask you? Or perhaps, if you were the one interviewing a person like yourself what question would you ask?
I love to get past the obvious questions when I'm interviewing someone. Many times, those questions occur to me, when I'm listening to what people are saying.
There is a lot of value in "listening" and I think we often overlook that these days.
People always ask me about gear and I understand that but I love to stress to anyone who is thinking about getting into photography or video that it is all about the "story" and to focus on the story – and not solely on the tools of the trade. I am a storyteller first – and then I choose the right tools to use that will tell the story the best way.
17. One last question, is there anything you dream about having the opportunity to film but haven't yet? Do you have another personal project in mind?
I have a great story idea in my head right now – based on a true personal story. I have been reading screenplays and books about screenwriting structure. I would like to write a screenplay about my idea, but I have to educate myself about that process first.
Thank You So Much Gail
-------
Kelly Mooney is a photographer and video master. She also teaches seminars and acts as a consultant and mentor to photography students. You can find her on twitter at @mooneykelly
Chief Editor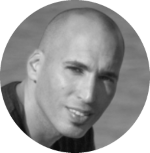 Tal Gur is an author, founder, and impact-driven entrepreneur at heart. After trading his daily grind for a life of his own daring design, he spent a decade pursuing 100 major life goals around the globe. His journey and most recent book, The Art of Fully Living, has led him to found Elevate Society.