Getting There: Summary Review
This is a summary review of Getting There containing key details about the book.
What is Getting There About?
In Getting There, thirty leaders in diverse fields share their secrets to navigating the rocky road to the top. In an honest, direct, and engaging way, these role models describe the obstacles they faced, the setbacks they endured, and the vital lessons they learned. They dispense not only essential and practical career advice, but also priceless wisdom applicable to life in general.
Who is the author of Getting There?
Gillian Zoe Segal is the author of New York Characters. She received a bachelor of arts from the University of Michigan and a law degree from the Benjamin N. Cardoza School of Law.
What are good quotes from Getting There?
"The difference between successful people and unsuccessful people is that successful people do all the things unsuccessful people don't want to do.
"You can only know as much depth, happiness, and success in your life as you can know vulnerability."
"if you alter your work for every rejection, you'll end up running in all different directions trying to please an imaginary audience. It can be damaging and destructive."
"Most behavior is habitual. They say the chains of habit are too light to be felt until they are too heavy to be broken."
"you become the company you keep."
"Success unshared is failure. If you've "made it" and don't help others out along the way—if you don't do something to make the planet a better place—you're not successful at all; you are a failure. But remember that you can't help everybody out. You have to focus and contribute in ways that you think are most beneficial."
"The most important thing in terms of your circle of competence is not how large it is but how well you define the perimeter."
"Warren Buffett explains the vast benefits of being a good communicator—and why the people you choose to surround yourself with, even as friends, affect your own behavior and destiny"
"You must do something that you are passionate about—and something that is "within your circle of competence," as Warren Buffett puts it. The road to get there is almost guaranteed to be arduous, but if you love what you do, you'll thrive on the inevitable challenges and have the stamina to achieve your potential."
"Treat your employees with respect, and they will remain an asset. Treat them as expendable, and you will have difficulty holding your team together. We"
"A great idea is worthless; execution is everything."
"He didn't think that trying something entrepreneurial was an objective risk because I'd always be able to rejoin the workforce if it didn't work out. It seemed like a risky thing to do because it looked very likely to fail, but the real risk was not doing it. The objective risk was wasting years of my life stuck in something that appeared attractive but that I really didn't enjoy. A lot of entrepreneurship and innovation seems perilous, but it's not. And a lot of things that seem safe and comfortable are, in fact, profoundly risky. That's subjective versus objective risk."
― Gillian Zoe Segal, Getting There
Book details
Print length: 208 Pages
Genre: Business, Nonfiction, Self Help
What are the chapters in Getting There?
Chapter 1: Warren Buffett
Chapter 2: Mathew Weiner
Chapter 3: Michael Bloomberg
Chapter 4: Sara Blakely
Chapter 5: Anderson Cooper
Chapter 6: David Boies
Chapter 7: John Paul Dejoria
Chapter 8: J. Craig Venter, PhD
Chapter 9: Leslie Moonves
Chapter 10: Jillian Michaels
Chapter 11: Jim Knoch
Chapter 12: Ian Schrager
Chapter 13: Graydon Carter
Chapter 14: Kathy Ireland
Chapter 15: Nitin Nohria
Chapter 16: Marina Abramovic
Chapter 17: Tom Scott
Chapter 18: Wendy Kopp
Chapter 19: Laird Hamilton
Chapter 20: Muhammad Yunus
Chapter 21: Rachel Zoe
Chapter 22: Jeff Kinney
Chapter 23: Jeff Koons
Chapter 24: Gary Hirshberg
Chapter 25: Craig Newmark
Chapter 26: Stacey Snider
Chapter 27: Helene Gayle
Chapter 28: Hans Zimmer
Chapter 29: Daniel Boulud
Chapter 30: Frank Gehry
What do critics say?
Here's what one of the prominent reviewers had to say about the book: "Kudos to Gillian Zoe Segal for assembling this remarkable group of visionaries and helping them all tell their stories without filters or false bravado. Getting There is both empowering and illuminating." — New York Times bestselling author of Orange Is the Piper Kerman
* The editor of this summary review made every effort to maintain information accuracy, including any published quotes, chapters, or takeaways. If you're interested in furthering your personal development, I invite you to check out my list of favorite personal development books page. On this page, you'll find a curated list of books that have personally impacted my life, each with a summary and key lessons.
Chief Editor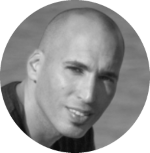 Tal Gur is an author, founder, and impact-driven entrepreneur at heart. After trading his daily grind for a life of his own daring design, he spent a decade pursuing 100 major life goals around the globe. His journey and most recent book, The Art of Fully Living, has led him to found Elevate Society.