Blogging To Success: How a Small Music Blog Skyrocketed in Readership
Blog writers spend a lot of time researching and constructing their thoughts so they can express their opinions or share some knowledge with, essentially, the world. If that statement were true, then what exactly would music bloggers do? Logic says that they would be spending a lot of time writing about music and sharing their knowledge about the international language. Close, but not quite. Gregory Ciotti, a music blogger who manages an active electronic music blog would argue that there's much more to managing a music blog compared to a regular one.
For starters, a music blog does not have just information about the subject, but Ciotti spends a great deal of time finding pieces and posting them on his blog. Many of them are videos, however, the songs without the visuals can also be found on a music blog. Ciotti learned, very quickly, that in order for his music to catch on like wildfire, he would have to tap into a specific niche and market it in a restricted space. His endeavor was so successful that he now runs two music blogs that became businesses.
Learn how he did it!
1. You started Sophistefunk, an electronic music blog. What inspired and motivated you to start a blog that's focused on this particular niche?
Honestly, Sophistefunk was definitely a passion project.
I mean, you should have some interest in anything you start working on, but I've found that the REAL passion has to be for the work, not necessarily the topic.
For interest, on Sparring Mind I incorporated psychology into my discussions on content marketing because I enjoy psychology, but that's not enough to get a blog going.
Reading research, outlining the main points, incorporating that research into massive blog posts (my latest post being over 4000 words)... it's not always fun.
You have to enjoy the work enough to keep going, that's the only way you'll succeed.
So, my advice would be: always try to work around a passion project or interesting hobby, but understand that you have to love the work as well as loving the topic.
2. You also have a blog called That Space Bass. How is this similar or different to Sophistefunk? What is dubstep…you mention is on your That Space Bass site?
The thing with That Space Bass is that is was created to fill a void in my existing audience.
Sophistefunk was spawned to post those more 'mellow' tracks found in electronic music... the thing is, my audience seems to have a lot of crossover with dubstep.
Rather than changing Sophistefunk (which would annoy those fans who didn't like dubstep) I decided to start a new blog.
The very next day (after launch) it's already hitting 700 uniques a day, which definitely goes to show that a "spin-off" blog is definitely a viable strategy if the audience is there for it.
3. What inspired you to create a second music blog rather than a blog about something else? Is it because of your passion or more because it was a niche that was primed to explode?
Yes and yes! Heh...
I do love dubstep myself (the good kind, there is definitely a fine line...) and I also know that it's a genre that is starting to skyrocket in popularity.
Can't really comment much more than that, it was a great topic for myself (in terms of interest) and a great topic in terms of market viability, so it just made sense.
4. Where and how did you even begin to figure out how to drive traffic to your site(s)? What did you have to invest in in order to grow in the future?
I didn't have to invest much, just time.
Traffic primarily comes from the following 3 sources:
Artists/Musicians
YouTube
My email list
The email list for Sophistefunk is pretty big, and a great traffic driver to important posts.
Musicians have played a huge role in getting Sophistefunk off the ground, in fact, Pretty Lights has given Sophistefunk a shoutout on Twitter via a #FollowFriday tweet.
Last but not least, uploading free downloads and submissions to my YouTube channel.
I upload free tracks and songs that artists submit there and then link to the download in the description.
It works well, but you have to remember that YouTube traffic is pretty bad, I do that mostly to spread the love (reach a bigger audience) for the artist.
5. In your opinion, what makes a music blog different from other blogs?
I could go on about this, but I'll just say it this way...
Music blogs are about curation, not creation.
You need to be awesome at FINDING new and awesome content, not necessarily creating it.
On places where I create original content (such as on HelpScout), I spend LOTS of time putting the piece together.
For my music blogs, it's all about finding amazing content, I spend much more time browsing and bookmarking than I do writing.
6. You dedicate a page on your blog to the actual steps of writing and starting up a music blog. How much of the music on your blog is initiated by you? How much of the music is posted by others?
All music is "posted" by me, but nowadays, it comes down to me searching through my SoundCloud "dropbox" and my email inbox rather than looking for tracks myself.
It's nice to know that you can always wake up to fresh content in your inbox, but if you're not careful, all of those submissions can get out of hand!
7. Your guide to building a music blog is extremely detailed and logically laid out for readers. What inspired you to create such a guide, and are you afraid you're going to help others build sites that will compete against yours and steal your readership?
Not afraid at all, in fact I encourage competition! >:D
Really though, most people who start music blogs through that guide end up linking back to me (I get a notification anytime someone signs up for BlueHost, I always check out their site).
Competition in the blogging world is a GOOD thing, if you don't have competing blogs, who's going to link to you and share your posts?
8. You currently have over 3,500 subscribers on Sophistefunk. How did you start marketing your blog? When did it really start to take off? What do you think triggered your blog to take off?
I can sum this up in one word: egobait.
I am always stroking the egos of musicians, and they always share my posts when I feature them, it's the great part of running a music blog that focuses on up-and-coming artists rather than popular names.
Those "medium sized" artists will always share your content if it features them.
9. Does social media play a role in bringing you traffic and followers? If so, how? If not, why do you think it doesn't?
Eh... if it does, it's from ME posting on our Facebook page.
People really don't give list building the credit it deserves: if a music blog like Sophistefunk can build a huge email list and drive traffic from it, your blog should be able to too.
That being said, as I mentioned, YouTube & Facebook sharing is a fairly decent traffic source.
10. On top of posting blogs, you also distribute a newsletter. How often do you send it out and what are the contents that you share?
The newsletter is fairly simple at this point in time: it's auto-generated by AWeber.
I send it out every 8 posts, so about once a week.
I've found that this reduces unsubscribes and gets people to click more often.
Sometimes I send out individual broadcasts for really important posts (like interviews or a HUGE track premiere).
That's the best part about my list though: I barely touch it, and it sends me huge blocks of traffic every Monday/Tuesday, guaranteed 🙂
11. If you were to start building your business over again, what are the three things you might do differently next time?
Hmm... I'd probably just buckle down more, as in, waste less time on things that don't work and spend more time on things that do.
For Sophistefunk, I'd:
Do more interviews, sooner
Reach out to more related sites via email (tons of music blogs have linked to me just because I asked!)
Focus more on my unique angle, Sophistefunk didn't have it's USP nailed down until about 2 months in, before then, I was just posting whatever I wanted
For Sparring Mind, I'd definitely had started guest posting sooner!
12. What is next for you? Will you continue to nourish your two websites or will you take off and move on to bigger and better things in the future?
Right now, I'm the content strategist for a few startups, so that takes up a fair amount of time, but I will of course still manage my babes! Heh.
They still bring in a nice amount of income and as I mentioned, require very little maintenance (one post per day for each), and they also allow me to have a lot of cool experiences.
For Sophistefunk, I've been invited to concerts, met with artists, even received free stuff just as a way to say thanks, it's definitely been an awesome experience, one that I would have enjoy even if I didn't make any money from it.
Thank You
----
Gregory Ciotti is a blogger who runs his own business based on his music blogs, spophistefunk.com and thatspacebass.com.
Chief Editor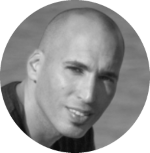 Tal Gur is an author, founder, and impact-driven entrepreneur at heart. After trading his daily grind for a life of his own daring design, he spent a decade pursuing 100 major life goals around the globe. His journey and most recent book, The Art of Fully Living, has led him to found Elevate Society.