"Around 90% of our normal behaviour is automatic and based on habits"
"Have a habit to change bad habits"
When you think of how human beings operate you realize it all comes down to daily life habits, which most of them are totally unconscious.
Habits are a result of repetitive automated cognitive processes which makes them hard to break so we have to reprogram ourselves with new repetitive processes in order to put new ones in place. 
The goal is to identify bad habits that hold you form achieving your purpose and then reprogram them. A very useful way it to break each habit to small pieces & then work on each piece.
For example: Bad Habit: Procrastination on the net. New Habits: Remove favourites, Block sites, etc
I found that if I do something for 30 consecutive days, it becomes an automated pilot habit. A Highly effective exercise as I don't have to spend thinking energy or push myself doing it.
I usually choose 4-6 crucial habits which are all aligned to my Goal/challenge and track progress using excel file. I call them "Goal habits".
I also choose and track few habits which are crucial to support the main habits. I call them "Support habits" and divide them to 4 categories: mental, Spiritual, Emotional, And Physical. This is to keep some sort of balance which is always a necessary component, especially if you set yourself an extreme challenge.
I then set points system which helps me to focus on what is really important and compare progress. Usually I give each "goal habit" gets 2 points & each "Support habit" gets 1 point.
Here is a list of reprogramming habits I have set for my financial freedom challenge:
Goals habits
1. Physical - Gym | Bike | Run | Swim -
2. Spiritual – Purpose/Mission | Yoga | Meditation
3. Mental - Audio | Reading | Writing
4. Social - Go out | Email/Text | Call
Support habits
1. Effectiveness – Set Goals effectively: Update & prioritize | Do first things on the list
2. Productiveness – Handle Goals productively: Noon | Morning or Evening
3. Efficiency – Achieve Goals efficiently: No Outlook | No Multiple tasking
Chief Editor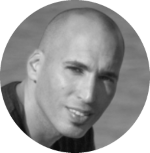 Tal Gur is an impact-driven entrepreneur, author, and investor. After trading his daily grind for a life of his own daring design, he spent a decade pursuing 100 major life goals around the globe. His journey and most recent book, The Art of Fully Living - 1 Man, 10 Years, 100 Life Goals Around the World, has led him to found Elevate Society and other impact-driven ventures.