Hackers and Painters: Summary Review
This is a summary review of Hackers and Painters containing key details about the book.
What is Hackers and Painters About?
Hackers and Painters is a collection of essays from Paul Graham discussing hacking, programming languages, start-up companies, and many other technological issues. The book explains this world and the motivations of the people who occupy it. In clear, thoughtful prose that draws on illuminating historical examples, Graham takes readers on an unflinching exploration into what he calls "an intellectual Wild West."
Who is the author of Hackers and Painters?
Paul Graham is an English-born American computer scientist, essayist, entrepreneur, venture capitalist, and author. He is best known for his work on the programming language Lisp, his former startup Viaweb, confounding the influential startup accelerator and seed capital firm Y Combinator, his blog, and Hacker News.
How long is Hackers and Painters?
What genre is Hackers and Painters?
Nonfiction, Business, Programming
What are good quotes from Hackers and Painters?
"There are few sources of energy so powerful as a procrastinating college student."
"Let's start with a test: Do you have any opinions that you would be reluctant to express in front of a group of your peers?If the answer is no, you might want to stop and think about that. If everything you believe is something you're supposed to believe, could that possibly be a coincidence? Odds are it isn't. Odds are you just think whatever you're told."
"If you want to make money at some point, remember this, because this is one of the reasons startups win. Big companies want to decrease the standard deviation of design outcomes because they want to avoid disasters. But when you damp oscillations, you lose the high points as well as the low. This is not a problem for big companies, because they don't win by making great products. Big companies win by sucking less than other big companies. "
"Object-oriented programming offers a sustainable way to write spaghetti code. It lets you accrete programs as a series of patches."
"You need three things to create a successful startup: to start with good people, to make something customers actually want, and to spend as little money as possible."
"The main reason nerds are unpopular is that they have other things to think about."
"If you leave a bunch of eleven-year-olds to their own devices, what you get is Lord of the Flies. Like a lot of American kids, I read this book in school. Presumably it was not a coincidence. Presumably someone wanted to point out to us that we were savages, and that we had made ourselves a cruel and stupid world. This was too subtle for me. While the book seemed entirely believable, I didn't get the additional message. I wish they had just told us outright that we were savages and our world was stupid."
"It's important for nerds to realize, too, that school is not life. School is a strange, artificial thing, half sterile and half feral. It's all-encompassing, like life, but it isn't the real thing. It's only temporary, and if you look, you can see beyond it even while you're still in it."
"The recipe for great work is: very exacting taste, plus the ability to gratify it."
"if you can imagine someone surpassing you, you should do it yourself."
"It's hard to do a really good job on anything you don't think about in the shower."
"If you can keep hope and worry balanced, they will drive a project forward the same way your two legs drive a bicycle forward."
― Paul Graham, Hackers and Painters
What are the chapters in Hackers and Painters?
Chapter 1: Why Nerds Are Unpopular
Chapter 2: Hackers and Painters
* The summary points above have been sourced and summarized from the book, Amazon, and other online publishers. The editor of this summary review made every effort to maintain the accuracy and completeness of any information, including the quotes, chapters, insights, lessons, and key takeaways.
Chief Editor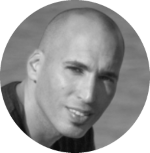 Tal Gur is an impact-driven entrepreneur, author, and investor. After trading his daily grind for a life of his own daring design, he spent a decade pursuing 100 major life goals around the globe. His journey and most recent book, The Art of Fully Living - 1 Man, 10 Years, 100 Life Goals Around the World, has led him to found Elevate Society.