From Living in Debt to Living the Dream
Hannah's incredible journey began in November of 2010, when she finally decided to tackle the debt she had been ignoring and contributing to for most of her adult life. After living above her means for many years, she had accumulated approximately $24,000 of debt, and she was hiding that fact from many of her loved ones, including her boyfriend.
That November, she made a drastic change by taking on additional jobs and working up to 100 hours each week. Thanks to plenty of hard work and personal sacrifices, she managed to pay down the entirety of her debt in only nine months. After completely altering her life and becoming debt-free, Hannah decided that she wanted to pursue her dreams of living as an adventurer and a world traveler.
Charting her preparations and experiences on her website Further Bound, Hannah recently embarked on her world travels in September of 2012, when she arrived in Goa, India. Read our inspiring interview with Hannah to discover what gave her the courage to pursue her dreams, the techniques she uses to make her travel website successful and the advice she has for others who are looking to make major life changes.
1. You managed to pay off $24,000 of debt in only 9 months. What is your top piece of advice for people who feel burdened and overwhelmed by debt?
I had been in debt for over a decade, and tried many times to pay it off, to no avail. This wasn't because I lacked the capability to do so; it was because I never really wanted to do it badly enough. There was always a holiday, a new outfit, or a night out that I seemed to want more. Eventually though, I reached a point where I knew I couldn't carry on living like that. The frivolity of my life no longer appealed to me, and there was nothing I wanted more than the freedom of debt-free living.
My top piece of advice is that you have to really want to pay off your debt. I mean REALLY want to. I worked 7 days a week at four jobs, and had a non-existent social life, but I was the happiest I could remember being, because I was finally doing something good for myself. Never lose sight of that, and you will find you are capable of so much more than you ever realized.
2. What initially inspired you to create your website Further Bound?
When I first made the decision to pay off my debt I spent a lot of time on Google looking for advice and support. This came in a major way in the form of an amazing blog called Man vs Debt. Its creator, Adam Baker, wrote honestly about his journey to becoming debt-free, and I felt like I had found a real kindred spirit I could turn to for inspiration and empowerment. It was also through Adam's blog that I discovered Chris Guillebeau and his blog The Art of Non Conformity. I was amazed and relieved to see that there were people out there living unconventionally, and felt emboldened to pursue my dreams of doing the same.
After a year of devouring as many blogs as I could, I finally plucked up the courage to give it a go myself. I didn't have a clue what I was doing, but I fumbled my way through, and over a period of months I gradually began to find my feet and fall in love with the whole process. I had always aspired to be a writer, and it feels wonderful to finally be heading in the right direction, but blogging goes beyond that for me. It is a place to share my stories and connect with a generous community of like-minded people who have inspired and encouraged me endlessly. Launching Further Bound is truly one of the best things I have ever done in my life, and I would be lost without it now!
3. What finally gave you the courage to commit to traveling around the world?
Simply making the decision to be honest with myself, and living my life accordingly. When I asked myself what it was that would truly make me happy, traveling the world was the resounding answer that came ringing through time and time again. So I just trusted in that, and redirected every element of my life to focus on that goal. There's a quote I love by Paulo Coelho that reads: "When you want something, all the universe conspires in helping you to achieve it." I like to believe that's true, and certainly feel like it was in this instance.
4. What was the overall mood and feel you wanted your website to convey when you were first creating it? Are you satisfied that you achieved that feel?
When I first started Further Bound it was a mess! All I knew was that I was going to travel the world, so naturally I would fall under the travel blog niche. But I found it so uninspiring, and struggled to find things to write about that gave me any real pleasure. Gradually though, my personality started seeping through the cracks, and over time a completely different blog took shape, one that was authentic and honest. I am eternally grateful that I never achieved my original plan; otherwise I really don't think I would still be blogging today.
5. In order to fund your travels and pay off your debt, you sold the vast majority of your belongings. Were there any items that were especially difficult to part with?
To be perfectly honest, I really didn't find any of it difficult to part with. By the time I reached the stage of selling my things off, I had already paid off my debt and was fully committed to changing my life and traveling the world. To me, every item that sold brought me one step closer to my goal, and I found it deeply satisfying to watch my belongings slowly dwindle.
I also had a great deal of shame and guilt attached to most of my things, as they had all been bought with money that was never really mine. As I let them go, I also managed to slowly let go of those negative emotions, and found myself cleansed by the whole experience. It was incredibly cathartic for me, and I honestly don't miss a single thing.
6. What have you found to be the most successful marketing tools and strategies for your website?
I really haven't done any marketing whatsoever beyond Facebook and Twitter, and have no strategies to speak of. I was a complete novice when I first started Further Bound, and one year later I still feel exactly the same way!
I think the only reason I have been fortunate enough to build such a loyal readership is because I am 100% honest and authentic with everything I write, and people seem to respond to that. I spend a lot of time writing each post, and really do pour my heart and soul into the blog. It isn't just a website to me, it is part of who I am, and I think that passion shows and keeps people coming back.
7. How did your friends and family react when you told them that you wanted to travel the world indefinitely?
I am very lucky, and have a wonderful family and friendship group, who have all been incredibly supportive. They knew I was serious right from the outset, and they had my back all the way. They still do. I know they miss me a lot, and I think if I called them up and said I was coming home tomorrow they would be happy to have me home again, but they keep those thoughts to themselves for the most part!
8. You have a large number of Facebook fans and Twitter followers. How do you think staying active on social media affects your website readership?
I actually really struggle with the whole social media side of things, and can go days without interacting on Facebook and Twitter. Sometimes I feel inspired and really enjoy interacting with other bloggers and readers, but other times in can become very overwhelming, and I still don't feel like I really know what I am doing with it all!
9. After you finished paying down your debt, was it frightening to quit your jobs so you could embark on your travels?
Not at all, I couldn't wait! I knew without hesitation that I was doing the right thing, and was counting down the months, weeks and days until I could finally hand in my notice. I was like an excited schoolgirl when I quit my main job as a graphic designer, and my official letter of resignation remains the best thing I have ever written in my life!
10. You are very open and honest on your website. Is there any part of your life that you don't feel comfortable sharing with your online readers?
Having spent most of my adult life living a lie, being open and honest is incredibly important to me, though I never intended to be this honest when I first started Further Bound. In fact, as I mentioned earlier, my initial goal was to be very much your typical travel blog. But gradually, and without me even realizing, the real me started to come through, and I just couldn't stop it. I actually cringe when I go back now and read my first few posts, as they don't sound like me at all. I was trying to be something other than myself, which had been the story of my life up until that point.
From my debt, to relationship problems to heartbreak and cancer scares, if it's happened in my life, you will find it on the pages of my blog. I no longer consider myself a travel blogger, but rather I like to think I am a journey blogger. I write about my life journey, which right now happens to be taking me around the world, but even if the travel ever stops, I will still continue to write my blog and share my stories.
11. So far, what has been the most difficult part about keeping your website updated while you travel?
Sitting down! I recently had to pay a visit to a local hospital here in Goa after developing an excruciating lump at the end of my tailbone. It turns out my coccyx had become swollen and enflamed from too much sitting on my ass working! It was an incredibly humiliating experience, but it certainly made for an entertaining blog post.
12. Which travel destination are you most looking forward to visiting?
Throughout my planning and saving, India was always the place I knew I wanted to start my travels. I had already been there six times, and it really had become part of my soul, so choosing to fly there first was the perfect motivation. Now that I am living here in Goa for the next few months I'm happy just enjoying where I am, and don't really think about what lies ahead. I'm just grateful to be here, living the life of my dreams. I can't imagine anywhere will feel quite as good as the starting point of it all, the beginning of my new beginning.
13. You are planning on creating your own charity. What kind of charity are you interested in forming and how would you like the charity's operations to be incorporated into your website?
I don't want to give too much detail away just yet, as it's still a long way off, but its ethos will be embedded in the idea of helping women go further in life, and will also be called Further Bound. Apart from sharing the name, I doubt I will incorporate its operations into my current blog too much, save for the occasional update, and will likely run a separate blog on the charity website.
Apart from my dream and my passion, I have no idea how I am actually going to bring my charity to life, so I intend to volunteer everywhere we travel and do as much research as possible. I don't want to come across as a naïve do-gooder or arrogant Westerner charging around the world thinking I can save it, so the whole process will take time and effort to be done properly. But you know what they say; where there's a will, there's a way.
14. In terms of content and monetization, what goals do you have for your website five years down the road?
As far as content goes, I really just want to continue to write honestly and openly about every aspect of my journey. I also hope that with time and effort my writing will improve, and I even have dreams of publishing a book one day.
Most of my online income comes from my graphic design work, which I am continuing to do as I travel. I was also fortunate enough to monetize my blog three months after I launched with some very carefully placed sponsorship, though I keep this to an absolute minimum. In five years time I hope to be earning money in much the same way, and maybe have a publishing deal on the horizon!
15. What is the most important piece of advice you have for people who are going through major life changes?
Be completely honest with yourself, even if the truth scares the crap out of you. You have to listen intently to that little voice that whispers quietly in the depths of your soul, and act on its advice. I ignored my own inner voice for most of my adult life, and paid a heavy price for having done so. I truly believe that happiness stems from a place of honesty, and that honesty has to start with you. Just have faith in your own abilities; be brave, be true, and be yourself, and everything else will gradually fall into place.
Thank You!
------
Follow Hanna's journey at FurtherBound.com or look for her on twitter @furtherbound
Chief Editor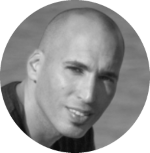 Tal Gur is an author, founder, and impact-driven entrepreneur at heart. After trading his daily grind for a life of his own daring design, he spent a decade pursuing 100 major life goals around the globe. His journey and most recent book, The Art of Fully Living, has led him to found Elevate Society.