Imagine It Forward: Summary Review
This is a summary review of Imagine It Forward containing key details about the book.
What is Imagine It Forward About?
Imagine It Forward is an inspiring, fresh, candid, and deeply personal book about how to grapple with the challenges to change we face every day. It is a different kind of narrative, a big picture book that combines Comstock's personal story in leading change with vital lessons on overcoming the inevitable roadblocks. One of the most successful women in business, Comstock shares her own transformation story from introverted publicist to GE's first woman Vice Chair, and her hard-won lessons in shifting GE, a 125 year old American institution, toward a new digital future and a more innovative culture.
Who is the author of Imagine It Forward?
Elizabeth "Beth" Comstock is an American business executive. She is a former vice chair of General Electric. She operated GE Business Innovations, which developed new businesses, markets and service models; drove brand value and partners to enhance GE's inventive culture.
Tahl Raz is a storyteller of big ideas in business, technology and the social sciences that are transforming the way we work and live. An award-winning journalist and best-selling author, he has edited and published in everything from Inc. Magazine and GQ to Harvard Business Review and the Jerusalem Post.
How long is Imagine It Forward?
What genre is Imagine It Forward?
Business, Nonfiction, Leadership
What are good quotes from Imagine It Forward?
"traditional business strategy too often does not bother to create a story or narrative about its actions for its employees and the world to gather around. For the strategy to become reality, people need to see themselves in the story and then take action to make the story happen."
"Giving ourselves permission allows us to hack rules that don't make sense rather than follow them; to take ideas and stories apart that aren't working; to go around the gatekeepers, bullies, and bureaucratic bottlenecks that would stifle change. Developing a habit of self-permission will instill in you the belief that you are in control of your career and your life, regardless of what is going on around you."
"A spark is a person, usually an outsider, whose unique perspective—the more different, the better—challenges the team to think differently."
― Beth Comstock with Thal Raz, Imagine It Forward
* The summary points above have been sourced and summarized from the book, Amazon, and other online publishers. The editor of this summary review made every effort to maintain the accuracy and completeness of any information, including the quotes, chapters, insights, lessons, and key takeaways.
Chief Editor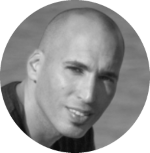 Tal Gur is an impact-driven entrepreneur, author, and investor. After trading his daily grind for a life of his own daring design, he spent a decade pursuing 100 major life goals around the globe. His journey and most recent book, The Art of Fully Living - 1 Man, 10 Years, 100 Life Goals Around the World, has led him to found Elevate Society.