Insanely Simple: Summary Review
This is a summary review of Insanely Simple containing key details about the book.
What is Insanely Simple About?
Insanely Simple tackles the core principle of Apple's success - simplicity. Simplicity isn't just a design principle at Apple - it's a value that permeates every level of the organization. The obsession with Simplicity is what separates Apple from other technology companies. It's what helped Apple recover from near death in 1997 to become the most valuable company on Earth in 2011.
Who is the author of Insanely Simple?
Ken Segall is the author of the New York Times bestseller Insanely Simple. Working with Steve Jobs as his ad agency creative director for twelve years spanning NeXT and Apple, he led the team behind Apple's legendary Think Different campaign, and set Apple down the i-way by naming the iMac.
How long is Insanely Simple?
What genre is Insanely Simple?
Business, Nonfiction, Design
What are good quotes from Insanely Simple?
"People think focus means saying yes to the thing you've got to focus on. But that's not what it means at all. It means saying no to the hundred other good ideas that there are. You have to pick carefully. I'm actually as proud of the things we haven't done as the things we have done. Innovation is saying no to a thousand things."
"I didn't think of Steve in terms of being nice or mean, approving or disapproving. He was simply being straight with me. The relationship we would have over the years ahead would always remain that simple. Steve didn't like Complexity in his working relationships any more than he liked extra buttons on his iPod."
"It should now be considered a basic law of commerce: Simplicity attracts."
"Simplicity is the ultimate sophistication."
"His bottom line was that the ship had to be moving forward every day. If you weren't helping, that's when you got in trouble."
"he was just being himself, and I was happy that at least the ice was broken, even though part of my ego was broken as well."
"audacity."
"When process is king, ideas will never be. It takes only Common Sense to recognize that the more layers you add to a process, the more watered down the final work will become."
― Ken Segall, Insanely Simple
What are the chapters in Insanely Simple?
Chapter 1: Think Brutal
Chapter 2: Think Small
Chapter 3: Think Minimal
Chapter 4: Think Motion
Chapter 5: Think Iconic
Chapter 6: Think Phrasal
Chapter 7: Think Casual
Chapter 8: Think Human
Chapter 9: Think Skeptic
Chapter 10: Think War
* The summary points above have been sourced and summarized from the book, Amazon, and other online publishers. The editor of this summary review made every effort to maintain the accuracy and completeness of any information, including the quotes, chapters, insights, lessons, and key takeaways.
Chief Editor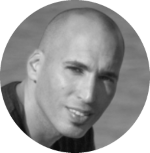 Tal Gur is an impact-driven entrepreneur, author, and investor. After trading his daily grind for a life of his own daring design, he spent a decade pursuing 100 major life goals around the globe. His journey and most recent book, The Art of Fully Living - 1 Man, 10 Years, 100 Life Goals Around the World, has led him to found Elevate Society.