Leaving Everything Behind to Travel the World
Have you ever thought of just packing a bag and getting on the next flight out of town?
Jeremy Foster quit his job, sold his possessions, packed a backpack, took all his savings, and headed on a plane across the world from Boston, Massachusetts to Sydney, Australia.
Intending to stay six months in Australia, Jeremy ended up spending three years traveling through Australasia. He has taken up local jobs to fund his continued traveling, made friends with the locals, and has no idea when, if ever, he'll return home to stay.
Inspired to share his story and thoughts along the way, Jeremy created travelFREAK, a website dedicated to sharing resources and inspiration to curious travelers. He also co-founded a project known as The Travel Blogging Calendar as a way to give back to the communities he travels through.
Please enjoy my interview with this inspiring young man!
1.Jeremy, on your website travelFREAK, you mentioned that you saw yourself locked behind a cubicle in the IT world amid a recession. Not wanting to spend the rest of your life that way, you made the decision to do the unthinkable and drop everything to travel solo. Looking back at that moment, what can you tell us made that decision happen? Was it just a "one day you had enough" moment? Or did you think about it for weeks on end?
I had originally planned to study abroad while I was in university, but that fell through for reasons I won't get into (let's just say I wasn't legally allowed to leave the country!). Then, one day, a couple years later, it occurred to me that I could actually make this dream of mine happen on my own. Once I realized that all I needed to do was buy a plane ticket, everything else fell into place. I mulled it over for a couple of weeks, bought the ticket, and a few weeks after that I was in Australia!
2.Why did you pick Australia as your travel destination when you left for the first time?
I'm not sure why I picked Australia. I think places can draw a person. Some people fall in love with France, for example, but they've actually never stepped foot in Europe. I had a love affair with Australia before I had even been, and I acted on it! I wanted an experience that would be so drastically different from the life I was living, and I believed Australia could provide that. I imagined myself cuddling koala bears, petting Kangaroos, scuba diving the Great Barrier Reef and surfing opulent beaches. And now, I've done all of those.
3.You mentioned that you pick up local jobs while traveling as a way to further fund your traveling. How easy has this been? Was this your plan from the beginning?
It's actually been very easy. I wanted to be a bartender, and had even tried my hand at getting bartending jobs in Boston. I had no luck doing this at home, so I thought I could travel through Australian beach towns, serving Pina Coladas on the beach to gorgeous women, living the simple dream. What I didn't realize is that I would develop a passion for bartending and making drinks. I've discovered a new career and life direction that I never would have uncovered if I hadn't left home. These days, I find myself working at high end cocktail bars and lounges making drinks for high-paying customers and people who really care about having a good drink.
4.Have you ever had times where you were running out of money and you couldn't find a job? What did you do?
So many times! I've been penniless and homeless, and have had to rely on the kindness of strangers. People have taken me in, fed me, and asked for nothing in return. I have a way of making the best out of bad situations, and my ability to make something from nothing has proven to be very useful time and time again. Granted, I also had to call in a favor or two from my mother (bless her). What I can say though, is that, if you want something bad enough, like a place to sleep for the night, you will find a way to get it, and avoid sleeping on the street. Luckily I've never had to do this, but there were a lot of times when I genuinely thought I might have to.
5.You also mentioned that you travel solo. Have you ever thought about taking along a companion? Would you say there are benefits to both traveling alone and with someone else?
I've been traveling solo for almost three years now. I actually started a two week trip around Tasmania with a mate from back home, but we learned that we just weren't as compatible as we thought we were. Unfortunately, I lost that friend. But I gained valuable insight about the positives of doing things on my own. At no point, ever, do I have to change my itinerary or settle for anything less than what I want. I get to be very selfish in the way I lead my life, and I'm grateful for that. When there are other people in the picture, you have to rely on them and take their situation (whether it be financial or personal) into account. Sure, things can get lonely as a solo traveler, but the positives far outweigh the negatives.
6.Where all have you been so far in your three years of traveling? Where else do you have hopes to go someday?
I'm a proponent for slow travel. I've only traveled through Australia, New Zealand and China, but I've seen and done countless things that most travelers don't get to experience. I've settled in with the locals, lived life like a local, and gotten to know and see the hidden gems in every city and town I've been through. I don't envy the people who travel through 50 countries in a year. Sure, their passports are impressive, but the experience they have is vastly different to mine.
7.travelFREAK started off as a blog but evolved into a website with resources and inspiration from multiple sources. How did that happen? Do you foresee any future changes to travelFREAK?
travelFREAK began as a small, personal blog entitled Honestly Australia. It was a "Dear Mom" type of blog in which my friends and family could keep up to date with where I was and what I was doing. travelFREAK was initially going to be a joint venture with the gentleman I traveled to Tasmania with, but when things fell apart between us, I took over and made the project my own. Some of his articles are still available on the website. I've also realized that I can cover more of the world if other people contribute, so I commission other writers and feature them as well. I have a lot of grand ideas for travelFREAK, but we'll see how far they take me.
8.On travelFREAK, you get quite personal in some of your writings. How has your personal writing perhaps changed as your travel experience goes along? Do you find yourself to be more contemplative while traveling than back when you were in that cubicle in Boston?
I would write only occasionally when I was home in Boston. Often times it was because I wanted to vent about something and they would turn into whiney pieces that a 13 year-old girl would have written. In making my writing public, I was forced to perspectivize (yes, I'm making up a word) my words, and begin to see my problems or issues in a more worldly and profound sense. Sometimes I realized how petty something was, and sometimes I realized its actual magnitude. These days, I don't bother with the petty stuff in my life. It's just not worth it.
9.Probably travelFREAK's most sought after advice comes from your wonderful posts about specific places by people whom have actually been there. How would you describe this service and its value to people thinking about traveling somewhere?
I think this is the most valuable asset that travelFREAK holds. The articles I publish aren't necessarily about a destination, but an experience. Prospective travelers can judge for themselves whether they feel as though a similar experience would be valuable in their life.
10.The Travel Blogging Calendar is a website that you co-founded to give back to the communities that travelers visit. What inspired you to get involved with this project?
This question requires the telling of a backstory. Last year, my sister was forced to undergo emergency surgery in Washington, DC, but I was in New Zealand with very few pennies to my name. I swore to be by her side and support her through a very trying time in her life, so I reached out to my community, through travelFREAK, and asked friends, family and strangers to help me reunite with my family. I raised $2,000, enough for a round-trip ticket home. After seeing the immense power that a community-coming-together truly has, I swore to pay this kindness forward. The Travel Blogging Calendar is my gratitude project. A huge number of people supported me on my journey, and now, hopefully, I can help to support somebody else in theirs.
11.You are in charge of marketing and web presence for The Travel Blogging Calendar. How has this role affected your lifestyle? Do you have plans to perhaps make any other websites or do any other projects?
It's been a fulfilling experience, but one that has tried my gusto and ambition on multiple occasions. This was not an easy project to spearhead, but I'm happy to be able to say that I've done, and am still doing, it. I don't have plans for any future projects, but I do intend to make writing, and running websites like travelFREAK, a large part of my life.
12.Do you think you will one day stop traveling? Why or why not?
Unlikely. Once you scratch your itchy feet, they never stop itching. I have an incredible thirst to devour everything the world has to offer, and the only way I can achieve this is through travel.
13.How do you decide where to go next on your traveling journey?
I don't really "decide" where to go—I let the universe show me. Opportunities present themselves, and I make the most of them. I'm in China right now, a place I never pictured myself going. Something about teaching English in China crossed my Facebook newsfeed and I pounced. A month later, there I was.
14.If you could give one piece of advice to people who are scared to take the steps you have and just go for something new, what would that advice be?
Don't take life too seriously. This type of thinking will leave you stagnant. Have fun, get out there, and just do whatever it is you want to do. You may not know what's going to happen or where you'll end up, but I guarantee you'll have a hell of a lot to show for it. That's a promise.
Thank you!
------
Jeremy Foster is world traveler, blogger at travelfreak.net, and co-founder of The Travel Blogging Calendar. You can also find him on twitter at @travelfreak_
Chief Editor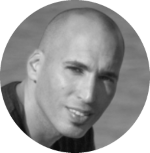 Tal Gur is an author, founder, and impact-driven entrepreneur at heart. After trading his daily grind for a life of his own daring design, he spent a decade pursuing 100 major life goals around the globe. His journey and most recent book, The Art of Fully Living, has led him to found Elevate Society.