Becoming a Successful Entrepreneur while Being a Full-time Mom
If you take the word entrepreneur and put it on steroids, you would get Jill Salzman. Already on her third successful entrepreneurial business, Jill is an inspiration to moms everywhere who want to pursue having their own business.
A graduate of Brown University and law school, the author of the book Found It: A Field Guide for Mom Entrepreneurs, writer for The New York Times and eHow.com, contributing writer to the NBC5s small business blog Inc.Well, TED talk speaker on "Why Moms Make the Best Entrepreneurs", featured entrepreneur by CNN's Headline News, People Magazine, The Chicago Tribune, Daily Candy Kids, Business Matters, WGN TV and WAHM Talk Radio, and even named one of the "Top 50 Women To Watch In Tech" and "Top 100 Champion Small Business Influencer", there are no bounds to Jill's success. She is a woman in the know with sought after knowledge and advice all while being a mom!
Currently spearheading her latest entrepreneurial adventure, Jill Salzman runs an organization known as Founding Moms. Founding Moms is a community of women entrepreneurs meeting together and helping each other succeed.
Jill also does speaking engagements and offers very inclusive packages of services for businesses such as legal advice, creating a webpage, pitching your business or product to the press, and even tax and accounting help.
Don't miss this interview with this dynamic and talented young Woman!
1.Wow! You have done a lot and obviously know how to make things happen. Would you say this is something you have always been able to do?
I love being busy, and have always been. "Making things happen" is very relative – and also very evolutionary. At the start of my career I surely didn't know how to make anything happen, but then I met Trial and Error and things really started clicking for me. Hindsight is always 20/20 and of course now it's easy to say I was always good at making things happen. SO not the case.
2.In your TED talk, you spoke of three aspects of moms that make moms excellent entrepreneurs. Your first one was "Make it up" and you explained how moms have to be innovative as children don't come with manuals. Yet you were making it up long before you became a mom, as you said you were 16 when you made up your fictitious magazine so that you could get a press pass and be able to meet Eddie Vedder of Pearl Jam. How did you make that leap to creating a fictitious company at 16 years old? What inspired you to even think like that?
My Mom. I'd mentioned in the talk that she was pretty much the reason that I got into the Rock 'n' Roll Hall of Fame Induction Ceremony in the first place. She was one of those parents who always encouraged me to think outside the box, and beyond encouragement, sometimes she helped me out the door and into the Waldorf Hotel…so to speak. But let's be honest – I was definitely and equally inspired by my infatuation with Eddie Vedder.
3.Would you say that successful experience at 16 years old motivated you to pursue other creative adventures later in your life?
Absolutely. Reaping rewards after hard work at 16 is life-changing. I understood in that successful moment that it was because of work I did. And I could do it again. And again. Doesn't get better than that.
4.You mentioned that you started your Bumble Bells business before you really knew any other entrepreneurs who were also actively raising children. Then when you had your second child, you decided you really wanted to meet up with other mom entrepreneurs, so you reached out to others via MeetUp.com. What prompted you to look for other mom entrepreneurs? What do you think you were looking for?
I had attended some women's business events, wanting to connect with other women in business – thinking it would do good things for business, for networking, and for educating myself on all things entrepreneurship. But the groups I attended were either ill-attended, full of women generations beyond me, or places where I could not bring my infant. So, I decided to start my own. And I narrowed in on mom entrepreneurs for selfish reasons only – I wanted to meet other women who were in exactly the place I was. I didn't know what I was doing with 2 kids and 2 businesses and I wanted to find out how they were doing it. That's all.
5.Your meet ups with other mom entrepreneurs ended up being a very popular thing and eventually you founded your current business of Founding Moms. How does Founding Moms work? You mention physical gatherings but you also offer on-line communities. Can you briefly explain them?
Sure. We started out as 1 Founding Moms' Exchange, or one meetup, in my hometown. When a member asked us to open a chapter in Chicago because she didn't want to drive all the way to our current meetup group, I opened one up there for her. And then I just kept going, realizing I could have these in any city I could find a host in. So, we're now in over 30 cities with monthly offline meetups for mom entrepreneurs. They're 1-2 hour coffee sessions where we get down to business about all things entrepreneurship – discussing marketing, legal, accounting – and inviting speakers to educate us. Our online community is the virtual in-between hub where folks can access amazing webinars and seminars online when they can't leave their homes.
6. What benefits do your communities provide to a mom who wants to be an entrepreneur? Is it practical advice like how to create a website? Or is it more supportive in nature like a cheerleading squad? Or maybe it is a way to network for business contacts?
All of the above. And I say that because different women come for different reasons. Some love the networking aspect. I prefer the educational component and not having to discuss kids all the time. We're a kid-friendly group and you are welcome to bring your children, but we don't discuss them – we're pretty set on discussing business only. The support that comes out of the educational seminars is fantastic, and a lot of people who don't come for one part but come for another are often the ones who end up getting much joy out of what they didn't come for. It's just a really neat experience to meet up with such like-minded folks offline.
7.On your Foundingmoms.com website, you also offer what appear to be very inclusive packages to help a starting business owner. These are your Founding Kit, First Aid Kit, and Kit and Caboodle. These have legal advice, and technical support, and offer writing, publicity, and more. Do you do all of these things yourself or do you manage a team of experts to do this?
We've teamed up with brilliant service providers, all of whom I use for my own businesses, who provide these bundled services to folks who purchase one of our Kits.
8.You also offer both group coaching and private consulting for individuals. What would you say are the most common things people are looking for from you as a consultant?
Folks often come to me when they want a) accountability, and b) advice on where to go next and how to become more profitable. I like to think of myself as a very practical person but I often find I'm my clients' best cheerleader.
9.Your focus for Founding Moms is mom entrepreneurs. Do you also work with non-moms? How do the non-moms find out about your services as they might not be looking at a website called Founding Moms?
In the last six months, we've branched out so much that I find a lot of non-moms attend our meetups now. Women in business are looking for the same business education, whether they have kids or not – but they do have less in common with the others at our meetings. I think most of them hear about us through word-of-mouth or see us on Meetup.com and want to try it out.
10.On a personal note, what do you like most about your job?
The people. I can't get enough of connecting with brilliant women doing great things in the world. Connecting is one of my favorite things to do, I get such joy out of it. That alone gets me fired up enough to thoroughly enjoy the rest of it all.
11.If someone asked you what your dream job would be, would you say it is what you are doing now? Why or why not?
Catch-22. Since I'm doing this job and I love it, it's no longer my dream job. So now my dream job is what Stephen Colbert does – with lots more famous people, money and TV cameras. But had you asked me years ago? Yes, this is my dream job. Always climbing, right?
12.Do you have any plans for your current business in the near future?
So many plans, that would take up a lot of time.
13.Do you think you will start another business? If so, any idea of what it will be?
Not for a while. I have no earthly idea what it would be, but I'm happy working on The Founding Moms right now.
14.So how would you explain where you get your inspiration for new businesses from? In your TED talk, it seemed like they were spur of the moment inspirations that just came to you one day out of a need you observed around you or within you. What takes that moment from observation to inspiration for you?
It usually takes 10-20 people expressing that they'd pay for that particular product or service for me to get the wheels turning. If I know there's a market, I'm in.
15.If you could give one bit of advice to moms who are thinking about becoming entrepreneurs, what would that be?
Dive in! Right now! Stop thinking about it and just do it.
Thank you Jill!
----
Jill Salzman is a dynamic entrepreneur and a fun-loving mom. She is currently growing her third entrepreneurial venture, The Founding Moms, the world's first and only kid-friendly collective of monthly meetups for mom entrepreneurs. You can also find her on Twitter at @foundingmom
Chief Editor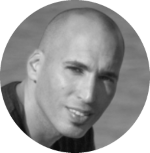 Tal Gur is an author, founder, and impact-driven entrepreneur at heart. After trading his daily grind for a life of his own daring design, he spent a decade pursuing 100 major life goals around the globe. His journey and most recent book, The Art of Fully Living, has led him to found Elevate Society.