Mars Dorian: The ART of Not Fitting In
In many ways, the online world is just one huge playground, except that it isn't like high school -- here, in the online world, you don't want to fit in, you want to STAND OUT.
Turning this philosophy into a booming business, Mars Dorian creates brands that get attention and thrive in the buzz of the web.
Mars is a rebel with a cause: when it was time to get a "real" job, Mars chose the uncertain path and started working for himself, developing his art of visual storytelling into a creative business that offers the whole package for online success: bold, unique designs and clever marketing strategies that make your story seen.
Check out Mars's story in my interview with this outstanding all-around creative webpreneur!
1. I love your motto: When you're not trying to fit in, you're free to stand out. When did you realize that not fitting in would be your strength? In what ways is your work the product of this freedom?
I realized it the moment I started looking for a menial job in my early twenties. I worked for a boss and hated every second of it. Two months later, I get fired and said, never ever again. I knew I'd always wanted to stand out and couldn't bother to fit in. I built my entire brand based on that realization.
2. You must have made some amazing doodles during high school. Did you ever imagine that you could do anything with your art? When did start turning your skills toward marketing?
Yes, I was comic book artist and cartoonist back in highschool. I made some nice pocket money and thought, jeez, I love this so much, I should turn this into a living. But in my early twenties I lacked self-esteem and got sidetracked by life. I did crappy jobs for a short while (barkeeper, vendor in a bagel shop) and went back to my creative career when I turned 25. I realized that I need to learn everything about marketing if I wanted to survive here. I did, met up with business-savvy friends and transformed my creative hobby into a career.
3. How did you start working for yourself? What did it take to start your company and how did you get the attention of your first clients?
I started with a blog and networked with other online entrepreneurs and bloggers. I went into freelance mode and helped other people brand themselves online. 1-2 two years into it, I missed the creative aspect - the drawing and designing. That's why I bought a graphic tablet, started showcasing my own illustrations on my blog. Because I had a decent network of fellow onlinepreneurs and bloggers, some of them actually hired me and recommended my services. That's how it started. Ever since then, the growth comes through word of mouth. Better work on my end means better word of mouth. Thus, the better I get, the more people talk about me.
4. You have such a distinctive street-art style. How do you adapt your brand of visual storytelling to so many different clients?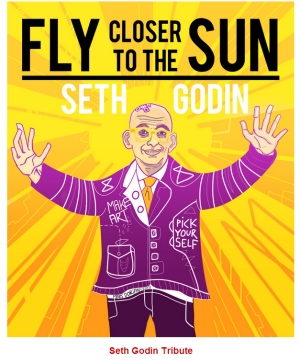 Potential clients want to work with me because they love my distinct style. I then adapt my style to each unique brand and client. I'll incorporate their colors, ideas and overall theme into my drawings and create something that's still my style while featuring theirs.
However, I do have people jump off because they think my style is too distinct and won't work with their brand. It's not for everyone.
5. How do you generate new ideas? Have you adopted a "process" that helps you to become more creative? Also, what's your approach to collaboration as a creative process?
I consume a lot of different ideas. I'm curious by nature, so I walk into the world open eyed. When I'm eating Thai food, I think, what can I learn from this ? Maybe it's the way the food is arranged on the plate, or the way the restaurant is built. I also read a lot of diverse nonfiction and fiction - from psychopath psychology to western to sci-fi to artist guides to military tactics. The more diverse the input, the more creative the output.
In terms of collaboration, I do whatever it takes to create best ultimate project, so go full team-mode and pull my ego back if it helps the final work.
6. What has been your favorite project as an entrepreneur so far? In other words, what do you think is your best work as of now? and what makes it your best work?
I don't have a single best work. I love variety, so I can be really proud of a kick-ass client slideshow presentation. And in the next week, I create a unique cover for a friend client, and it helps him make lots of sales, and I say, this is my best work. And so on, and on. So, in total I'm really just as good as my last piece of work.
7. What is one way that we could all boost our online visibility -- right now?
Create a kick-ass online site that's different from your competition. People like to share awesome stuff - if you can stand out in a way that's relevant to your target group, the right people will notice and come back and back and back. Remember, most of the clients online will never meet you in real life. They don't know much about you, your background and your credentials. You have to compensate that lack of proof with a stunning online presence that shows peeps what you're all about.
8. Why do you think it is so crucial for brands to tell their stories visually?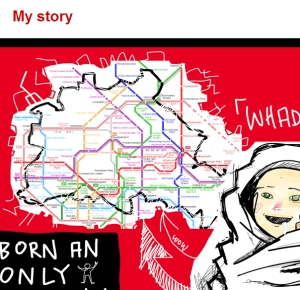 I think people have small attentions nowadays. They want to consume content quickly. If you see visuals - for example the ones on my about page - it's much more fun to consume it. That's why I turned my background story into a comic. I still get email from people telling me how much they love that page. Chris Brogan even retweeted that page and said it's the best about page he's ever seen.
That's also why well-designed slideshows work so well - the good ones contain great imagery and have snappy, short texts. That's what makes them shareable. Visuals break through today's clutter.
9. What are some of the strategies that have been successful in promoting your own brand? In your experience, do these work for everyone?
I don't promote myself. I believe the work speaks for itself. In the beginning, I just created my best artwork and spread it around social media for people to see. Twitter, Tumblr, Facebook, Pinterest, you got it. Mix that with the friends in my network who enjoyed sharing my stuff, and you got an effective client attraction machine. So it comes down to two things, creating amazing work and sharing it as much as you can.
10. What's next for you? Can you tell us about some of your future projects?
I want to move into self-publishing. I love science fiction and stories about people doing extraordinary deeds. I read a lot, about 70 books a year, and I'm still looking for the kinds of stories that set my heart and soul on fire. I can't find them, so I tell them myself, build my own intellectual properties, which I then can turn or sell into different media (games, comics, movies etc.)
I like the idea of being a one-man disney brand, just in Mars Dorian style, of course 😉
Thank you!
----
Mars Dorian is a blogger, visual storyteller, and branding expert with a lifelong passion for art. Check out his awesome website at marsdorian.com and his excellent (and free) guide to build a global microbrand. You can also find him on Twitter at @MarsDorian
Chief Editor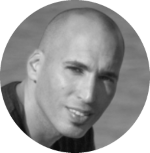 Tal Gur is an author, founder, and impact-driven entrepreneur at heart. After trading his daily grind for a life of his own daring design, he spent a decade pursuing 100 major life goals around the globe. His journey and most recent book, The Art of Fully Living, has led him to found Elevate Society.