Meditation and spiritual life
I've been practicing meditation since the beginning of last year and can honestly say that it really has made a difference for me; My meditation sessions are very short, sometimes just few minutes, and usually not seated in the traditional lotus posture but while I'm standing or even walking. its not the length that matters in my opinion, but the quality of ones presence and awareness.
I'm a great believer that they key to internal happiness is in your mind, and that you must learn to develop and use for your mind with meditation to open your mind to real happiness, instead of material happiness. Most people get wrapped up in the material things like new clothes, or CD's, planning vacations or purchasing new cars. Although this may be a temporary fix, these things all lose their luster after some time. When trying to get your happiness from material things you will not only exhaust yourself, but also find that it can be incredibly expensive.
The population of people who looks towards meditation have many things in common from the start. Those who look into meditation are effected by stressed, their lives have become overbearing, resulting in them feeling out of control. Seeking an inner peace, the journey leads them to look into meditation. Showing interest in this practice is a great start, it shows that you are ready to look for ways to deal with the various challenges of everyday life.
People often become interested in meditation because they hear about many of the small benefits you can receive. Things like stress-related injuries can be eliminated by this practice. These injuries are usually caused because the person is so stressed out that they are not concentrating on the task at hand, making it easy to get hurt. Stress is another factor that has taken over many individuals. Loss of sleep can be caused by stress, leading to your immune system becoming more perceptible to illness like the common cold. It can also lead to heart attacks, since one of the major contributors is the level of stress that a person has. If you experience these symptoms, think of them as a sign your body is giving you telling you to slow down. Our bodies aren't manufactured to take an excessive amount of stress. While practicing meditation, all these problems can be helped. Your mind and body can drastically improve and begin to calm with positive thinking. In the end, it will lead to you looking at life with a completely new perspective.
Meditation Tips
1. One of the first steps while researching meditation is to find yourself some sort of support group. Either a teacher, a friend, or an experienced group of people are the best places to look. By having people there to help you, it helps to overcome some of the obstacles that you may find in the beginning of your journey. In the early stages of practicing meditation it can be hard to notice any changes, and by having someone there to keep you motivated, it helps to keep you on the right track for your journey. Also when practicing your new positions or postures its helpful to have someone there to keep you mindful of how to do these things properly. Most importantly, some people can be in such a rush to go through this process that they don't fully open their minds to the experience, and never benefit from the change.
2. In order for meditation to be beneficial, it should be practiced on a regular basis. Make a personal commitment to yourself to start off by putting aside time at least one day a week to start your practice. Once you find yourself more comfortable with this process, keep incorporating more and more days into your practice, until you reach a schedule that is comfortable and realistic for you. When building meditation into your schedule, make sure that you select the right time of day, and also the right location. If you make these things prominent, then it will become more like a habit to you, and you're less likely to miss a day.
3. Choosing a location is one of the most important selections in meditation. A secluded quiet area is the most beneficial, so you won't be interrupted or fell uncomfortable with the process.
4. Choose the most quiet time of your day, so that your mind will be as relaxed as it can. The morning is the most highly recommended, because it allows your mind a body a bit of a head start, since the day hasn't already taken its toll. On the other hand, some do find that the evening is the most beneficial for them, because this gives a quiet time to let go of the worries of the day and distress as much as possible. No matter which time of the day you choose, make sure that it is the most beneficial for you.
I hope this short post gave you some insights regarding meditation. In my next posts I will provide few practical methods for inner mind that are easy to apply in everyday life
Chief Editor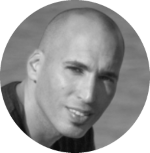 Tal Gur is an impact-driven entrepreneur, author, and investor. After trading his daily grind for a life of his own daring design, he spent a decade pursuing 100 major life goals around the globe. His journey and most recent book, The Art of Fully Living - 1 Man, 10 Years, 100 Life Goals Around the World, has led him to found Elevate Society and other impact-driven ventures.