The Movement about more Movement – How to Make Running more FUN
Do you want to get out and exercise but are frightened off by the cool people with all the expensive gear? Does your lack of knowledge about running make you too self-conscious to begin? The 'Naked Running' movement could be just the thing to get you started – and yes, you do get to wear your clothes.
Dave Robbo is a man who practices what he preaches. It's a simple message – he believes in making running fun. His minimalist approach helps people to enjoy the experience and to get the best out of every running moment.
As a physiotherapist, Dave knows what's good for your body and how you can improve your running. His down-to-earth advice and practical approach have brought pleasure and good health to runners all around the world.
The Naked Running website is a natural progression for a man who wants to spread the message. Filled with experiences, future events and links to many other helpful sites, this is the site where everyone, whether new to running or an old hand, can learn something new and become inspired.
1. How and why did you first become interested in running, and how did this interest progress to where you are today?
I can't remember a time when I didn't run. Growing up I played whatever sport was available & loved taking part in any school or club running events, mostly shorter distances on the track. I've always used running as a way to keep fit for other team sports. But really started to explore longer distance running towards the end of Uni in 2003/04 & have never looked back!
2. You obviously run a lot, and in many venues worldwide. Can you combine this with your work as a physiotherapist?
I'm lucky in that Physio is a job that does provide a bunch of different opportunities including working overseas. My wife Gabby & I lived in the UK (London & Edinburgh) for most of 4 years (2005-2008) & this was a fantastic time for work, travel & running.
More recently I held a Barefoot Running Workshop in Denver, CO in May this year, as part of the 'Naked World Tour' & have plans to do some more traveling next year related to spreading the word on Naked Running.
3. 'Naked running' is described on your website as 'stripping back the experience'. What are the psychological benefits of this approach?
By stripping the running experience back to its bare necessities (while keeping your clothes on of course!), it allows us to better connect with our body, and what's going on around us including other people & the environment. When we don't have to check a watch, GPS or HRM constantly, or thumb through to the next song on the iPod, a new world opens up. It allows us to receive the energy & mental boost of interacting with the outside world while being mindful of the messages your body is sending you. We just want people to experience that & hopefully start going 'naked' on the run more often.
4. What is your message to those runners who won't venture outside without the latest in clothing, shoes and technology?
Interestingly enough we are big advocates for technology & what it can do to improve our lives. If people want to purchase the latest gear to use on the run that's fine. What I don't like is the perception many runners have that they need to have all this stuff before they can call themselves a 'runner'. Running is the most simple, affordable, accessible & efficient form of exercise & we should remember that.
5. How did you get together with your running and business partner, Silas 'Mossy' Moss, and what has the partnership done for you?
Mossy had heard about my ideas around a concept called 'Experience Running' and was keen to learn more. We lined up a run around the harbour & beaches of Newcastle on Melbourne Cup Day 2010, to discuss it which finished 20km later with both of us pretty fired up. As someone who is passionate about exercise & sport, Mossy helped inject a bunch of energy & action into something that I was stalling on due to wanting to have the perfect plan. His enthusiasm for our shared idea of simply getting more people moving, specifically running, helped trigger the whole thing into gear as 'Experience Running' morphed into the more attention-grabbing 'The Naked Runners'. Mossy's background in media, as ABC radio host, producer & A-League football commentator provided the skills & knowledge required to create the podcast, as well as videos & interviews. Mossy has played hockey at a high level for many years & so knows first hand the benefits of keeping fit & active. Also, having a 'Ranga' on board was always going to be a smart move...!
6. Do you have an exercise idol who has helped you to shape your own beliefs and practices?
Not specifically, I guess I have been influenced by lots of people. Growing up in Australia the names Rob De Castella & Steve Moneghetti were legendary & I've always looked up to them & what they achieved in their competetive life & what they are now still both doing for promoting running.
7. How much does nutritional science figure in your personal and professional life?
Nutrition is very important & is something we will often cover in our workshops. I have a keen interest in the food choices we make & have recently moved towards more of a vegetarian approach, even experimenting with going vegan for a month. The Paleo approach to eating is also very interesting. I think eating is similar to running in that in our modern world of convenience & plastic, we can easily get caught up in all the 'artificial additives' on offer & can become dependent on them. Stripping back the way we eat, as in more fresh fruit & veg, & less packaged, processed food is very important.
8. The photos on your website show runners of all shapes and sizes, and very probably in varying states of health. Do you have any success stories you can share?
One of the things we love about our workshops is the variety of backgrounds people have. Its not unusual to have first-timers rubbing shoulders with Ironman triathletes & marathoners, all looking to improve their running experience. We've had a lot of feedback from runners who say they now see running in a whole new light, something to be enjoyed not dreaded.
One of the best success stories is my Dad. After being diagnosed with advanced prostate cancer he has used exercise & lifestyle changes as a path back to health. Never previously a runner, he now competes regularly in 5K & 10K events & running has given him a huge boost.
9. What advice would you give to someone who has not exercised for years, but would like to start running?
Be gentle, start slowly. It is a long-term investment so allow your body to adapt to this new thing its doing. Start by walking & generally moving first then build up very gradually...1 minute at a time. The price we pay for impatience is injury & a negative affect on our relationship with running. Do it right & you'll be a runner for life!
10. Your website has a lot of information about events and some advice about SOFT principles, but not a lot of background information about you and Mossy. Is this deliberate policy or something that has yet to eventuate?
No, we just haven't got to it yet. You've given us the gentle nudge we needed to make it happen.
11. Has your website brought noticeable numbers of interested readers to the events you publicize? Are you able to track this information?
We've been able to attract a good number of engaged users along to our events through information on the website as well as FB, Tw, podcast, & videos. We use Survey Monkey & the Eventbrite portal to obtain data on how people found out about our events. We also use Google Analytics to keep an eye where traffic is going.
12. You have a lot of news and links for runners on your website. What methods do you use to gather this wide range of information on relevant events, blogs, podcasts, TV segments and so on?
There is no structured strategy behind it. We make use of our network of contacts, and try to stay well read/listened/viewed and up to date on news, events, developments in the running world.
13. What are your future plans for the website?
We'd like the website to be a place where people can get access to the full sensory experience of running naked...reading about it (blog & shared articles), hearing about it (podcast), & seeing it (videos). There are some other exciting plans in the pipeline which you'll have to stay tuned about.
14. Is there a downside to combining your work and pleasure to such a high degree?
Yes it can be tricky & there are many times when the line between what is work & what is pleasure is blurred. We have a lot of fun doing what we do. Finding that balance between work & family as well as making time for my own running is a challenge that I need to stay on top of. Ultimately though if what you do for work is something you also hugely enjoy then that's a pretty good way to be.
15. The Naked Running movement appears to be a large group worldwide who share your philosophies, but without the structure of a formal organisation. Is this correct? What would you like the future to be for this group?
Yeah that's fair to say. A movement founded on the appreciation of high fives & headbands...in other words making running fun! We are encouraged greatly by the support we've been getting & enjoying seeing the movement grow both locally & around the world. I'd say the group will continue to exist as a network of like-minded runners connected via a number of platforms, all spreading the word & demonstrating by action, the many benefits of running....naked!
Thank you
The boys provide a compelling case at TEDx to ditch the distractions and move your body:
-------
The Naked Runners are two Professional Health Enthusiasts on a mission to change the world. Visit Silas 'Mossy' Moss (Exercise Scientist) and Dave 'Robbo' Robertson (Physiotherapist) on thenakedrunners.com website. You can also find them on twitter at @thenakedrunners
Chief Editor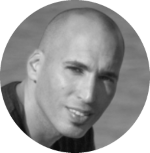 Tal Gur is an author, founder, and impact-driven entrepreneur at heart. After trading his daily grind for a life of his own daring design, he spent a decade pursuing 100 major life goals around the globe. His journey and most recent book, The Art of Fully Living, has led him to found Elevate Society.