Healthy Living while Travelling
How do you define healthy living? For Nathan Agin, healthy is more than just the results of a blood test; according to Agin, "[healthy living] is living by what you value, what is important to you, and what you know keeps you operating at, and able to deliver, 100%."
A traveling man who enjoys life and pursuing his own path, Agin has found his life's passion in living his life according to what is important to him, all the while inspiring and helping others to do the same. As a blogger, speaker, author of many guides and soon to be published cookbook, Agin shares his knowledge about finding your true interests, pursuing your passions, and maintaining, or regaining, your personal health while travelling.
Once an actor in Los Angeles and Seattle for 11 years, Nathan Agin decided he wanted something different for his life. He decided he wanted to travel and learn about the places and people of the world. So he started off on his first journey and three short years later, he is happily living a life he finds meaningful, enjoyable, and productive.
So what are Nathan Agin's secrets to living a healthy and awesome life? With the pace of a traveling life, how does he maintain his health while traveling? Is it possible for others to maintain healthy living while travelling?
Find out in my interview with this awesome guy.
Enjoy!
1. You take healthy living to a whole new level by incorporating more than just physical health. Why is that important? What do you do in your own life to maintain your health?
The simple answer is that I could not do what I want without total health, of mind, body, and spirit. As a traveler, if I weren't taking care of myself the way I am, I would have gotten sick and gone crazy a long time ago. Just because I travel regularly doesn't mean I don't face challenges, and they are the same ones that any challenger (short or long-term) encounter, such as exhaustion, stress, and anxiety. Because of my practices, I'm able to have more good days than not—and fortunately, the "off" days have been very few.
The four pillars I incorporate into my life are: Nutrition, Movement, Mindfulness, and Gratitude. So that covers what I eat (and don't), exercise, meditation, and positive attitude. I eat largely plant-based, because of everything I've learned and how it makes me feel; I exercise about 5-6 days, with light-to-moderate routines that take 20-30 minutes: tai chi, yoga, strength training, flexibility/stretching, etc.; I meditate every day (1000+ and counting); and I journal on what I'm thankful for. Without those practices, I wouldn't be the person I am.
"We first make our habits, and then our habits make us." ~ John Dryden
2. Your website Nonstop Awesomeness seems to be geared primarily towards fellow travelers, yet a lot of your advice could be found useful to anyone really. How can a non-traveler benefit from your healthy living advice?
We are all travelers on this journey of life. So whether you're carpooling or commuting, taking the train or flying, we're all on the move. We're all busy, and life always changes. Even if you're waking up in the same place, things are going to be a little different every day. We can always count on that. Nonstop Awesomeness is the idea that life always can be awesome, no matter where we are, when we show up 100% to life—that whatever life throws at us, we can maintain a consistently high energy and thrive. To do that, you need some kind of routine in your life, a foundation and something you can come back to that will maintain, sustain, energize and inspire you.
Healthy habits can start now, and in fact, are going to be much easier to develop while you're home, rather than trying to create something on the fly when traveling. If you can create a new routine—whether that's with food or exercise or whatever is important to you—before you travel, you are going to be infinitely more likely to keep that up wherever you go.
The main items to keep in mind are to be 100% Committed to your habit (for example, "I will exercise"), and then Flexible with how that shows up (10 minutes of yoga, long walk, lifting weights, swim in the ocean, etc.) Things might be exactly the same as when you're at home or look totally different—the point is that you're doing the activities you know allow you to show up how you want to in life.
3. Your soon to be published cookbook, "Nonstop Awesomeness in the Kitchen" features recipes that are free of refined sugars and flours, non-GMO, non-processed, and gluten-free foods. Are these important factors to consider in maintaining a healthy diet?
Absolutely. The sad truth is that these ingredients are what is responsible for the majority of health issues we see today: obesity, high blood pressure, heart disease, type 2 diabetes, etc. These are all life-style diseases—and are completely preventable, with proper diet (meaning "what you eat," not "a short-term fix") and exercise (even walking every day can change your life)!
It wasn't long ago that whole, natural food (what grew on trees and came out of the ground) was the ONLY choice—in the last 100 years, and largely because of greed, so many products have been created to help with convenience, and at the same time, have stripped foods of their nutrition and replaced it with items toxic to our body—literally.
Of the list above, you *definitely* want to avoid refined sugars and flours, and any foods that contain GMO's (genetically modified organisms)—because frankly, we have no idea what might be in those "franken-foods," and I don't want that in my body. You want to limit your consumption of processed or packaged foods as best you can; if it comes out of a box, it's processed. With gluten, many people experience inflammation and other illnesses because of this, and so it does make sense to cut out wheat products. I would state that even if you don't experience any immediate effects, so experiment going gluten-free (no breads or pastas) for two weeks and see how you feel.
4. You personally have found traveling to be a passion and a lifestyle that you enjoy. How did you know that traveling would be that for you?
I had no idea. And I had no idea what I was getting myself into. When I left Los Angeles (where I had been living), all I knew was that I enjoyed traveling, even with the tiny amount I had done up to that point. I had no expectation that I would be moving from place to place as frequently as I have, and that I would be able to thrive in those conditions. It all just seemed to come together organically, and I can definitely say that I love traveling just as much today as I did three years ago when I set off.
5. Have you had a favorite place you have travelled to so far? What made that place stick out as so memorable for you? Where do you think you want to go next in your travels?
I have been very lucky to have experienced some truly amazing sights, like on Kauai or at Glacier National Park in Montana—such stunning beauty that I had never imagined. Very cool indeed. The other places that tend to come to mind quickest, though, are the spots where I made really great connections with people, whether it was friends, strangers, or fellow travelers. I think back to a family I stayed with in Columbia, SC; a new friend and host in New Orleans; the happiest smoothie guy I've ever met in Sayulita, Mexico, and others. I am very blessed and grateful.
For me, the next frontier is international. I've spent most of my time around the US and do not regret one second of it. I would actually recommend to any traveler to explore your own country, regardless of how well you think you know it. I had only been to a handful of states before this life change, and I'm just in awe of the diversity in this country, both geographically and culturally.
To keep learning and growing, and because I've just heard what amazing things are going on out there, I definitely am excited to experiences faraway places—and a little nervous. I'm sure that's why it's taken me this long. Because I've never done it, I don't know what to expect—and of course that's natural. Whether international travel turns into a permanent thing or not, I do believe it will be great to immerse myself in a culture where I'm the minority—that kind of switch sounds fun to me.
6. Do you have any advice for someone who would like to try traveling as a lifestyle?
Here are my top 5 lessons from nearly three years of traveling:
1. You don't need to pack as much as you think.
2. Be gracious and humble with everyone you meet.
3. Keep a positive outlook and always look for the good.
4. Your health is the #1 priority—everything else will follow.
5. Every moment is an opportunity for adventure, growth, and joy.
Amen 🙂
---
Nathan is a health blogger at NonstopAwesomeness.me. You can also find him on Twitter at @nathanagin
Chief Editor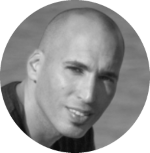 Tal Gur is an author, founder, and impact-driven entrepreneur at heart. After trading his daily grind for a life of his own daring design, he spent a decade pursuing 100 major life goals around the globe. His journey and most recent book, The Art of Fully Living, has led him to found Elevate Society.