What is Flow About?
More than anything else, this book is an exploration of happiness. What makes us happy? How can we live a fulfilling life? These are no simple questions to ask, but author Csikszentmihalyi makes a compelling and clear argument as to how happiness can be obtained. In doing so, the author touches on a lot of principles from ancient philosophies and religions, such as Stoicism and Buddhism. Yet the approach for a happy life set out in Flow is based upon scientific research, as opposed to rules and guidelines. (Flow Summary)
34 Top Quotes From Flow
1.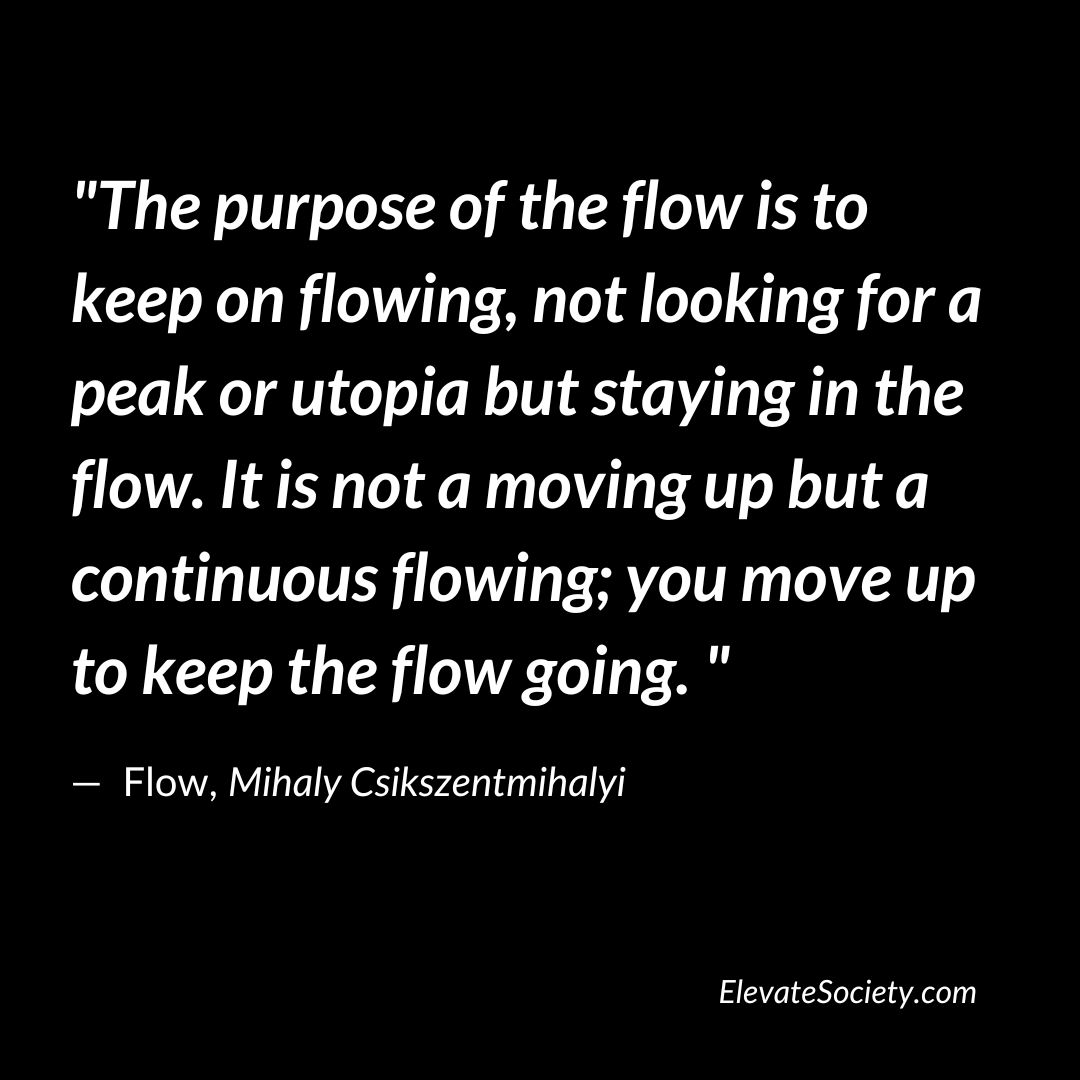 [Favorite Quote]: "The purpose of the flow is to keep on flowing, not looking for a peak or utopia but staying in the flow. It is not a moving up but a continuous flowing; you move up to keep the flow going. " (Meaning)
2. "Control of consciousness determines the quality of life."
3. "Individuals must become independent of the social environment to the degree that they no longer respond exclusively in terms of its rewards and punishments"
4. "People who learn to control inner experience will be able to determine the quality of their lives, which is as close as any of us can come to being happy."
5. "A person has to learn to provide rewards to herself. She has to develop the ability to find enjoyment and purpose regardless of external circumstances."
6. "It is not the skills we actually have that determine how we feel but the ones we think we have."
7. "Most enjoyable activities are not natural; they demand an effort that initially one is reluctant to make. But once the interaction starts to provide feedback to the person's skills, it usually begins to be intrinsically rewarding."
8. "Attention is our most important tool in the task of improving the quality of experience."
9. "The best moments usually occur when a person's body or mind is stretched to its limits in a voluntary effort to accomplish something difficult and worthwhile."
10. "It is when we act freely, for the sake of the action itself rather than for ulterior motives, that we learn to become more than what we were."
11. "It is when we act freely, for the sake of the action itself rather than for ulterior motives, that we learn to become more than what we were."
12. "It's a wise parent who allows her children to give up the things of childhood in their own time."
13. "Of all the virtues we can learn no trait is more useful, more essential for survival, and more likely to improve the quality of life than the ability to transform adversity into an enjoyable challenge."
14. "Control over consciousness is not simply a cognitive skill. At least as much as intelligence, it requires the commitment of emotions and will."
15. "Few things are sadder than encountering a person who knows exactly what he should do, yet cannot muster enough energy to do it."
16. "Most of us become so rigidly fixed in the ruts carved out by genetic programming and social conditioning that we ignore the options of choosing any other course of action."
17. "Success, like happiness, cannot be pursued; it must ensue...as the unintended side-effect of one's personal dedication to a course greater than oneself."
18. "It's exhilarating to come closer and closer to self-discipline."
19. "The justification of climbing is climbing, like the justification of poetry is writing; you don't conquer anything except things in yourself"
20. "A person can make himself happy, or miserable, regardless of what is actually happening "outside," just by changing the contents of consciousness. "
21. "How we feel about ourselves, the joy we get from living, ultimately depend directly on how to the mind filters and interprets everyday experiences."
22. "The mark of a person who is in control of consciousness is the ability to focus attention at will, to be oblivious to distractions, to concentrate for as long as it takes to achieve a goal, and not longer."
23. "The foremost reason that happiness is so hard to achieve is that the universe was not designed with the comfort of human beings in mind."
24. "It might be true that it is "quality time" that counts, but after a certain point quantity has a bearing on quality."
25. "When a man knows he is to be hanged in a fortnight, it concentrates his mind wonderfully,"
26. "When adversity threatens to paralyze us, we need to reassert control by finding a new direction in which to invest psychic energy, a direction that lies outside the reach of external forces."
27. "The solution is to gradually become free of societal rewards and learn how to substitute for them rewards that are under one's own powers."
28. "We do not run risks acting on our beliefs, but occupy hours each day watching actors who pretend to have adventures, engaged in mock-meaningful action."
29. "The flow experience, like everything else, is not "good" in an absolute sense. It is good only in that it has the potential to make life more rich, intense, and meaningful;"
30. "The ultimate test for the ability to control the quality of experience is what a person does in solitude, with no external demands to give structure to attention."
31. "Talking well enriches every interaction, and it is a skill that can be learned by everyone."
32. "Happiness is not something that happens. It is not the result of good fortune or random chance. It is not something that money can buy or power command. It does not depend on outside events, but, rather, on how we interpret them."
33. "Almost every situation we encounter in life presents possibilities for growth...But these transformations require that a person be prepared to perceive unexpected opportunities."
34. "Increasingly the emphasis has been to value behavior over subjective states; what is admired is success, achievement, the quality of performance rather than the quality of experience."
― Quotes from the book Flow: The Psychology of Optimal Experience by Mihaly Csikszentmihalyi
Who is the Author of Flow?
Mihaly Csikszentmihalyi is a professor and former chairman of the Department of English at the University of Chicago. His writings have focused on models of enjoyment and how various people access their creative potential. He received the the1990 NRPA National Research (Roosevelt) Award, in addition to two Senior Fulbright Fellowships. Besides Flow, he has also written Beyond Boredom and Anxiety and Creativity: Flow and the Psychology of Discovery and Invention, in which he applies his "flow" theory to various inventors, scientists, and artists to determine how and why they achieve flow.
Chief Editor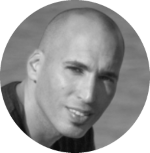 Tal Gur is an author, founder, and impact-driven entrepreneur at heart. After trading his daily grind for a life of his own daring design, he spent a decade pursuing 100 major life goals around the globe. His journey and most recent book, The Art of Fully Living, has led him to found Elevate Society.