Traveling Around the World Without Money
Traveling around the world without money - is this really possible?
A simple website made it possible for Ramon Stoppelenburg to support a lifestyle of travel by earning the hospitality of strangers. With letmestayforaday.com, Ramon took a leap into uncertainty that has led to an array of online enterprises and an esteemed publishing career in travel writing and photography. Ramon finished his globetrotting marathon (18 countries and some 500 hosts from 2001 to 2003) to start creating experiences for others through online tour companies and to finish writing his book.
Let Ramon tell you his story. Read my interview with this enterprising traveler and writer.
1. You relate on your first website, letmestayforaday.com, that you've always wanted to travel -- but what pushed you to take the leap when you did?
I basically came up with the idea during Christmas 2000 and searched the web for something similar. Nobody was using the internet that way and I thought, if I don't do this now, some one else will step in. So there i went.
2. So you've always wanted to be a world traveller; have you always wanted to be a writer? How have travelling and writing become interconnected for you, and how did this happen?
I always loved writing and traveling, never thought about combining these two though. When I started the website, it was an easy fix: in return of people's hospitality, I would write about the entire experience, every day.
3. Wasn't it terrifying to leave indefinitely without any money? How did you make enough money at first?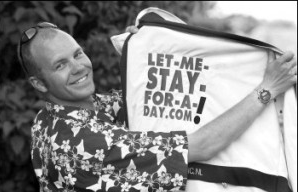 I only spent money on the domain name, the rest of all my belongings on the road were fully sponsored. I did not make any money and did not want to make any money during Letmestayforaday. You wouldn't offer a place to stay and share a meal if you knew your guest was slowly loading up his bank account, right? I had no money to spend on my travels and totally depended on my hosts and sponsors.
4. Why do you think people responded so positively to the website? How do you explain its success? How did you communicate the benefit to your hosts?
It was a new thing back then. You could actually read all about me on my site and invite me over at your place! And I might even come over! I think that was the big trick. Those who didn't trust or understood it, stayed away and I was welcomed by a big load of friendly people all over the world.
5. Who were you first sponsors, and how did you connect with them? In what ways did being sponsored change your journey?
I knew I needed sponsors from the beginning. So I walked into the travel gear store in my home town and they had already read about my adventure in the papers and simply gave me a backpack and the right hiking shoes. For free! Other sponsors jumped in and offered all my clothing (Oxbow) and some even the technical gear and phone I'd needed while traveling. Being sponsored did not change my journey, it enabled it.
6. From your description of the "media circus" you found yourself in, it seems like web marketing, or maintaining a successful website, became tiresome or too consuming. How did you adjust your media activity? And how have you adapted to the development of social media?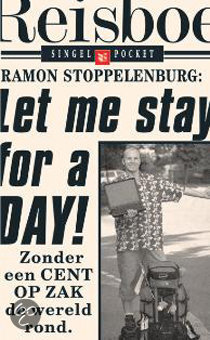 I knew that I had to get some media attention in countries where the amount of invites (read: places to stay) was little. Any mention of my website anywhere would boost up the visitors to my site and thus the invitations. They became new dots on the map. After a while, as soon as I entered a new country, the media found me, interviewed me, even arranged me a press conference in South Africa, before launching me in the media in their country.
In Australia it was Channel 9's A Current Affair that followed me around (well, they dragged me around) so I could be featured in their show a few days later. To make sure I would not talk to other media in the mean time, they sent me off to the Blue Mountains and paid for my time in a hostel there for a few days. When I came back to Sydney, over 30,000 people had visited my website after the show and I needed a day to put dots on my map of the country.
In other times it was also hard. Some people though I would need ALL attention possible and arranged media visits for me as soon as I stood on their doorstep. Then I loose a bit of the control and I'll have no idea where that would be going. I did write about that and people stopped doing that. I wanted to experience their life for a day and not be dragged around as a celebrity they were hosting.
While I was in Canada, with the last 4 weeks to go, I got invited to be a guest on Jay Leno's Tonight Show. The producer offered me the flights to Santa Barbara, put me up in a hotel for fee and some pocket money to get around if only I would get on the show. I had to decline, because I wasn't visiting the USA yet, had 4 weeks to cover the rest of Canada (and I didn't want to disappoint those people who had invited me over and were expecting me) and wasn't either looking forward to such an amount of attention. The Tonight Show is BIG and goes to 160 other countries too. My webserver wouldn't even be able to survive. And I was afraid that people would only invite me because I sat next to Brad Pitt or Jennifer Lopez on the Tonight Show.
7. How did you diversify your skills and sources of income? Would you say this was a natural process?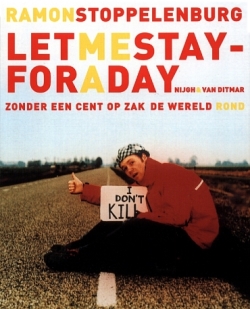 During my travels I met over 10,000 people. All these people worked their ways through life. It taught me that I would not easily get myself a 9-5 office job, ever. So when I came back home, I wrote a book about my travels and decided to be a broad freelancing entrepreneur.
8. What kinds of experiences do you create through online tour companies? What is their added value? How do you draw on your own experiences to help other travelers?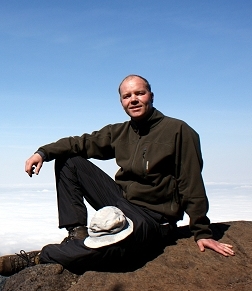 I set up the Expedition Kilimanjaro after I climbed up and down that mountain myself and discovered I paid way too much money. I contacted a hotel and one thing led to another and suddenly I was filling up that hotel and promoting way cheaper possibilities to climb Mt Kilimanjaro. It doesn't make me rich, but I get commission per sale and that is a nice extra that simply adds up. And if you search for it, hardly any tour company in that area actually mentions its price online. It differs for what time of the year you go and with how many people you go. You always need to wait for a quote. I offer a complete website with all the necessary information and immediately mention the fixed price on the front page. That builds confidence and trust for people. That's the big trick.
9. What do you know how to do that you could only have learned through travel?
All people are generous and nice as soon as you talk to them. I don't know any strangers anymore and I have become a highly social person. I can talk to anybody. I can tell people's intentions way faster and trust them when necessary.
10. After visiting so many countries, why did you finally decide to take up residence in Cambodia?
I just didn't like the rat-race mentality of The Netherlands anymore. Where I had to work 45 hours a week to make a good salary, accumulate my luxuries around me and pretend to be happy. But every time when I traveled abroad I wondered why I was going home again. "Could I live here too?" I wondered wherever I was. So after a few months of backpacking through Southeast Asia (for which I paid as any normal person), I decided to give it a go and see if I could survive there. There weather is always great, the people are the most amazing people that I have met anywhere, there is a comforting expat bubble and I don't need to work 45 hours a week to make that much money to survive. Make $1500 a month and you can go out for dinner every night and enjoy life way more. That's what I like to do most.
Thank You Ramon
---
Ramon Stoppelenburg is a Dutch business man, author, and blogger, known for traveling around the world without money. You can also find him on Twitter at @ramoneseng
Chief Editor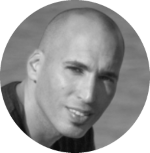 Tal Gur is an author, founder, and impact-driven entrepreneur at heart. After trading his daily grind for a life of his own daring design, he spent a decade pursuing 100 major life goals around the globe. His journey and most recent book, The Art of Fully Living, has led him to found Elevate Society.