The phrase "nothing is impossible," in all its variations, has become a fancy statement, with its various avatars gracing desktop backgrounds, sports equipment, t-shirts, photo frames and the like. Inspirational and motivating, all by itself, the concept of nothing being outside your reach, should you decide to grab it, is a favorite among people. However, few people are willing to readily believe in it without the help of pep talks and encouragement from close and distant quarters.
Ray Zahab is a man who found it equally hard to believe in the universal fact that "impossible" is merely another word, and he was close to succumbing to a pre-mature mid-life crisis when he decided to lace up his shoes and move on with life. What makes Ray a motivational figure is the fact that he is a man who truly fought against disappointment and despair, and self-boosted himself to get back onto his feet and take life head-on.
The most important lesson to be learnt to be able to survive is to acknowledge that the biggest obstacles in our path are the ones we place ourselves with prejudices, misconceptions, wrong information and low self-confidence. To be able to meet with any personal or professional success, you must be able to tackle the constraints put on yourself, according to Ray Zahab.
A Canadian ultrarunner and the founder of Impossible2Possible (i2p), Ray Zahab, recognized his calling and formulated a goal in life when he was in his late twenties. Speaking to an interviewer later in life, Zahab recounted how he felt sickened by the fact that he was almost 30 and had yet to discover the purpose of his life. He was in a shattered condition, both physically and mentally, smoking a pack of cigarettes everyday and flagellating himself mentally over not having figured himself out or structured a goal for himself.
What makes all the difference here is the fact that he accepted his condition and was willing to change. This is the toughest phase encountered by any human being. First, it is hard for one to acknowledge that there is something about them that needs to be altered to lead a better life. Once this fact is acknowledged, it takes a lot of courage for one to get back up their feet, with or without a third party's help. A person who emerges victorious through both these trials is sure to find success in his endeavors.
On promising himself a better life, Ray looked up to his brother, John Zahab, who was already making his mark as an athlete. Ray binned his smoking habit (a laudable achievement that kick started a series of successes), got back into shape and trained in every sport his brother did, excepting running as he thought he was not fit to run. It is ironical that Ray went on be blaze a trial for long distance running.
Ray was introduced to his athletic side when he stumbled across a marathon in 2003, wherein folks who were not professional runners were taking part. Inspired to join, he enrolled himself in the marathon and came first in the race. He then began to train himself and soon became a renowned long distance runner.
Ray Zahab was introduced to the world with great aplomb in 2007 when he, along with 2 athletes, ran 4,300 miles, traversing the Sahara Desert in 111 days, running about 39 miles every day, without a single day's break. This adventure was Ray's way of drawing attention to the acute drinking water shortage faced by the people of North Africa. This event was broadcasted live and was uploaded on various online portals, and the issue of water shortage spread along with the news of this impressive feat achieved.
Ray Zahab is best known for Impossible2Possible, a platform that allows students across the world to learn about global issues and a range of problems via adventure sports. Youngsters can opt to be a part of Ray's expeditions, and the field transforms into an open-air classroom with individuals hailing from different backgrounds exchanging information and goodwill. i2p pledges to educate, inspire and empower the youth across the world, by encouraging them to be a part of activities that shatter the concept of the impossible.
There is a simple but powerful reason behind Ray Zahab being more effective than most self-help book authors and counselors in instilling courage among people. This is because he is a live example of what faith in the self can do. Having risen up from personal gluts and scaled such impressive heights, Ray is a role model who leads by example.
Being hard on oneself to achieve a set goal is necessary, as is the need to reassess conditions periodically to better adapt to the environment. Ray went on running day-after-day even after his feet blisters developed blisters, and never allowed pain and discomfiture stall his mission as such issues would be commonplace for him. He endured extreme climates during his adventure trips, from the scorching heat in the Sahara to the numbing cold of the South Pole. He ran almost 40 miles every day at the South Pole for a substantial amount of time. He also invested the time and effort to learn about the profession of long distance running, and has everything taken care of, from the running shoes he wears to the planning out of food and liquids intake.
Through his actions and initiatives, Ray Zahab sought to explain to the world the principle he lived by – that obstacles to success are those placed there by one's self. He is reported to have said that 90% of the distance to be covered is mental and the rest 10% is in the head. Only when you perceive something to be a roadblock does it hinder your development. The mission and vision of Impossible2possible, as the name of the organization suggests, is to help change the frames of reference of people, allowing them to be more objective.
Photo Credit: wikipedia.org
Chief Editor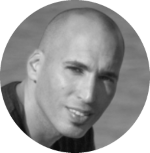 Tal Gur is an author, founder, and impact-driven entrepreneur at heart. After trading his daily grind for a life of his own daring design, he spent a decade pursuing 100 major life goals around the globe. His journey and most recent book, The Art of Fully Living, has led him to found Elevate Society.