Making Your Life A Blessing
Rob White was born and raised in a small mill town where pessimism and aggrieved resignation reigned supreme. It wasn't until his mother gave him a copy of Dale Carnegie's classic 'How to Win Friends and Influence People' that he had an epiphany of how life could be different.
Overcoming negativity and ignorance, Rob battled his way through high school by trying to overcome the attitudes that had been instilled in him from birth. He made the hard decision to save to go to college – the first in his family – and then became a teacher for many years, using his new-found beliefs to inspire his students.
In the end, however, it wasn't enough. He burst through the security barrier by creating a new goal – building a million dollar business. Against the odds, Rob achieved his goal, and then some.
Today he offers others the wisdom that has brought him to success, on his website mindadventure.com. His words of wisdom and his understanding of your needs will have you functioning more effectively than before. Read his powerful words and open yourself up to a new and wonderful world where you can explore your full potential.
Enjoy!
1.You mention on your website that your mother bought you 'How to Win Friends and Influence People' by Dale Carnegie, and this made you realise there was a better way to live your life. Why did your mother take this seemingly unusual step?
My mother found the book at a barn sale and bought it for 10 cents and gave it to me because she thought maybe I'd like it. Nothing more profound than that.
2.What were the reactions of your friends as you began to adjust your thinking? Did your changes have any effect on them?
My friends felt I betrayed them. I told them the old Rob White did not live here anymore, and they were angry.
3.Do you believe that there is an optimum stage of life when adjusting one's way of thinking has the most effect?
Truth wants to help you always. There is no optimal stage where truth is more rigorous than other stages. Therefore, if we are willing to let the truth enter, there is no optimal stage of life where it can work its magic.
4.When you began planning to go to college, what were the reactions of your family and closest friends? Was it a struggle to overcome negativity?
My family and friends were fine with my choice of going to college. Most assumed I'd be back in a year with an excuse for why it did not work. That was their projections. Overcoming negativity is always a struggle until we loosen our grip on negativity; then negativity loosens its grip on us.
5.You obviously had an effect on the students you mentored while teaching. Can you give some examples of students whose outlook and lives expanded because of your advice?
One student came to realize that his feeling of inferiority was not a fixed state; that he could release it if we truly wanted to. We worked on this for two years. He is now an MD.
6.You mention that you'd mastered the art of believing in yourself even in tough times. What were the worst times you had to overcome?
The worst times were when I constantly fought against my own happiness and success. I did this by insisting the world was undependable, and then depending on it. I'd not yet learned to depend on myself.
7.What would you say to an older person who has real regrets about the way they have lived their lives?
I say, "Learn to consciously evaluate without criticizing."
8.Your website offers a variety of ways in which potential clients can reach you and your wisdom. Which is proving to be the most popular?
Comments on the blog; I don't do personal life-coaching, so I have to turn many inquirers away.
9.Your blog articles are both amusing and inspiring. Do you find them difficult to write?
I can write a blog in 30 minutes
10.There are many upbeat responses to your blog articles. How do you reach out to those who are in a trough of despair with seemingly no way out?
I remind them that dark forces have one vulnerable flaw – you can search them out with the light of truth and extinguish them; they can only exist with your cooperation.
11.Obviously you are a very busy person, so how do you keep your website updated so effectively?
I manage my time effectively
12.Your statement on children receiving 60,000 'NO's' between the ages of 2 and 6 makes readers wonder if there is a different way. Have you ever considered what it would be like to have a school where children are taught your principles right from the start?
My basic guiding principle is: "You are sinking with your naysaying thinking." What would it be like if children always led with YES and WOW instead of NO and WOE?
13.The downloadable chapter of 'A Second Chance At Success' demonstrates attractively formatted and easy to read pages. How much input did you have into your book's style and presentation?
Nick Kent, the art director of Mind Adventure Inc. does all of that.
14.Do you find eBooks an effective way of reaching out to your readers? What do you consider to be their main advantage?
eBooks are easy to access. I imagine that is there main advantage.
15.Your advice in your blog 'Paint it Black, Please' is an important lesson for everyone and yet it is incredibly simple. Can you give your readers your three top tips for maintaining your cool in a difficult situation?
Tip # 1 : Stay loyal to what is royal = peace of mind.
Tip # 2: Be curious, not furious
Tip # 3 Noise is void of poise, it causes tension by stealing your attention.
Thank You Rob
---------
Rob White is the man to get you up and going when your life seems beyond repair. Visit him at twitter @mindadventure
Chief Editor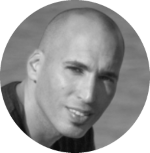 Tal Gur is an author, founder, and impact-driven entrepreneur at heart. After trading his daily grind for a life of his own daring design, he spent a decade pursuing 100 major life goals around the globe. His journey and most recent book, The Art of Fully Living, has led him to found Elevate Society.