From Dream to Business: A Young Man's Journey to Start a Dance Company
Roger Lee is one of the most passionate young entrepreneurs I've met in a very long time. Roger has been dreaming about his own dance company for as long as he can remember.
At the young age of twelve, Lee's mother saw a call for Fox 29's Good Day Philadelphia's dance team and suggested he audition. Out of 300 dancers, Lee was chosen as one of only 12 team members.
The rest is history and last year Roger founded his own dance company, Roger Lee Dance, and made his dream reality. His mission nowadays is to help improve his hometown by reaching out to young people and connecting via movement.
Roger's story is inspiration to anyone who has the desire to become the best they can become.
Enjoy my interview with this young dance entrepreneur!
1. You seem to really have discovered your passion – dancing. When would you say you realized that dancing was so much a part of you? Was there a particular moment or did it develop over time?
I sort of stumbled into dance 15 years ago. I will never forget the night that it happened. I was at my grandmother's 50th birthday party. I was too shy to dance alone, so my grandmom's friend asked me to dance. As I moved from side to side the music over took me and I suddenly burst out into a dance that changed my life forever. The place went wild as all of the party guests rushed over to the dance floor, cheered me on, yelled in excitement, and threw money on the floor by my feet as I danced myself into a frenzy—in public. My mom, dad, and grandmom were absolutely shocked. I was shocked as well when I finally stopped dancing and my grandmom's friend said "you were born to dance!" I have never forgotten that day. It is the day that the dance seed was planted in my spirit. It has been growing there ever since.
2. What is it about dance that really speaks to you –your soul? Can you explain why dance is the passion for you?
Dance speaks so much to my soul because it is the most basic, natural form of human expression. Movement is second nature to me and what makes me feel most comfortable. Sometimes when I cannot find the right words to say, all I have to do is move! Dance has always been my communication tool of choice. It has also been the glue that connected me to some of my best friends, supportive audience members, and inspiring students.
3. In many articles written about you, you express a strong affiliation with Philadelphia and hope to be a positive influence on the city. Can you explain why Philadelphia means so much to you? Is it just because it is your hometown or is there something really special about Philadelphia for you?
I love Philadelphia because it is my hometown, produces extremely talented individuals, and is the "underdog" of the arts and entertainment world. I was born and raised in the City of Brotherly Love and my family has a long, rich history here that spans many decades. World-famous entertainers such as Will Smith, Jill Scott, and Boyz II Men came from Philadelphia. In the arts and entertainment world where New York and Los Angeles seem to get all of the attention, Philadelphia represents the underdog. It is the small city that people don't always consider the most creative place. However, the city has proven itself a force to be reckoned with time and time again. I cannot help but root for the underdog!
4. When you started your dance company Roger Lee Dance, what did you hope your company would accomplish? What were you dreams for this company?
I always dreamed that Roger Lee Dance would become a global brand that the public loved and respected. I wanted to break the mold and put on more than performances. I wanted to offer private lessons, group classes, school assemblies, parties, and merchandise for people to enjoy. I also dreamed of Roger Lee Dance becoming the go-to source for all things dance! When I started the company last year, I wanted to introduce the brand with an engaging concert series in Philadelphia featuring young, talented, and educated professional dancers. I was blessed that this initial dream became a reality and that some of my biggest dreams for Roger Lee Dance are already growing from their seed forms into tangible realities.
5. How did your first year as a company go? Was the first performance well received?
Roger Lee Dance has a really exciting first year. We debuted with a 3-night concert series in Center City Philadelphia that was completely sold out and heavily publicized by print, online, and broadcast. The company performed to around 300 audience members who were engaged with each show. During our closing question and answer sessions audience members expressed nothing but love, gratitude, support, and longing to see more from us. Last year I also had the pleasure of representing Roger Lee Dance inside the Arts & Culture Village at Jay-Z's Made In America Festival. The icing on the cake was becoming the resident dance company at Performance Art Center for Kids in Philadelphia. I feel really good about Roger Lee Dance's first year and its future.
6. What have you learned personally from establishing and running your own company?
I have learned that success does not just magically drop from the sky. It requires a lot of vision, hard work, dedication, and relentlessness. I learned that sometimes it takes three, four, five, or even twenty tries to accomplish your goal. No matter how long it takes, you have to stand firm and believe in yourself, your vision, and the people that are a part of it.
I also learned that if you do not believe in yourself, you cannot expect others to do so! You have to know what you want and don't be embarrassed or ashamed to go after it. These are just a few of the many things I have learned in the initial stages of my Roger Lee Dance journey.
7. Your dance performances for school assemblies sound really interesting. On your website, rogerleedance.com, you mention two different assemblies: "Dancing Through Black History" and "Bully Be Gone". Why these topics? How did you choose these to present? How have they been received by students?
Thank you for your interest in my school assemblies. As a dance educator that works with children, I knew that I wanted Roger Lee Dance to give back by filling in the void left by drastic arts education budget cuts. After brainstorming, I decided to initially focus my assembly attention on two major topics: black history and bullying.
I feel that black history month sadly goes unnoticed in most schools. It often gets lost in the crowd of Valentine's Day and springtime anticipation. I believe that everyone can learn a lot about life, faith, strength, endurance, vision, and entrepreneurship from studying black history.
Since my specialty is dance, I decided to create a school assembly that uses the art form to teach students about some major aspects of black history such as segregation, civil rights, and integration. In honor of the 50th Anniversary of Dr. Martin Luther King, Jr.'s "I Have A Dream" speech delivered during the March on Washington, I decided that 2013 would be a great year to debut "Dancing Through Black History." So far I have run the assembly at my alma mater Ursinus College and received some really inspiring feedback from audience members.
Much like black history month, I feel that bullying does not get the attention that it deserves. While it is finally starting to get some national recognition as a major cause of suicide, depression, and school drop-outs, there is still much more that can and should be done about this violent epidemic. Out of my hatred for bullying, I created "Bully Be Gone!" The assembly fuses dance with a short presentation on conflict resolution, and practical tips that can be used by victims of bullying and their friends and family. I have just completed the development stages of "Bully Be Gone!" and hope to get it into schools in the very near future.
8. So what plans do you have for the future? Where do you see your company or yourself going? Also, how can people who are interested in working with you best contact you?
I am currently working on a number of projects for Roger Lee Dance including an instructional dance workout DVD, e-books for college dancers, male dancers, and people who dream of dancing but have no idea where to start, and a clothing line that includes both studio and fashion ware. God's will I also see myself teaching dance beyond Philadelphia. I am looking to teach in New York City, Miami, and maybe even internationally. I am really interested in traveling the world as a master dance instructor, guest choreographer, competition judge, and motivational speaker. I am really excited to see what my future holds!
I am always open to hearing from, meeting, and working with new people! The best way to contact me is through my website's contact page. I am really good about answering e-mails within 24 hours. I look forward to receiving them and connecting with readers!
9. If you could tell young people today one bit of advice to help them find their passion in life, what would that be?
I would encourage young people to ask themselves what they are passionate about. Emphasis on "themselves." I say this because we often run to our families, friends, teachers, mentors, and others to find out our purpose in life. While this approach may work, I would bet money that some serious soul searching will provide the most honest response to our questions about passion and purpose. It is sometimes scary finding out what you were put on this earth to accomplish, but it is more often times exciting and liberating. I challenge youth to do some honest soul searching and be open to following their heart once they receive the answer. Once you discover your true passion and purpose the work has only just begun.
Thank You
---
Roger Lee is a talented dancer and the founder of Roger Lee Dance. They are presenting "Take 2", their second spring concert March 8-10 in Philadelphia. Lee studied at the Philadelphia High School for Creative and Performing Arts and the Pennsylvania's Governor's School for the Arts. He graduated with a double major in dance and media studies at Ursinus College, where he also directed the university's student run dance company. Returning to his hometown of Philadelphia for graduate studies, Lee completed his Master's Degree in Arts Administration from Drexel University. Along with running his dance company, Roger Lee shares his love of dance by offering private and group lessons, dance parties, and even school assemblies where he uses dance to entertain and engage students while presenting valuable information. You can also find him on Twitter at @rogerleap
Chief Editor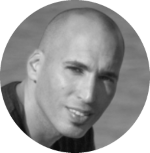 Tal Gur is an author, founder, and impact-driven entrepreneur at heart. After trading his daily grind for a life of his own daring design, he spent a decade pursuing 100 major life goals around the globe. His journey and most recent book, The Art of Fully Living, has led him to found Elevate Society.