Igniting the Fire of the Heart Into the New Year
Satya Colombo is a certified breathwork healer, web consultant, explorer, surfer and ukulele aficionado. If that sounds like a somewhat eclectic mix of expertise and interests, then you're right on track for beginning to understand that when it comes to changing the world, there's no telling what unique mix of characteristics will come to light in those who are making it happen.
Recently returned from eight months in Central America, and preparing to leave to South America for the next journey, Colombo works with people around the world to help them achieve their hopes and dreams in life from a vantage point of deep self-awareness and learning to unleash creativity through flow.
For him, it's about changing the world to be a better place for all while leading a life of beauty. He calls it Fierce Wisdom for a Beautiful Life. The interview below reveals Satya's approach and personal journey into this work.
Enjoy!
1.After consciously leaving the corporate world, you eventually embarked on a quest for self-enlightenment that took you to India in 2005. Can you explain how your travels there resulted in the personal epiphany you experienced?
Yes! I was on a quest for the secret to enlightenment and eternal happiness, and documenting my journey on video. It was an ambitious endeavor, and the way I went about it was pretty crazy too! I plunged headlong into the quest, and had the most amazing journey of my life – traveling through India, meeting incredible people and pushing the edges of everything.
About five months in I landed at a silent 'Vipassana' meditation retreat at the foot of a holy mountain called Arunachala in South India, and decided it was now or never. I meditated nonstop for three days and nights, journeying through various dimensions, and eventually my head blew off and I awakened to the truth of who I am. I went a little crazy in the process, but I guess that's to be expected. We all decided it would be better if I left a couple days after that. I had realized this life was nothing more than a beautiful dance, and I just wanted to play and explore the edges of this new reality.
It's not like this was an isolated incident, though -- I'd been a hardcore seeker committed to various spiritual practices for years leading to this point. I'm sort of a wild mystic at heart, with an over-developed intellect.
2.You have a very unique name – can you say when you first learned its meaning and how that has impacted your life's work?
Well, I grew up in an unusual family – both my parents were meditation teachers trained in the early 1970's by Maharishi Mahesh Yogi, the famous Beatles guru. They're Argentineans with mostly mixed European roots, and landed in the states somewhat accidentally -- when the 'dirty war' broke out during a visit here they couldn't return, and I was born soon after! So, you could say the name is suitably unique for the unusual life situation I was born into.
I can't say exactly when I came to understand the real meaning, which is something akin to 'the absolute truth of existence that is beyond description,' but it always just seemed to make sense. It's definitely influenced my life's work -- I would say it pretty much encapsulates my entire life path, my commitment to living by my truth, and the great joy I find in shedding light on the paths of others.
3.What were the logistical steps you had to take in order to take that epiphany and make it into something that would carry the vision forward?
For me it was a matter of completing the mission, which was to take what I had learned and convey it to the world somehow – make something useful out of it. Because I had no real foundation in the world when I returned to the states after leaving behind New York and my former life, I spent a lot of time just getting on my feet, and went through some rough personal challenges!
I've resisted being a 'spiritual teacher' per se because I don't want to sit around with people meditating and speaking on the truth of who I am – I'm an artist and creator, and I want to make stuff happen in the world and experience the edges of existence!
On a core logistical level it's been a matter of really looking hard at what I know and what I've learned through all my journeys, and finding different ways to share that effectively – to fulfill my purpose in serving others and supporting their own awakening and transformation in fun and real ways. It's really a practice of starting wherever you are, and diving deep into the calling of your heart and spirit.
4.Some people might not be very familiar with the whole concept of flow – how do you explain it to newbies?
That's another big question, and there are a lot of interpretations and aspects to flow, but the core concept was really pioneered by a guy named Mihaly Csikszentmihalyi (yes I had to look up the spelling!). He did a lot of studies trying to determine what's going on in the 'peak flow' state of top athletes and artists and performers – sometimes called the zone – where they perform at their best, and it's as if some greater force comes into play.
My take on it is if you can learn how to begin healing yourself, clearing your energy and connecting to your essence, you will be much closer to your natural state, which is essentially a state of pure flow and love. So that's what I'm really going for in my life and work, and it's the core of everything I do.
5.When and how did you decide that a blog related to your work and vision would be an important element?
I started my first real blog in 2007-2008, it seemed like an obvious approach to sharing the vision of what I had experienced. I saw some people being very successful with their blogs, so I thought it would be an easy path for me too… boy was I in for a surprise! It's taken me years to actually get comfortable with blogging and feel good about what I do regardless of the response I may get!
There's a lot of networking, hustling and behind the scenes BS with making a "successful" blog – things that I dabbled in, but really wasn't comfortable with, so I've learned to do it my own way. I'm very particular about how I engage online and with my readers now, and it's a very slow-growth approach – you could call it a kind of artisan approach to blogging.
6.Many of your blog posts are in a category called Creative Alchemy. What do you mean by that and why is it a primary focus of your writing?
Creative Alchemy is a term I chose to describe the process of taking the stuff of your heart and spirit and transforming it into creative work.
I'm someone who's very much action-oriented in my life and work. I don't want to sit around talking about the absolute truth that we all are – I want to make stuff in the world, and actively support the transformation of the planet! So, that's what drives my work. There's something very gratifying about making things that make a difference in peoples lives, and especially in being supported through that process.
7.Another major category of blog posts is Self-Realization. This has clearly been important to your own journey. What are the simplest, most concrete things people can do to develop their own self-realization?
The #1 thing you can do is start a regular meditation practice of some kind – something that works for you, and makes a noticeable difference in your outlook and demeanor. It may take some time to find the practice that works best for you, but the pranayama breathwork is a great tool for people with active minds.
I like to do challenges ranging from 21 – 41 days, where I do one practice consistently every day, and really immerse myself in the intention of the practice. I've been doing these for more than 10 years, since the time I became serious about my spiritual path, and it's been a huge part of my development.
The other thing is, once you're centered in yourself you can begin to inquire who you really are, and look directly into whatever discomfort you may have in your heart or body. You can ask yourself, Who am I? Who am I really? What's really going on? If you can follow this thread of self-inquiry through the discomfort or suffering that's always there beneath the surface for whatever reason, it can take you into some really deep places.
Finally, making a conscious choice and commitment to bring whatever understanding you've gained into your life. Choosing to walk upright with grace and truth. I use the term walking in beauty.
The extent to which you're willing to surrender and throw yourself into the fire of who you really are, and your commitment to that inquiry, really dictates your ability to experience that. But not everyone is ready or interested in this journey!
8.The Flow Manifesto: The 5 Elements Way of Fierce Wisdom, Strength & Beauty is your first book. Is it accomplishing everything you hoped it would?
Well, I think it helped me to feel like I accomplished something significant, and created something tangible out of the swirling depths of my spirit! I didn't have too many expectations, but it has definitely supported my work in many ways. I'm looking forward to releasing the revised edition in 2013!
9.A recurring phrase I see on your website is live and thrive in the truth of who you are. What happens when someone looks at themselves and isn't very happy with the truth of who they are?
Well, that feeling sucks, but the real truth of who you are is not something you could feasibly be unhappy about! Life is not easy for most people, and everyone has different operating software and hardware to work with for their human experience. The first step is really getting to know who you are – do you know yourself?
There are so many aspects to that inquiry – spiritually, intellectually, emotionally, physically, personality-wise – it can be a lifetime of discovery. Beyond all the layers of belief systems, suffering and darkness that may exist is a core of vast beauty and sweet essence to tap into.
Start with the inquiry of who you are, and do what it takes to be connected to something better – spend time in nature, spend time with good friends, spend time with yourself, and do silly creative and fun things just for the hell of it!
10. You've just recently launched the Fire of Love Community (which I'm part of). Can you share with the readers what's that all about?
I created the Fire of Love project to help people access the fire of their spirit, and support them in finding and doing their great life work. It's a labor of love, and I've worked harder for that project than anything in my life.
It's been really eye opening and humbling to experience the ups and downs, and find myself careening in this sea of love and inquiry with a group of like-minded souls. My favorite part has been connecting with such an intelligent, conscious, beautiful and driven group of people. I'm excited to see what will come ahead as we restructure the program and reopen for new members in 2013!
11.What are the primary tools you find yourself turning to over and over again as you work with others?
Ahh – energy work is key. Energetic tools. Clearing the energy, cutting cords, calling on the spirit helpers. I learned a really great process of tracking and clearing energy from a Shaman, John English, that has helped me immensely.
I've also done a lot of work with developing my intuition and learning to trust that more. The healer training I've gone through with David Elliott has helped me hugely in this area. The best tool of all is learning to heal yourself – so when stuff comes up in any situation, as it inevitably will, you can process and release it! Strengthening your own footing and foundation in yourself through self knowledge and awareness is probably the biggest leg up you can give yourself to handle any situation.
12.You've mentioned on your website that "Every single thing that's led us to this point in our lives has been for a reason." How has that played out in your own life?
I've done so many different things in my life it's insane! For a long time I faulted myself for not sticking to one career path, but lately I've been realizing more and more that every single thing I've done has influenced where I'm standing now. It all makes sense!
So, the training that I had in acting as a kid, and then the healer training I landed in many years later, have both given me a certain edge in working with groups that I can call on now. The training in so many aspects of creative media and design through most of my life, leading to creating a business for interactive media consulting and development, and having experienced such extremes of transcendence and hardship in my own life, it's all given me this very strong foundation of vision and ability, and compassion. It's all coming together now into something much bigger than me, and I'm not even 100% sure of what that's going to be!
13.Many might think that the kind of mindfulness you engage in really doesn't jive that well with the hyper-technological online world. How do you respond to that and manage it in your own life?
There's no reason you can't bring a quiet and present mind to your work and interactions online. You just have to be clear about where you're at, and what your boundaries are.
I don't read blogs that rub me the wrong way, for instance, even if they might benefit me in other ways. I find that the core resonance of any work – the frequency that it resonates in, based on how it was created, what's behind it, and who created it – that's the most important piece to check in with. Especially when you're interacting online, where the barriers of entry and exposure are so thin. If I don't resonate with it, there's no reason for me to try and swallow it – it's not going to sit well with me.
That's a discipline.
14.What would a community look like if love really went viral and what role can each of us play in trying to make that happen?
Haha -- paradise! We can work on ourselves – healing our dark parts, diving into who we are, creating work from that place, and learning to love ourselves! The more love you can embody, the more you can bring it into your life and work, and make the world a better place for it!
15.What do you think your next big move, physical or metaphorical, will be?
Well, going to Peru and establishing a home base in South America with my love – that feels like a pretty big move! In more metaphysical terms, I'm creating a foundation approach of ease in my life – I'm tired of the feeling of always catching up, and pushing against time. I would like for all my work to come from a place of ease, and to be filled with a sense of equanimity. I know that's the key – if you want people to feel good when they interact with what you've created, you better feel good while you're making it, and be clear on what you're putting into it!
Thank You
-------
Satya Colombo is a healer, explorer, ukulele aficionado and web consultant. He is currently venturing into uncharted territories with a community of Soul-Fire Walkers in the Fire of Love Experience. You can also find him on Twitter @satyacolombo
Chief Editor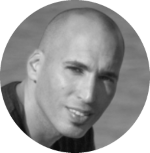 Tal Gur is an author, founder, and impact-driven entrepreneur at heart. After trading his daily grind for a life of his own daring design, he spent a decade pursuing 100 major life goals around the globe. His journey and most recent book, The Art of Fully Living, has led him to found Elevate Society.