Sean Aiken: 52 Jobs in 52 weeks
Rather than risk getting stuck in a rut, Sean Aiken took a great leap after graduation, turning the job search into a job quest, a year-long search for the meaning of work in one job a week.
After working 52 jobs in 52 weeks of traveling throughout North America, Sean finally "settled" into the One Week Job project, turning the momentum of his own adventure into a movement to put passion before the paycheck.
Ready to discover your passion? Read about Sean's inspiring journey in my interview with this fearless job-seeker.
1. When so many people in this country can't seem to get a job, how did you manage to find 52?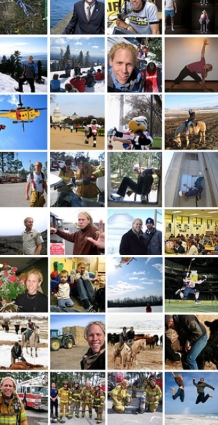 With a lot of hard work. Having said that, the fact that I managed to find 52 one-week jobs is not comparable to someone who can't seem to find one permanent job. The employers knew that my week spent with them was part of a larger project and that whether I was great or terrible at any given job, that I'd only be there for a week. You could look at it from the perspective that I couldn't "find" a job and so I decided to create one for myself - the One-Week Job project.
2. Did you expect college to prepare you for a job? Did it prepare you for your journey?
I did expect college to prepare me for a job. Did it? Yes and no. It prepared me in a sense that it taught me how to learn, how to commit to a goal, i.e. four year degree, and do the necessary work in order to achieve that goal. And so in that way, it prepared me for my journey. My belief is that a college education is a great way to get a foot in the door and interview for a job, though I found that most of the knowledge you need to be good at a job will come once you're in the position.
3. You may have been working 52 jobs, but your earnings were going to charity. How did you secure an income through your media activity?
I had a few hundred dollars in savings to get me started, but I had no clue how I was going to keep it up for a year. For the first five weeks I stayed in the Vancouver area so I was able to live at home (in my parents' basement). Once the project started I wrote a post on my website, oneweekjob.com, to try and find a sponsor to help with travel expenses. Luckily, NiceJob.ca contacted me in Week 5 and agreed to give me $1,000 a month. If that hadn't happened I wouldn't have been able to continue. During the entire year, I didn't have to pay for accommodation. I stayed with my employers, with people who contacted me through the website, or I used couchsurfing.org. I also kept costs down by taking the bus, hitch hiking, or using Craigslist rideshare whenever possible.
4. When did you realize that your personal journey would have such a wide-reaching message?
When I first began the project, it felt as if I was the only one struggling with the question, "What do I want to do with my life?", but when I started receiving emails from people around the world sharing a similar story, it made me realize that it's a message that most everyone can relate to at some point in their life.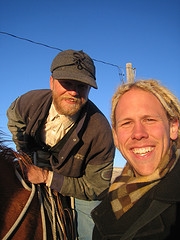 As the project continued to develop and more people became aware of what I was doing, I felt that it had become much bigger than myself. It was really amazing to hear from people who were inspired to make changes in their lives simply by hearing about my story. I believe we're all seeking the same thing, fulfilment. As we spend much our lives at work, the importance of finding a meaningful career plays a huge role in this search. To me, the movement represents more and more people refusing to accept the old paradigm of "work" – that work is not something we're supposed to enjoy – and are choosing to seek meaningful careers that match their skill set, that is in line with their passions and values, and ultimately that allows them to make a positive contribution to society.
5. Which job did you learn the most doing?
I learned that I don't necessarily need to have my "dream job" in order to be happy at work. There are many other factors that contribute to our job satisfaction. When I asked my coworkers what they liked most about their job, the common answer I heard was the people they worked with. When I think of the jobs that I learned the most doing, it wasn't about the actual job as much as it was about the people I was working with and the knowledge and personal experience they shared with me. The people I met who were most passionate about their jobs were the ones who had a vision of how they were contributing to something greater than themselves. It mattered that they showed up to work each day because they contributed something valuable, and something was made better because of their work.
6. One Week Job comes in a variety of forms: your blog, webisodes, the documentary, your book, speaking events. How have you developed your message by delivering it in so many different ways?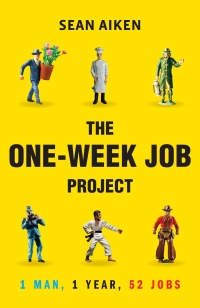 It has allowed me to go deeper into the message as it grants the opportunity to look at my experience and what I learned from different perspectives.
7. How do you maintain the momentum of your project, long after the journey is over?
It is not an intentional thing, but I believe that by finding new platforms to share your message, you reach different audiences. Also, I look at One Week Job as much larger than just my original journey. My original 52 jobs in 52 weeks was the beginning, now it has become part of a growing movement towards people seeking meaningful work. I didn't create this movement, but I'm contributing to it and by being a voice in a much larger conversation, the momentum continues even though my original journey may be over.
8. How do you see the notion of a "career" changing in our culture? What do you think is driving this, and where is it going?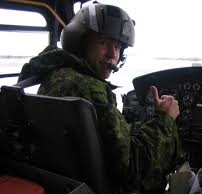 A career is no longer something that you find and then hold onto until retirement. I believe more people are beginning to see their "career" as an opportunity to have an impact on the world and are becoming more comfortable with the idea of having multiple careers through the course of their overall career journey.
The story that fulfilment will come if we just trade enough of our life away for money doesn't seem to hold as much strength as it used to. There is an acknowledgement that life is short and an ever increasing desire to do work that matters.
9. What would you say is the first step forward for someone who feels stuck in their job or life situation?
I'd first suggest looking at where you feel stuck in your job and life. From there, go a level deeper, be brutally honest with yourself, and try to pinpoint exactly why you're feeling stuck. Is it the actual job that needs to change, or is it just the working environment - boss, co-workers, corporate culture - or is it a perspective that needs to shift? If you're stuck, perhaps it is a matter of asking yourself, "Why do I do what I do?" I met many people who were not in their ideal job, but they were overall fulfilled in their life because they realized that their job allowed them to live the lifestyle they want. Their job provided the means, ie: paycheck and time-off, to explore their passion and interests outside of work.
10. And finally, is there still a job out there that you want to work? 🙂
Astronaut.
🙂 Thank You
--
Sean Aiken is a self-Made renegade who He has had a new job every week for 52 weeks straight. You can read more about him on his website at oneweekjob.com or on Twitter at @seanaiken
Chief Editor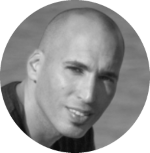 Tal Gur is an author, founder, and impact-driven entrepreneur at heart. After trading his daily grind for a life of his own daring design, he spent a decade pursuing 100 major life goals around the globe. His journey and most recent book, The Art of Fully Living, has led him to found Elevate Society.