Tess Marshall: How to Live a Bolder Life
Does fear stop you from doing what you dream of? What if fear could become a mere stepping stone on the path to our dreams?
Tess Marshall has done that for herself and is now sharing her process, insights, and learnings about "living bold" with the world.
Tess' personal story is testimony to her philosophy. What would you expect from a woman who was married by age 17 and mom to 4 daughters by age 22?
It might not be a surprise that she raised the children to adulthood. However, the fact that she is still happily married, worked her way through higher education to attain a master's degree, and created a business from her passion is far less expected.
Yet that is exactly what Tess Marshall has done. One step at time she confronted her fears and took bold actions to create the life she dreamed of.
It is a privilege to have Tess join us in this interview. Somehow I think we all will enjoy a surge of energy and come away certain we are capable of taking bold action for ourselves.
1. Thank you for joining us, Tess. Can you tell us a bit about yourself? How did you become an entrepreneur? What ultimately led you to make a lifestyle change?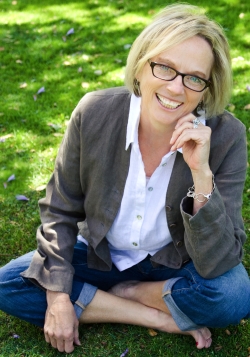 I was desperate to find some income and I knew I had to work from home. I grew up on a produce farm and knew how to grow things. I decided to plant flowers on a plot of land on the farm. They grew and the girls and I sold them at the Farmer's Market. The business was successful and we sold flowers everywhere for over 15 years.
When I saw that my life was going in the direction of a workaholic we moved to the city. We bought the flowers wholesale at that point. I cut my workload in half and the girls appreciated it as well.
2. To be bold is, quite often, to overcome fear. How do you overcome the initial fear associated with pursuing bold goals?
Write out what needs to happen in order to accomplish that goal. Then choose the MITs (Most Important Things). Go to work on those, stay focused and keep breathing. When things get tough or fear gets out of control, seek help, a break, or spiritual inspiration..
3. I love how your website exudes so much positive energy and hope. Does that come naturally or do you have to work to create that energy?
I create it. As simple as it sounds I set my intention and decide how I want to feel everyday. If I lose that state, I'll take a time out and recreate it again.
4. You often refer to being a cheerleader for your clients. Have you had your own personal "cheerleaders" along the way? How have they influenced your work and your life?
My biggest cheerleader has been my husband. We were married 42 years in January. He's always supported me and been on my side. Always. My mom was also there for me. My daughters also play a big role to this day. I have a lot of people on my side. These are the results of my commitment to my family over the years.
5. Like many entrepreneurs you must have a busy schedule. How do you balance the parts of your business and personal life? Do you have any juggling tips?
When you work, stay focused and get the job done. Restore and refresh at the end of the day. My computer is rarely on after 7:00. I only take phone calls from my girls. Set boundaries!!
6. What is your definition of success? Are there any specific ways to foster success?
Being happy with where you are and what you have is success. Finding joy in everyday ordinary people, events and nature is success. Staying happy and healthy is success. Serving others is success. If you want to foster success, learn how to forgive. Be love, loving. Take your life and goals to a higher level.
7. As far as growing your own business, how do you market yourself and your ventures?
If I'm not writing or creating, I'm doing marketing. 10% of the stuff I love and the rest is work;). Building your network and staying consistent is key. Treat your peeps well, you're life depends on them.
8. You have done a lot of amazing things in your career. What is the next "bold" action you are thinking about?
I'm going to create virtual retreats and offline retreats. I miss face-to-face connection! There's nothing else quite like it:)
Thanks Tess
---
Tess Marshall is a courage coach, author, and blogger at The Bold Life. You can also find her on Twitter @theboldlife