The Road to Reinvention: Summary Review
This is a summary review of The Road to Reinvention containing key details about the book.
What is The Road to Reinvention About?
The Road to Reinvention is a book about navigating change and transforming one's career and personal life in order to stay relevant and succeed in the future.
Throughout The Road to Reinvention, Linkner also explores the history—the great rise, unprecedented fall, and now rebirth—of his beloved hometown, Detroit. First rising to greatness as the result of breathtaking innovation, Detroit had generations of booming growth before succumbing to apathy, atrophy, and finally bankruptcy. Now, the city is rising from the ashes and driving sustainable success through an intense focus on reinvention. Linkner brings an insider's view of this incredible story of grit, determination, and creativity, sharing his perspective on Detroit's successes and setbacks as a profound example of large-scale organizational and personal transformation.
Summary Points & Takeaways from The Road to Reinvention
Some key summary points and takeaways from the book includes:
* Embrace risk and uncertainty as opportunities for growth.
* Cultivate a growth mindset and embrace the power of failure.
* Emphasize the importance of continuous learning and experimentation.
* Create a culture that values creativity, innovation and collaboration.
* Focus on customer needs and continuously innovate to meet those needs.
* Continuously re-evaluate and adjust strategies to stay ahead of change.
* Use technology as a tool to enhance creativity and foster innovation.
* Create a "frictionless" workplace, where employees can innovate without fear of failure.
* Encourage teamwork and collaboration to promote growth and innovation.
* Stay ahead of change by continuously adapting and reinventing.
Who is the author of The Road to Reinvention?
Joshua M. "Josh" Linkner is an American entrepreneur, keynote speaker, and author. He founded several companies including ePrize, an interactive promotion agency, where he served as CEO and Executive Chairman.
Book Details
Print length: 256 pages
Genre: Business, Nonfiction, Entrepreneurship
The Road to Reinvention Chapters
Chapter 1 :Disrupt or Be Disrupted
Chapter 2:Embrace the Reinvention Ethos
Chapter 3:Cannibalize Your Own Product
Chapter 4:Retool Your Operations
Chapter 5:Create Vivid Experiences
Chapter 6:Tell a Memorable Story
Chapter 7:Overhaul Your Culture
Chapter 8:Reimagine Your Customer
Chapter 9:Transform Your Career
Chapter 10:Forge Your Legacy
What is a good quote from The Road to Reinvention?
Top Quote: "Disruptors challenge assumptions. They shake the status quo. They are curious and creative. They adapt and improvise. They push the boundaries and shatter conventional wisdom. They'd rather forge new ground than blindly salute the flag of the past." - The Road to Reinvention Quotes, Josh Linkner
What do critics say?
Here's what one of the prominent reviewers had to say about the book: "Continuous reinvention has become a critical strategy to win in these challenging times. In The Road to Reinvention, Josh Linkner lays out a powerful and cohesive path to help you drive your own creative disruption." — Steve Case, cofounder, AOL
* The editor of this summary review made every effort to maintain information accuracy, including any published quotes, chapters, or takeaways. If you're interested in enhancing your personal growth, I suggest checking out my list of favorite self-development books. These books have been instrumental in my own personal development and I'm confident they can help you too.
Chief Editor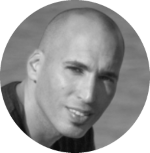 Tal Gur is an author, founder, and impact-driven entrepreneur at heart. After trading his daily grind for a life of his own daring design, he spent a decade pursuing 100 major life goals around the globe. His journey and most recent book, The Art of Fully Living, has led him to found Elevate Society.