The Smarter Screen: Summary Review
This is a summary review of The Smarter Screen containing key details about the book.
What is The Smarter Screen About?
In The Smarter Screen, the author reveals a tool kit of interventions for the digital age. Using engaging reader exercises and provocative case studies, Benartzi shows how digital designs can influence our decision making on screens in all sorts of surprising ways.
Who is the author of The Smarter Screen?
Shlomo Benartzi is an American behavioral economist, known for his research on retirement savings and the Save More Tomorrow nudge. Benartzi is currently a Professor Emeritus at the UCLA Anderson School of Management in Los Angeles, California.
How long is The Smarter Screen?
What genre is The Smarter Screen?
Nonfiction, Design, Psychology
What are good quotes from The Smarter Screen?
"After all, behavioral economists have spent years demonstrating the clear relationship between making something easy to do and getting people to actually do it. My very good friend and longtime collaborator Richard Thaler puts it this way: "My number-one mantra from Nudge [his book, cowritten with Cass Sunstein, on the application of behavioral economic principles to public policy] is, 'Make it easy.' When I say make it easy, what I mean is, if you want to get somebody to do something, make it easy. If you want to get people to eat healthier foods, then put healthier foods in the cafeteria, and make them easier to find, and make them taste better. So in every meeting I say, 'Make it easy.' It's kind of obvious, but it's also easy to miss."
"For instance, Reinecke found that levels of education were statistically related to preferred levels of colorfulness, as people with graduate degrees preferred Web sites with little color."
"We are so used to thinking of our conscious selves as in charge that all the evidence documenting our lack of control—how much we depend on split-second perceptions and aesthetic judgments—is rather scary."
"according to a recent paper published in the Annals of Internal Medicine, patients failing to properly take their medication cost society somewhere between $100 billion and $289 billion every year.36 (It's estimated that nearly 50 percent of prescriptions for chronic diseases are not used as prescribed.)37 Obesity, meanwhile, adds another $190 billion in direct health care costs. Drunk driving? $114 billion.38 Smoking? Nearly $290 billion."
"Fortunes are made from scarcities, and the richest people are those who notice the scarcities first."
"The lesson is simple: human attention has become the sweet crude oil of the twenty-first century. If you can control the levers of human attention, then you can essentially charge whatever you'd like."
"There is a larger lesson here: we need to treat attention as a literal resource."
― Shlomo Benartzi, The Smarter Screen
What are the chapters in The Smarter Screen?
Chapter 1: The Mental Screen
Chapter 2: Function Follows Form
Chapter 3: Display Biases
Chapter 4: The New Mirror
Chapter 5: Desirable Difficulty
Chapter 6: Digital Tailoring
Chapter 7: The Choice Opportunity
Chapter 8: Thinking Architecture
Chief Editor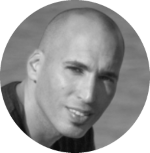 Tal Gur is an impact-driven entrepreneur, author, and investor. After trading his daily grind for a life of his own daring design, he spent a decade pursuing 100 major life goals around the globe. His journey and most recent book, The Art of Fully Living - 1 Man, 10 Years, 100 Life Goals Around the World, has led him to found Elevate Society and other impact-driven ventures.