Thomas Frank: Living to the Fullest
If anyone were to pick up Thomas Frank's "resume", they could easily think that he has lived a full life and is heading toward retirement. With a list of accomplishments that includes being published in USA Today, interviewed by the Wall Street Journal for wining over $15,000 in merit-based scholarships, hired by Adobe to cover the Adobe MAX conference, one would never guess that Thomas was a 21-year old college student. To top it all off, he even maintains a very active blog with almost 2000 fans and followers from Facebook and Twitter.
As the main author of collegeinfogeek.com, Thomas Frank provides fellow college students with tips and information about life during their higher education years. He sends out regular newsletters filled with tips based on the lessons he's learned and the knowledge and skills he's gained while going through college.
Enjoy!
1.Tell us a little bit about College Info Geek. What inspired you to launch the website?
I actually never intended to start my own blog.
During the summer after my freshman year, I was working as an orientation assistant at my school. The job involved helping the incoming freshmen get signed up for classes and showing them around the campus.
To do this job, I had to learn a lot about my school and about college success in general. At the time, I was regularly reading the blog HackCollege, which is one of the biggest college blogs there is.
One day I saw that they were taking applications for new writers. I thought that would be a great opportunity, so I applied. Long story short: they rejected me.
So there I was with a rejected application and guest post. Since I had some experience building websites, I just decided to start my own blog! Basically, I just wanted to share my experiences and strategies for success with other students – and that's what I'm still doing.
2.On your website, you call yourself a hacker. What do you mean by that?
Essentially, being a hacker means being someone who challenges the way things are conventionally done and looks for better methods.
In the computer world, hackers dig into systems to understand how they work and to make them work better. They build things, tear things down, and modify things – for fun or to make their work easier.
You can apply this term to life in general as well. If you're the kind of person who actively looks for new tools and builds new systems for getting things done, you're a hacker.
3.You are a student at Iowa State University, majoring in Management Information Systems. What is Management Information Systems?
Management Information Systems is basically a fusion between computer science and business. The coursework doesn't go as deep into computers as computer science does, but in return you get a comprehensive business education.
MIS is a great major for people who want to go into IT – it teaches some programming, networking, project management, databases, and other IT-related topics.
To be honest, I'm not really planning on using my major after I graduate! I did an IT internship last summer and, while it was a great experience, helped me discover that I actually like writing more.
4.You've won over $15,000 in merit-base scholarships. How did you do that?
Through applying for lots and lots of scholarships! However, I did have some factors on my side.
Some of that money comes from a scholarship from the company I interned for last summer. Before I even applied for the scholarship or did the internship, I attended a conference at that company's HQ and got to meet a lot of the management. I kept in contact with them, so I was able to build strong relationships that made me a great candidate for the scholarship.
The other scholarships have come from my school, and I believe I was a great candidate because of my entrepreneurial projects and my involvement in clubs. I made sure to stay very active outside of my classes.
5.You have a great deal of experience building websites for businesses. What is your favorite platform to use and why?
WordPress of course! I think WordPress is the perfect intersection between ease-of-use for beginners and customizability for developers. Since I run a blog, it's easily the platform of choice – but I'm also able to dig into my themes and make modifications, so I can do things I wouldn't be able to do on other platforms that give the user less control.
6.Where did you learn all your technology skills? Are you self-taught or do you attribute your depth-of-knowledge to a person, group of people, or organization?
I'm pretty much all self-taught. I started learning HTML and building websites when I was 12, and started my own web design business when I was 17.
I've also worked in a lot of technology-related positions. When I started college, I got a job as a tech support specialist and learned how to fix almost any non-hardware problem. After that I worked at my school's web development office for a while, so I learned some advanced stuff like PHP. Finally, I did the networking internship. Those three jobs netted me a lot of IT experience.
Also, through running College Info Geek, I've learned a ton about WordPress – enough that I was able to become a staff writer for WPTuts.
7.You enjoy participating in parkour. What is it and what got you into it to begin with?
Parkour is similar to freerunning – it's a sport where you use the obstacles in your environment to move around rather than avoiding them. If you're running and a bench is in front of you, you'd vault over it. If there's a wall in front of you, you run up it and climb over.
In high school, I would watch lots of parkour videos on the internet – I think the first one everyone saw was "Urban Ninja". A few of my friends and I got together and formed a club, and we'd practice after school a few times a week.
8.You have dreams to travel full time. What will that look like? What would you do for a living while traveling?
Basically, I want to build a life where I'm able to pick up and travel for long periods of time when I want.
What I'll most likely do is keep a home base here in Iowa, as my friends won't get done with school when I do and the rent is really cheap here.
I'm able to make money through running my blog and by doing freelance projects. It lets me work from anywhere, with anyone in the world!
9.What are five destinations in your future travels that are MUSTS that you will make sure you visit during your lifetime?
Easy! I've already got them planned out.
Singapore – I've heard so much about how clean and efficient this city is, so it's my next Asian destination.
China – there are so many great cities to visit here, and I'd be able to go visit the Buffer guys in Hong Kong.
Spain – my friend Martin speaks Spanish, so we're planning going here next summer.
Chile – some of my friends have been there and highly recommend it. I'd also take time to see the ruins in other parts of South America while I'm there.
Japan (again) – I just got back from here, but I'm definitely going back. It's such an amazing country.
10.Where do you find the time to do everything? You are a student, an entrepreneur, maintain an active blog for fellow college students, write articles, take pictures, and hang with friends? Do you ever sleep?
Haha – I actually get plenty of sleep. That's one of the main things I try to teach people on my blog – if you truly focus on what you're doing, you can accomplish a lot in a short period of time and still have plenty of hours in the day for fun stuff.
I think the biggest problem people (myself included) have is that they're distracted. You see it all the time - a homework assignment that should take half an hour ends up taking two hours because of Facebook and Reddit.
If people can learn to eliminate these distractions and apply themselves to a goal, they can achieve so much.
11.On top of it all, you also have time to practice Dance Dance Revolution. Tell us about this obsession.
I've been playing DDR since I was 12 years old, and I just can't see myself stopping. I originally just decided to try it for the hell of it, but eventually I started getting better and didn't want to stop.
I think DDR is a game that anyone can get addicted to – it's great exercise and it's fun. It gives you an immediate goal (passing the song) that you can always achieve in under two minutes. Contrast that to running, which doesn't have those same short term goals with immediate feedback. Plus, it's just fun to dance.
When I get my friends to actually play the game, they tend to like it a lot as well. I think a lot more people would be addicted to it if they weren't embarrassed to dance in public.
12.USA Today and Stepcase Lifehack have showcased your writing. Adobe and Gen-Y Rants have recognized your talents. Do you feel like a celebrity? How does it feel to be famous?
I really don't feel famous, though it did feel really cool the couple times random people from my school recognized me from my blog.
13.You have successfully built a following on Twitter and Facebook. What are your feelings about social media? What are some pros and cons of selling yourself on those websites?
I think social media is amazing – it's enabled everyone to connect with each other, regardless of distance. I couldn't have built the following I have without it – even if I did, I wouldn't be as connected with them. It enables a conversation, rather than just a broadcast.
As far as pros and cons go, I think it's all pros for me. I don't really see any consequences to "selling myself" on social media, as long as I'm providing value and not spamming people.
14.You occasionally conduct interviews with notable people. What is your definition of "notable" and what makes the people you've interviewed notable?

Basically, I interview people who inspire or interest me. Usually I like to interview successful startup founders, because entrepreneurship is a topic I'm really passionate about.
15.You have created an impossible list and claim that it is different from a bucket list. How are they different? What do you believe will be the next three things you'll accomplish from your impossible list?
Actually, Joel Runyon from ImpossibleHQ is the one who came up with the concept of the Impossible List – I just started using it because I loved the idea. Basically, an Impossible List is a list of goals that you're actively working on achieving. That's why I leave goals I've already achieved on it – and then put new, incremental goals underneath them. So, if I reach my goal of benching 250 lbs., I'll cross that off and add "Bench 300 lbs." beneath it. It's an evolution of my life, rather than a list of things I just hope to do.
I think the next three things I'll accomplish will be health and adrenaline-related: completing an adventure race, doing a triathlon, and skydiving.
Thank you
-------
Thomas Frank is a remarkable young guy and an expert on college living. Visit him at www.collegeinfogeek.com
Chief Editor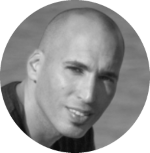 Tal Gur is an author, founder, and impact-driven entrepreneur at heart. After trading his daily grind for a life of his own daring design, he spent a decade pursuing 100 major life goals around the globe. His journey and most recent book, The Art of Fully Living, has led him to found Elevate Society.