Creating the Right Mix of Marketing – Interview with Tom Treanor
Armed with an MBA from the Wharton School of Business at the University of Pennsylvania, Tom Treanor went on to cut his marketing teeth with such companies as Hewlett Packard, PriceWaterhouseCoopers and Sony Electronics. Then he set out on his own and formed the San Francisco-based Right Mix Marketing, a company that helps businesses make the most of their online marketing activities. A popular blogger and speaker, he also shares his expertise by teaching in San Francisco State University's Social Media Marketing certificate program.
Treanor's website is a treasure-trove of online marketing tips, trends and practical resources, including his own eBook titles such as the Blog Post Idea Generation Toolkit, 12 Fatal Webinar Mistakes...and how to fix them, and his SEO Boot Camp, which is available as an ebook and in hard-copy format from Amazon.
Read the interview with Treanor below to find out more about his work in online marketing.
1) At what point in your marketing career before starting Right Mix Marketing did you realize that online marketing was going to be a permanent feature of life in the digital age and the focus of your own life?
While working at HP, I was also working with some local small businesses, mainly friends and family, to help them improve their websites but also to help them with their search engine optimization. What I realized was that there was so much power to be had with search engine optimization as far as getting a company in the middle of a huge stream of traffic. In front of people who wanted to learn about that company, what they had to sell or what they had to say. If you did it right (the SEO), you could have a huge opportunity, basically for free.
I also learned that there's a huge gap between the realities of SEO and the knowledge and the abilities of all these small and medium businesses and even corporations. Most were just not able to strategically do search engine optimization to take advantage of the opportunity that Google and the other search engines were presenting them with.
Based on this, I decided that there was a huge opportunity out there and that I should start my own company to help small and medium businesses to succeed online. So from a fulfillment perspective and from a career and development perspective, it just seemed like the best thing to do was to go and start my own business.
Later on, I realized that the skills/knowledge gap didn't just applied to SEO – it also applied to social media and content marketing as well. That's why I expanded and now focus on the three legs of the stool – search, social and content.
2) You appear to be a big fan not just of WordPress, but even more specifically of self-hosted WordPress (the .org version rather than the .com version). What's your rationale for that?
Yes, I'm a fan of self-hosted WordPress, because it gives you complete control of your website while making it easy to start a new site quickly and to make changes to your site.
With self-hosted WordPress, you're free to do what you want. You can sell advertising on your website, you can sell affiliate products and you can sell your own products. You have technical control and design control.
The other version of WordPress is found at WordPress.com. These are basically limited versions of the self-hosted blogs. There are limitations on design, what additional functionality you can add to them and what you can sell on them. I don't like the limitations, so I'm a big fan of self-hosted WordPress.
By the way, my pet peeve is that they're both called "WordPress". I wish the hosted one was called something different, because so many times you talk to people and they say, "Yes, I'm on WordPress" or "I have WordPress," but you actually don't know which version they have. So that just leads to confusion from the customer's perspective.
3) Clearly you think SEO is very important for online marketing efforts. What would you say are the three biggest mistakes people make when it comes to SEO?
Yes, I think SEO is very important. The way I look at it is, you've done all this work on your website and on content, why not optimize it so that you get found more on search engines? It's just a small extra layer of effort that you can do with your content and your site that can bring HUGE benefits.
Some of the biggest mistakes include:
1) People discounting SEO, in other words, they don't give it any credence. Or they think that they can't rank for their keywords. If you focus on your specific niche or your geography, you can rank for those things (how many "holistic psychotherapists" are in your neck of the woods?).
2) People making the mistake of thinking Google is too intelligent. In other words, Google cannot infer things that a human could. So, for example, if you say "I do business with companies between San Francisco and San Jose," Google does not fill in the blanks with San Mateo and Palo Alto, and the other cities that come between those two. A human might, but for Google, you have to be more explicit. You have to, on your website, clearly list out those cities that you serve.
And the same with your services. Google will not infer the services that you do provide based on some of the things you list on your site. You need to be very specific and detail which services you provide.
3) The third thing is, not learning basic SEO -- or working with someone who knows it. Understanding basic SEO would allow you can optimize your website, each blog post and each page so it's getting more love from the search engines.
4) Your SEO Bootcamp book lists more than 70 different tools that can help with SEO. If you had to choose only three for your own efforts, what would they be and why?
That's a good question. Here are three important tools for me:
1) Number one is a plugin for my self-hosted WordPress blog called "The All-In-One SEO Pack". It's not the only tool that does this, but it allows me to control, for each page, what the page title is as opposed to the title that the reader sees. There's a very specific place, on top of the URL, where the page title needs to be SEO optimized and this tool allows me to do that. In addition, it automatically takes care of some other important functions.
2) The second one is Google Analytics. Basically, you have to see your website analytics and you have to look at them regularly so you can see whether or not you're getting traffic. If you don't, you'll have no feedback on what things are working and what things are not. For example, are the search engines finding my content? What terms are people using? Or, are the posts I'm sharing in Facebook bringing traffic back to my site? These kinds of questions can be answered with Google analytics (or other website analytics tools).
3) Another critical tool is some sort of rank tracking tool for SEO. There's one called SEMrush, which is a great one for seeing what you rank for now. You can even get a free partial report if you go there now. There are other tools like SEOBook.com's free Rank Checker Firefox plugin or more advanced Rank Tracking tools like the ones that come with SEOMoz.
5) Webinars are also featured prominently on your website, but I don't get the impression that most online marketers are utilizing them. What are your arguments for making webinars an essential part of the mix?
I think webinars or local public speaking events are two important ways to build your authority as well as to build your audience. People will see you as a teacher, will see you as an authority, and will be more likely to listen to what you say or even buy from you. In addition, people love live events, so it's an excuse for them to register for your email list. There are so many blog posts and so many videos and things like that out there that a live event differentiates you. So I definitely think webinars or live events are important.
The reason that people don't do them is because they are hard. It's hard to get all the technical aspects right, it's hard to get a venue (for local events) and it's hard to get enough people to show up - you definitely have to invite a lot of people to get enough critical mass. So all around, it's not a walk in the park!
But if you have access to an audience (like you're part of an organization that has a big audience), if you have a big mailing list, or if you have an advertising budget or can get connected with a conference or some other event, it's a huge opportunity for you! You can make sales, you can make connections and you can improve your stature in the public's eye. So if you can do it, it's a great thing for your business.
6) You've been described as a prolific blogger. How did you get started with blogging and was it difficult to develop it into a habit?
Initially with blogging, I just was writing. I knew that it would help my business but what I didn't know was that there are so many different ways to create content - blogging is not just writing! Blogging is creating or pulling together content onto your blog, so it can be pictures that you take, it can be videos that you take, it can be videos from someone else (e.g. from YouTube), or it can be infographics. There are also different kinds of writing styles, like a list post, or a how-to post.
That's what I wish I knew earlier, because I think when people start blogging, they have one way of writing in mind. And they basically just kind of keep doing that, hoping it works. And that can work, but actually, if you learn different blogging styles, it's more fun for you, and it's actually probably more fun for your audience.
7) What are the three most common mistakes you see beginning bloggers making?
I think the three most common mistakes I see bloggers make include:
1) They don't use a variety of styles. They just use one style that they enjoy.
2) Another is that oftentimes, they're not checking their analytics enough to see what's working and what's not. You need that feedback mechanism.
3) And third is that they're not promoting each and every post. In other words, if you're going to write that post, you might as well spend time promoting it via social media, optimizing it for search, possibly even sending it to your mailing list in some situations, or all the time.
4) The fourth mistake that I see bloggers making is not setting up their blog for success. And this means there's no sharing buttons above the blog posts, or below -- but I prefer above. They don't have a call-to-action to say "join the mailing list" or to get a free download or to watch a free video. The post may also be formatted poorly, so it's just hard to read. It's ugly. That's not setting it up for success.
8) Besides blogging, there's Facebook, Twitter, Pinterest, Google Plus, LinkedIn, YouTube and a host of other social media sites. How do you guide people in choosing which ones to focus on?
I think the best way for people to choose is based on where there's a critical mass of their audience. And they can basically do that by searching in social media platforms using industry keywords. Or better yet, they can see where their competitors are at and where they're having traction.
Second is to look at platforms that lend themselves to their products. So for example, for very visual products, Pinterest is awesome. In Pinterest, you can post pictures of your projects, products or your location (if that's a selling point – e.g. for a hotel or restaurant). Or, YouTube can be great for explaining about a product or how-to. In many cases, if it's a consumer-focused product, Facebook is basically a no brainer. Having a Facebook Page for your business, actively maintaining it, adding content and responding to comments. If you have a blog, posting your own blog posts can drive traffic back to your website and get great exposure to your content.
Twitter is a great tool for making connections with potential business partners, the media in your industry and potential customers. But, it's often one of the least understood platforms. Take some time to get to know it and see if you can find industry players who are using it well.
9) Of all the different social media sites, which one consistently does the best job at getting you the results you want from it and why do you think that's the case?
Of all the different social media sites, I would have to say Twitter is one that's the most powerful for me because it's so direct in terms of allowing me to connect with people and to share out content (both other people's content as well as my own).
I find most of my small business clients do well in Facebook because they find it the easiest to understand and use.
10) What do you think about outsourcing facets of online marketing through such platforms as Elance, oDesk and other freelancing sites?
I've heard about several people having great results using these sites. I've also heard though that some people have had one or more bad experiences before they were able to find the right help (so it's definitely hit or miss). If you're using these platforms, definitely try to find the highly rated freelancers and invite them to participate in your selection process. Also, don't go too cheap and try working together on a smaller project first to limit your risk.
I've typically outsourced by finding people online. I see someone who's doing good work for one of my peers or competitors and I reach out to them to see if they're interested in working on my project. I think finding people through referrals or by seeing examples of their work limits the risk for you.
11) What's the hottest useful trend out there right now that beginning online marketers should know about?
Social media is still a hot topic. But I think people need to understand the connection between original content (original blog posts, videos, pictures, etc.) and social media. If they understand that the goal of their blog content is to have compelling content to share in social media that actually brings people back to their site, then I think they'll be setting themselves for success. Too many people are "engaging" in social media but only use other people's content or conversation topics. Without original content and links to your site, it's a missed opportunity.
12) What do you think is going to be the next big thing in your life?
I enjoy speaking and writing so I'll continue to build my platform. By building a platform (e.g. a blog with significant traffic, a larger email list, a bigger social media following), you open yourself to more and bigger opportunities. So, expect to see more content coming from me in the near future!
Thank You
---
Tom Treanor is the Founder and President of Right Mix Marketing Inc. He has an MBA from the Wharton School of Business, as well as a Master of Arts in International Studies from the University of Pennsylvania. You can also find him on Twitter @rtmixmktg
Chief Editor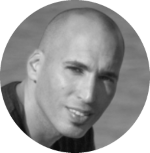 Tal Gur is an author, founder, and impact-driven entrepreneur at heart. After trading his daily grind for a life of his own daring design, he spent a decade pursuing 100 major life goals around the globe. His journey and most recent book, The Art of Fully Living, has led him to found Elevate Society.