This is a summary review of Traction containing key details about the book.
What is Traction About?
Traction will teach you the nineteen channels you can use to build a customer base, and how to pick the right ones for your business. The authors know that there's no one-size-fits-all solution; every startup faces unique challenges and will benefit from a blend of these nineteen traction channels. They offer a three-step framework (called Bullseye) to figure out which ones will work best for your business. But no matter how you apply them, the lessons and examples in Traction will help you create and sustain the growth your business desperately needs.
Who is the author of Traction?
Gabriel Weinberg is the CEO & Founder of DuckDuckGo, the Internet privacy company that empowers you to seamlessly take control of your personal information online, without any tradeoffs. Since 2008, Weinberg has grown DuckDuckGo from a self-funded operation out of his dusty basement into a business with over $25 million in revenue and 50 employees across multiple continents.
Justin Mares is the former Director of Revenue at Exceptional, a software company that Rackspace acquired for 8 figures in 2013. He has previously founded two startups (one acquired, one bust) and runs a growth meetup in San Francisco.
How long is Traction?
What genre is Traction?
Business, Entrepreneurship, Nonfiction
What are good quotes from Traction?
"Almost every failed startup has a product. What failed startups don't have are enough customers."
"Poor distribution - not product - is the number one cause of failure."
"Many entrepreneurs who build great products simply don't have a good distribution strategy."
"The faster you run high quality experiments, the more likely you'll find scalable, effective growth tactics. Determining the success of a customer acquisition idea is dependent on an effective tracking and reporting system, so don't start testing until your tracking/reporting system has been implemented."
"This is what we call the 50% rule: spend 50% of your time on product and 50% on traction."
"In the case of querymongo.com, RJMetrics built a tool that translates SQL queries to MongoDB syntax (two database technologies). This"
"Good customer support is so rare that, if you simply try to make your customers happy, they are likely to spread the news of your awesome product on that basis alone."
"The only essential thing is growth. Everything else we associate with startups follows from growth."
"we had not started blogging at the beginning the way we did, Unbounce"
"Though media outlets are increasingly on the lookout for good stories, there are still challenges to getting exposure. Tens of thousands of companies are clamoring for media coverage. Jason Kincaid, a former reporter at TechCrunch, told us that he got pitched over 50 times each day. What gets a reporter's attention? Milestones: raising money, launching a new product, breaking a usage barrier, a PR stunt, big partnership or a special industry report. Each of these events is interesting and noteworthy enough to potentially generate some coverage. Jason advises bundling smaller announcements together into one big announcement whenever possible. Breaking a useage barrier is great. Releasing a new version is noteworthy. But releasing a new version and breaking a usage barrier in the process is even more compelling."
"In particular, your tests should be designed to answer these questions: How much does it cost to acquire each customer through this channel strategy? How many customers are available through this channel strategy? Are the customers you are getting through this channel the ones you want right now?"
"owns and creates content for domains like cohortanalysis.com and querymongo.com, which contain keywords a potential RJMetrics customer would search for."
― Gabriel Weinberg and Justin Mares, Traction
What are the chapters in Traction?
Chapter 1: Traction Channels
Chapter 2: Traction Thinking
Chapter 3: Bullseye
Chapter 4: Traction Testing
Chapter 5: Critical Path
Chapter 6: Targeting Blogs
Chapter 7: Publicity
Chapter 8: Unconventional PR
Chapter 9: Search Engine Marketing (SEM)
Chapter 10: Social and Display Ads
Chapter 11: Offline Ads
Chapter 12: Search Engine Optimization (SEO)
Chapter 13: Content Marketing
Chapter 14: Email Marketing
Chapter 15: Viral Marketing
Chapter 16: Engineering as Marketing
Chapter 17: Business Development (BD)
Chapter 18: Sales
Chapter 19: Affiliate Programs
Chapter 20: Existing Platforms
Chapter 21: Trade Shows
Chapter 22: Offline Events
Chapter 23: Speaking Engagements
Chapter 24: Community Building
Chief Editor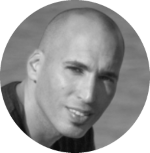 Tal Gur is an impact-driven entrepreneur, author, and investor. After trading his daily grind for a life of his own daring design, he spent a decade pursuing 100 major life goals around the globe. His journey and most recent book, The Art of Fully Living - 1 Man, 10 Years, 100 Life Goals Around the World, has led him to found Elevate Society and other impact-driven ventures.