You'll See It When You Believe It: Summary Review
This is a summary review of You'll See It When You Believe It containing key details about You'll See It When You Believe It.
What is You'll See It When You Believe It About?
"You'll See It When You Believe It" by Dr. Wayne W. Dyer is a self-help book that emphasizes the power of positive thinking and visualization.
In You'll See It When You Believe It, the author will convince you that you can make your most impossible dreams come true. This book demonstrates that through belief you can make your life anything you with it to be. Learn practical steps such as how to set real goals and achieve them; turn obstacles into opportunities; rid yourself of guilt and inner turmoil; develop a strong inner-confidence; dramatically improve relationships; spend every day doing the things you love to do, and so much more.
Summary Points & Takeaways from You'll See It When You Believe It
Some key summary points and takeaways from the book include:
* The power of belief: The book argues that our beliefs shape our reality, and that we have the power to change our lives by changing our beliefs.
* Visualization: Dr. Dyer encourages readers to use visualization to bring their desires to life. This involves imagining and feeling as though their goals have already been achieved.
* The importance of intention: The book emphasizes that having a clear intention and purpose is key to achieving your goals.
* Letting go of limiting beliefs: The author encourages readers to identify and let go of limiting beliefs that hold them back.
* Trusting the universe: The book encourages readers to trust that the universe is working for their greater good and that everything will happen in its own time.
* Taking action: The author stresses that visualization is only one part of the equation, and that action must be taken in order for goals to be achieved.
* The role of gratitude: The book highlights the importance of gratitude in attracting abundance and joy into one's life.
Who is the author of You'll See It When You Believe It?
Wayne Walter Dyer was an American self-help author and a motivational speaker. Dyer completed a Ed.D. in guidance and counseling at Wayne State University in 1970. Early in his career, he worked as a high school guidance counselor, and went on to run a successful private therapy practice.
Book details
Print length: 320 pages
Genre: Self Help, Nonfiction, Psychology
* The editor of this summary review made every effort to maintain information accuracy, including any published quotes, chapters, or takeaways. If you're interested in furthering your personal growth, you may want to explore my list of favorite self-improvement books. These books, which have had a significant impact on my life, are carefully curated and come with summaries and key lessons.
Chief Editor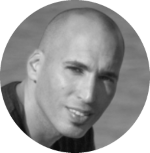 Tal Gur is an author, founder, and impact-driven entrepreneur at heart. After trading his daily grind for a life of his own daring design, he spent a decade pursuing 100 major life goals around the globe. His journey and most recent book, The Art of Fully Living, has led him to found Elevate Society.