Your Best Just Got Better: Summary Review
This is a summary review of Your Best Just Got Better containing key details about Your Best Just Got Better.
What is Your Best Just Got Better About?
"Your Best Just Got Better" by Jason W. Womack is a self-help book that focuses on improving personal productivity and performance. The book offers practical tips and strategies to help readers become more effective in their work and personal lives.
In Your Best Just Got Better, the author teaches readers that working longer hours doesn't make up for a flawed approach to productivity and performance. Workers need to clarify their habits, build mindset-based strategies, and be proactive. Womack's signature "workplace performance" techniques offer specific strategies to consistently and incrementally improve performance. Making your best better won't happen overnight, but learning how to effectively manage just a few critical success factors lead to an effective workday and an overall successful professional career.
Summary Points & Takeaways from Your Best Just Got Better
Some key summary points and takeaways from the book include:
* The importance of defining and prioritizing your goals and values.
* The value of good time management, including how to prioritize tasks, manage distractions, and avoid procrastination.
* The need to constantly challenge yourself to grow and improve, and to seek out new learning opportunities.
* The power of focused attention, and how to cultivate mindfulness and awareness in all aspects of life.
* The role of self-care and stress management in overall well-being and success.
* Overall, "Your Best Just Got Better" encourages readers to be intentional and proactive in their personal and professional development, and provides practical tools and strategies to help them achieve their goals.
Who is the author of Your Best Just Got Better?
Jason W. Womack is the CEO and founder of the Jason Womack Company, which provides customized training on workplace performance. As an executive coach, he shows clients—managers, employees, and entrepreneurs—how to work smart, think big, and make more.
Book details
Print length: 272 pages
Genre: Business, Productivity
What are the chapters in Your Best Just Got Better?
Chapter 1: Improvement and You: Identifying Your Role in Making Your Best Better
Chapter 2: Improvement and Pacing: Building and Sustaining Habits That Lead to Productivity
Chapter 3: Improvement and Time: Get the Most from 1 Percent of Your Day!
Chapter 4: Improvement and Self-Efficacy: If You Think You Can, You Probably Can
Chapter 5: Improvement and the Social Network: If You Want to Go Far, Fast, Go Together
Chapter 6: Improvement and Tracking: What Is in the Way, What Is Along the Way?
Chapter 7: Improvement and Purpose: Clarify and Promote Your Own "So That…"
Chapter 8: Improvement and Feedback: Knowing How to Ask for It and What to Do with It
Chapter 9: Improvement and Focus: The Resource That Affects All Others
Chapter 10: Improvement and Practice: Practice Doesn't Make Perfect, It Makes Comfortable
* The editor of this summary review made every effort to maintain information accuracy, including any published quotes, chapters, or takeaways. If you're interested in enhancing your personal growth, I suggest checking out my list of favorite self-development books. These books have been instrumental in my own personal development and I'm confident they can help you too.
Chief Editor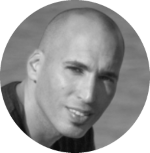 Tal Gur is an author, founder, and impact-driven entrepreneur at heart. After trading his daily grind for a life of his own daring design, he spent a decade pursuing 100 major life goals around the globe. His journey and most recent book, The Art of Fully Living, has led him to found Elevate Society.