Building a Career in Entrepreneurship
At a very young age we are encouraged to pick a career. Most college students who graduate without a clear career path and a job lined up usually get nervous. Zach Luczynski refuses to do that. In fact he has dedicated himself to not picking a traditional career. Instead He decided to become an entrepreneur.
Zach is what is called a serial entrepreneur. He is involved in a joint effort with Rainbow Sandals to produce Greek Loves Sandals which are sorority branded and he is also co-creator of JackHawk 9000 which are designer sunglasses with a twist - The ear bow doubles as bottle opener..
Zach's passion for entrepreneurship is apparent not only through his creative work but also through his firm commitment to the journey. He is a great example of the idea that entrepreneurship isn't about perfection or victory but about effort.
Zach and I share a passion for entrepreneurship so our connection is a natural one. He kindly agreed to shares his lessons learned as a serial entrepreneur with us. Enjoy!
1. Zach, how long did you know that you wanted to be an independent serial entrepreneur? What was your first venture? How did it go?
I was in 6th grade at middle school. We were in a consumer science class and our project was to start a business and sell something after school. My group made "Twisting Tornadoes" which were Oreo cookie ice cream cones with gummy worms. We shot a commercial and aired it on the school's news station. It was a hit. That's when I knew 9-5 wasn't gonna be it for me.
2. Where did the idea for the JackHawk 9000 sunglasses come from? How did you create the proto type? How many trials did you try before you settled on the design? How long did it take to get from the idea to pursuing funding?
A 2am half drunken phone call between two of my partners, Matt DeCelles and Steven Dempsey. They had been trying to come up with a product idea for the snowboard/ski club niche and one of them threw out the idea for bottle opening sunglasses. The morning after Steve applied to Kickstarter and we got accepted. Then we went to SDSU's Race Team, found the brightest engineering student we could and challenged him to make a prototype. To be honest, I've lost count how many different verisons we made by now. The whole story is on our facebook fan page from idea to reality. We came up with the idea in November and received funding in June 2012.
3. You used Kickstarter to gain funding for the JackHawk project. What is Kickstarter? How did you find out about it and what was the process? Once your project was published, how long did it take to get the funding you needed? ? Is the funding considered a loan, investment or what?
Kickstarter is the best crowdfunding platform available. People can essentially donate to a creative project you're working on in exchange for rewards (aka the product you're trying to build) once you finish the manufacturing process. It's a godsend for entrepreneurs, artists, designers and anyone that could use a little help on their current project. View our Kickstarter campaign here.
Here was our experience:
Initially we applied – got accepted – built a campaign for 4 months – shot a commercial. – submitted our campaign for final approval – got REJECTED – applied again – got REJECTED again – appealed the decision – got accepted. Phew. – launched campaign – received a little under $30,000 in 42 days. Rollercoaster ride doesn't even explain half of it.
In our case, the funding worked basically like pre-orders.
4. "Greeks Love Sandals" marketing includes a need for an invitation. Please tell us about that. It definitely creates a feel of being an exclusive product. How do you think that has impacted sells? There is also a fundraising option for sororities. How important is that to your customers?
In Malcolm Gladwell's book, The Tipping Point, he talks about how to start trends. You have to begin with the influencers. For Greeks Love, our influencers are sorority girls. They set the trends at most schools and we knew if we could get them wearing our product then we'd have "Word of Feet" and it would spread. Now we're in over 60 universities across the US.
Influencers like to know that they're special – because they are. It takes a unique personality rally their "Sisters" around a common vision and participate in our program – that's one reason why we require an invitation to order.
Another reason – being totally honest – was that Pinterest did it. And they're smart.
Philanthropy
Sorority girls care so much about philanthropy it's inspiring. The Greek System gets a lot of flak for partying but the girls really care a lot about helping out the community.
In fact, they put in hundreds of hours to make their philanthropic events happen – so they can donate funds to whichever cause they support. However, a lot of the time they put on fundraisers that don't make a lot of money – garage sales, midnight quesadilla bake sales, car washes (those actually do pretty well), etc. – and we knew if we could harness this effort in a more productive way – everyone would win.
On our side, it feels so unbelievably good writing a check to a charity in a sorority's name. We decided we were going to do this out of principle and that decision continues to open up new avenues and possibilities for Greeks Love.
5. You graduated from San Diego State University and have since been back as a guest lecturer. How did that feel? What seemed most important to communicate?
3 Things.
1 – Stop trying to do it alone.
2 – Mentors are insanely important.
3 – Your goals should be written down and make you giddy like a 5 year old on Christmas morning.
I try to hammer these points home whenever I speak. It's always fun going back and hearing where the students are at in their own entrepreneurial careers. We've gone through so many highs and lows so its fun sharing our own insights and ideas with the students.
6. As far as growing your own business, how do you market yourself and your ventures?
The biggest breakthroughs have been through conversations with complete strangers.
Learn how to small talk. Be sincerely interested in others. Ask good questions. Show them why they're awesome. Then they usually find a reason why you're awesome. Then ask for help.
7. You are a very creative person. I am guessing you frequently have ideas for projects. How many ideas fall by the way side? How do you decide which ones are worth pursuing?
Hundreds. Entrepreneurs by their very nature suffer from "Entrepreneurial ADD" and this is always a tough one. We always find the reasons why something will work, needs to be done and will change the world.
Our optimism kind of screws us over here. You have to focus on the important ones. Your life goals play a big part in helping you prioritize these. If you don't know where you're going you will probably end up somewhere else.
As far as how to narrow it down, usually my business partner, Matt DeCelles, and I will just talk it out. Then we run it by a bunch of mentors. That usually settles it.
8. How do you generate new ideas? Have you adopted a "process" that helps you to become more creative?
Yup. Learned it from McDonald's.
Basically, your ideas come from the influences you subject yourself to. It's just like eating healthy. If you shovel burgers & fries down your throat for a month straight – you'll probably feel a tad bit sluggish.
The burgers and fries of the mind are close-minded, naysayers who would rather critique you than try to go out and accomplish something themselves. Proximity is power. You BECOME who you spend your time with.
If you don't like your ideas, change your mental diet. Are your habits/behaviors/peers helping you become a better you? Are you growing? Are you stagnating? Get real with yourself here.
Here are some of my rules for healthy thinking:
Always be reading something. Authors are pretty damn smart.
Hangout with people you want to be like.
Get bold. Do random stuff that pushes your boundaries.
Find new circles of people and reach out to them.
Travel as much as humanly possible.
Get a life coach.
9. If you had unlimited funding tomorrow, what would you do differently in regards to your businesses?
Start using magic carpets to fly to meetings. Start repaying our investors each quarter by "making it rain" on them. Fly out to our first customers (on magic carpets of course) and give them high-fives in person. Offer bonuses for employee mustaches. Hire the Victoria's Secret Models to do absolutely nothing at our office. Send flowers to our girlfriends every single day to make up for that last idea. Hire Richard Simmons to handle customer service. That's it for the serious ones.
10. You wrote a very successful business plan for Voice Smart Networks. How different was writing a plan for someone else and writing one for yourself? How important is having a solid business plan?
Business plans themselves are useless. Entrepreneurs know how quickly every Learning how to write a business plan
BUT… the actual process of coming up with an incredibly detailed vision, putting those ideas on paper and thinking through every single scenario is absolutely priceless. This skill is core to entrepreneurship.
You're training yourself to be a better thinker. Do the plan. Just don't obsess over it.
11. You belong to a group of entrepreneurs called Junto. How did the group come to be? How important is the group to your success? What are the ground rules? Are your partners in your business ventures part of the group?
My business partner, Matt DeCelles, turned an idea from one of Keith Ferrazzi's books into a reality. He basically told me that on Fridays at 6pm from now on, I was going to be sitting in a board room for 2 hours and we were going to talk with a handful of brightest minds in San Diego. That Friday I think 3 people showed up – Matt, Ryan Mulvany (his roommate) and me.
After that I asked him, "Is this something that's actually important – we do have a lot of stuff to do you know?" He told me to trust him and just keeping showing up.
So I did.
Not only has it dramatically helped my businesses – but I've improved my personal life, relationship with my girlfriend, communication skills and overall happiness immensely.
Positive peer pressure one of the most powerful motivators available – look at Alcoholics Anonymous, Weight Watchers, Etc. Put this force to work for you and supercharge your personal development.
12. Zach, one of the goals you have listed among desired adventures and travels is one that simply says, "Buy a hotcake." For some reason I'm not thinking you are talking about getting a pancake at IHOP. Tell me about what that goal is and what it means to you.
I'm just a smartass. I always heard that and never knew what that meant so that was reason enough. I'm enjoy original goals. As I'm writing this I just ate an Asian pear… in Asia.
On that note, your goals need to be YOUR goals. They need to light you up and get you excited. Getting new tires on your car isn't goal. Racing a Ferrari on the Neuremburg (spelling?) is a goal.
If you spend the time looking within, you'll find them. Life coaches help elicit these.
13. In addition to your business pursuits, I understand you are a dedicated soccer player. How has your experience as an athlete impacted your business pursuits?
It's all the same stuff. Seeing the play before it happens, being sharp-minded, learning how to read people and how to set yourself up for an easy finish. Just substitute boardroom for soccer field.
14. What does the future hold, Zach? Are you developing new projects that have not appeared yet?
I'm working on a blog www.zachluz.com to start sharing my thoughts/insights/experiences/encounters with other amazing people.
There is also a book in the works.
15. Finally, what do you think makes a good entrepreneur?
Someone who just keeps going.
This dialogue sums it up pretty well…
"Are you frustrated right now?"
"Yup."
"Me too."
"Ok perfect. Let's keep working."
Thank you Zach!
----
Zach Luczynski is a serial entrepreneur. You can find more about him in his personal website at www.zachluz.com
Chief Editor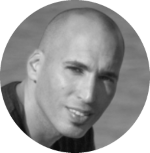 Tal Gur is an author, founder, and impact-driven entrepreneur at heart. After trading his daily grind for a life of his own daring design, he spent a decade pursuing 100 major life goals around the globe. His journey and most recent book, The Art of Fully Living, has led him to found Elevate Society.