To me, it feels like 2010 came and went so fast. I still find it hard to believe that I'm more than 8 months on the road, traveling to places I only dreamed of a year ago.
Some of you know that around a year ago, both my parents had a terrible car accident, which left my mom in the hospital for long time without the ability to move her neck. At that point in time, I hadn't seen them for close to 3 long years. Every time I planned a trip, another project popped up at work. Although I was very happy and grateful for the opportunity given to me as a manager (especially during a global financial crisis), I remember feeling quite frustrated in my inability to fly for a longer period of time.
I knew something had to change, but my personal financial situation made it impossible to do it right away, since I was carrying a considerable debt from the time I was a student. Despite my economic situation, I wrote a resignation letter, bought a plane ticket, and set myself a fixed date, which I promised never to change, even if the Australian prime minister would personally ask me to run a project for him.
It worked! I focused all of my spare energy, and in April of this year, I left for a round-the-world trip. My family and I spent two blissful months in Israel. I traveled all over Europe during the summer, trekked Nepal's Annapurna Himalaya and Everest ranges, and spent a spiritual month in India, meditating and practicing mindful living.
It feels like the universe conspired to make all of my dreams – and even more – come true. I say a lot of whispered "thank yous" before I go to sleep these days, which is, I guess, another special thing that happened this year.
This Christmas was celebrated in Buenos Aires with some beautiful friends I've recently made, and New Years Eve will be celebrated in Rio de Janeiro with beautiful friends I've yet to make.
Live your dreams!
***
* To gain more inspiration and motivation for your personal growth journey, I recommend visiting my SMART goals page, which offers a wide range of goal ideas to help you establish new aspirations and achieve greater success in life. This list was crucial in the development of my own life goals list, consisting of 100 goals that I pursued for ten years.
Chief Editor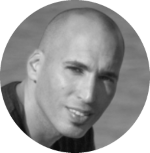 Tal Gur is an author, founder, and impact-driven entrepreneur at heart. After trading his daily grind for a life of his own daring design, he spent a decade pursuing 100 major life goals around the globe. His journey and most recent book, The Art of Fully Living, has led him to found Elevate Society.