The past 3 days I spent in the car driving from the North-Eastern part of the States, where I celebrated Christmas with my new family, to the sunny coast of South Florida. It was a long and tiring drive, but provided a good opportunity to reflect on the highlights of 2011 and to think of the exciting possibilities for the year ahead.
Both my partner and I feel an incredible sense of gratitude for the past year, A year full of travel and adventure.
After years of independent traveling, 2011 was a year of sharing the experience with a partner. Since the beginning of our trip this January, we traveled together for roughly 10 months, that's around 300 days within the sight, sound, (and smell) of each other.
We circled Australia and went to Asia, Europe and America. Kyle studied Ayurveda in India, while I trained Muay Thai kickboxing in Thailand. We splurged in Singapore with old friends, surfed Sri Lanka with new ones, and romantically celebrated the tastes of Italy with each other. More than anything, we cherished unforgettable moments with family in Israel and now in the States.
One of the best aspects of traveling with a partner is the ability to create memories and share experiences together. It is also a great way to bond and bring the relationship even closer. The below video is dedicated to my partner, Kyle, who has supported me throughout this year and all other aspects of our life together.
2011 was also a year of becoming a slightly better writer. It was my main intention last year and I feel that it was achieved. Blog posts such as "Sensual Living" and "Finding Flow" are more fully developed and better capture the interest of the reader.
I have not written as many posts as I had originally hoped, but instead managed to use some extra willpower and write my first e-book, "Design Your Dream Year", which I published a few weeks ago.
Writing is still a slow process for me but I've made peace with that and hope for more improvements as I continue to write in the coming year.
Which brings me to 2012.
As in previous years, I use the holiday season to choose a primary focus for the upcoming year. This practice allows me to immerse myself within the chosen area of focus and spur more growth as a result of it.
I pondered long and hard and decided that my 2012 primary focus would be a financial one. To be more specific, my intention is to grow and diversify my financial wealth.
There are two main reasons for this. First, our future dream of creating a home while maintaining our financial freedom, require a substantial infusion of new resources. Second, the impact of the financial and economic crisis cannot be under-estimated or ignored.
Since the recent meltdown of the global financial system, central banks around the world continue to print trillions out of thin air, leaving the system in an extremely fragile state.
Economic busts and booms have been around for centuries. Most people, who take very little interest in learning about the complexity of the financial system, suffer when the economy tanks, while others benefit from it no matter if the economy goes up or down.
If you use money like everyone else on this planet, I encourage you to take interest in understanding what money is and how its manipulated by the system. Your quality of life is literally dependent on it.
I will be following the format described in "Design Your Dream Year" eBook to achieve my big goal for 2012 and will keep you posted on further discoveries on the financial realm.
So, with this in mind, I wish you the best in your own quest.
Live out the dream!
Tal
***
* If you're looking for more inspiration to help you on your personal development journey, you may want to check out my extensive list of SMART goals. This page is packed with thousands of different goal ideas that can help you set new aspirations and reach higher heights in your life. Personally, this page helped me to create my own 100 life goals list, which I pursued for over a decade.
Chief Editor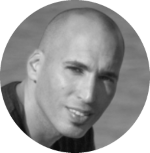 Tal Gur is an author, founder, and impact-driven entrepreneur at heart. After trading his daily grind for a life of his own daring design, he spent a decade pursuing 100 major life goals around the globe. His journey and most recent book, The Art of Fully Living, has led him to found Elevate Society.